Apple Jelly and Hornets
A friend was helping herself to some apples from my growing mountain of windfall apples, a few weeks ago. She mentioned that she has been making apple herb jelly to go with her lamb roasts, this winter. So easy as it was all chopping and no peeling. My ears pricked up. No need to peel the apples?
This time of year, we have baskets upon baskets of apples. I spend spare moments, peeling and processing them. If I have one empty basket by the end of the day, I am happy! Each apple season, I start off enthusiastic, but after several weeks it wears off. Come midwinter and I know that I will be very happy to have a pie filler ready for use. Its… just ….all ….that… peeeeeling!
So, easy apple jelly sounded good. Today, I made 7 jars of apple and rosemary jelly. It is yummy. The fragrance filled the house. I'll still make enough pie fillings and apple crumbles to last me till next apple harvest, but this means that I can process the mountain of apples faster and use the windfalls before their bruises get too big.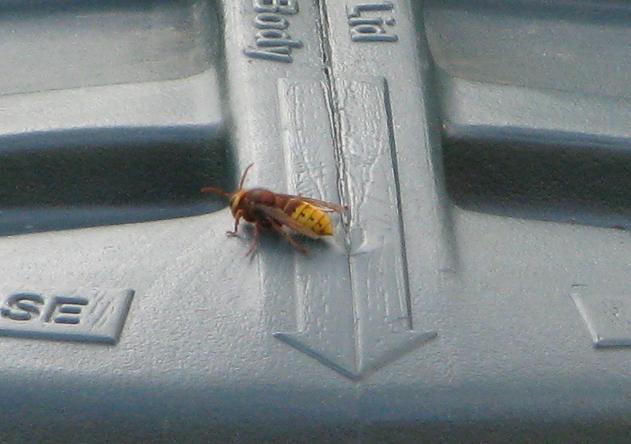 The spoilt ones end up on the compost, where the hornets feast on them. Still be plenty left for the hornets. Found this hornet under TF's bed, during the summer. He assures me he didn't put it there. Fascinating little insects. We show them respect and we never have any problems with them.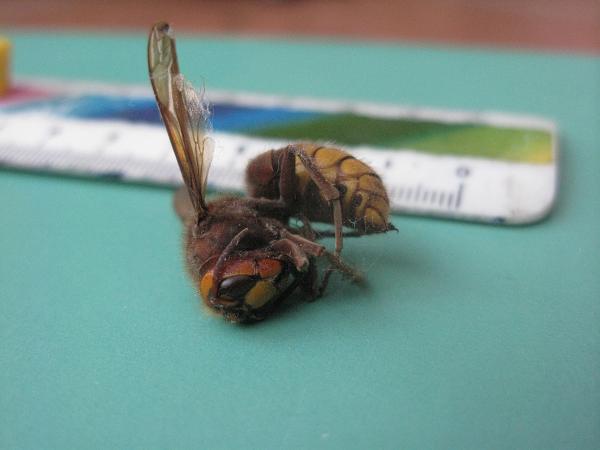 Recipe for Apple and Rosemary Jelly
5 lbs roughly chopped up washed apples (discard the bad bits, but include the skin and core)
2 pints of distilled white vinegar
lots of sugar
a handful of rosemary sprigs (or herb such as mint, thyme, sage, etc)
1. Put the apples, rosemary and 2 pints of water in a preserve pan and bring to the boil on the stove. Simmer it for 45 mins or until the fruit is soft. Stir occasionally.
2. Add the vinegar and boil for another 5 minutes.
3.Carefully put the mixture in a jelly bag and let it drip through overnight.
4. Compost the apple pulp and measure the extract back into the preserve pan. For every pint of extract, add 1 lb of sugar to the pan, as well.
5. Put the pan on the stove and heat gently until the sugar has dissolved. Bring to the boil. Boil until it reaches setting point. Remove scum with a spoon.
6. Remove from stove and pot.
I think this will go well with cheese and biscuits, roasts, cold meats, pancakes and lots more. I'm going to make a batch of apple mint jelly next.
(edited: have a look at my apple and rosemary jam jar labelling here)
Thank you all for your lovely comments about the Acorn Wish Fairies. They and their kin are firm favourites when I'm story telling with the children. I'm glad the fairies passed on some of their happy fairy magic to you all.
18 Responses to Apple Jelly and Hornets
There have been cases when people lifted my photos and words, and used them without credit to me or asking permission first. Using them for their own commercial gain. I have now added a level of security to deter people from doing this. Apologies to people who do play nicely. If you would like to use any of my photos, please contact me.
All my words and photos are copyrighted to me. They cannot be used for commercial benefit by anyone else. If you would like to use any of them, then please ask me first and don't just take. Written permission only. Don't pass my words, photos or ideas off as your own. It's not nice.
Cookie Policy
Our web pages do not use cookies however this website uses Google Analytics, a web analytics service provided by Google, Inc. Google Analytics uses cookies to help us analyse how people use our site. The use of cookies by Google Analytics is subject to change.