Rainbow soap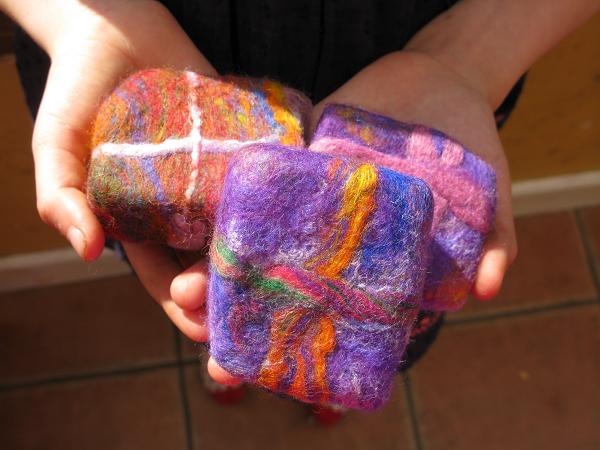 A break from castles today. We had friends around for the morning. It was so lovely and sunny today, that we headed out into the garden with our drinks …. and a bag of wool roving. Now, I'm not much of one to sit around idling. I get itchy fingers, so I usually have a crafty activity for visitors to do. (That way I can do it too!)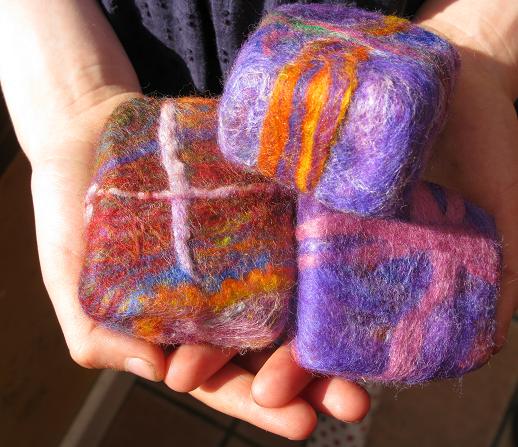 I cut up a slab of soap and we wet felted the wool roving around it. This is such a perfect felting project for children, of all ages, and we had four willing ones to join in. Once the roving is wrapped this way and that, and dunked in warm water, the whole caboodle is put into the toe of a pair of tights. The children wandered around chatting as they felted the soap. By the end, all hands were truly clean and the soap was felted. Everyone went home with a present.
Good job, as TF and BL joined in planting sweetcorn, this afternoon. Only half of my seeds germinated, which left me with 32 plants. While I dug the holes and filled it with water, the two children planted the sweetcorn. TF is such a hard worker. At the age of almost 4, I think he would have done it all by himself and not stopped till it was done. All were planted in record speed.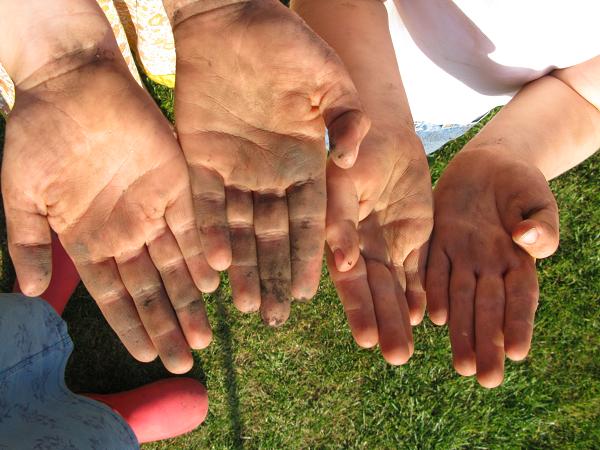 The badge of honour. Dirty hands after a job well done.
The felted soap did come in handy. All the children could not get upstairs fast enough to have a shower, this evening. They love the soap. No more dropping the slippery soap and trying to catch it as it pings around the wet floor of the shower. All children happily asleep in bed now. Phew! It all starts again tomorrow!
11 Responses to Rainbow soap
There have been cases when people lifted my photos and words, and used them without credit to me or asking permission first. Using them for their own commercial gain. I have now added a level of security to deter people from doing this. Apologies to people who do play nicely. If you would like to use any of my photos, please contact me.
All my words and photos are copyrighted to me. They cannot be used for commercial benefit by anyone else. If you would like to use any of them, then please ask me first and don't just take. Written permission only. Don't pass my words, photos or ideas off as your own. It's not nice.
Cookie Policy
Our web pages do not use cookies however this website uses Google Analytics, a web analytics service provided by Google, Inc. Google Analytics uses cookies to help us analyse how people use our site. The use of cookies by Google Analytics is subject to change.