I watched our neighbour disappear down our drive with a big bundle of rhubarb slung over his shoulder. I could tell he was happy with our latest swap. We had an old brick (locally made) and empty egg cartons and he had the makings of a delicious pudding, or two, with the added promise of more eggs to follow. I was equally pleased. There are only so many eggs and rhubarb products you can eat or freeze in a week. It also heralds the start of the growing season and, with it, the produce swaps. The tell tale signs of bags hooked on gates and fences, will start to appear, as neighbours share their garden excess.
Gardening
We've been busy preparing the kitchen garden for the vegetables we'd like to grow. The old, homegrown hazel sticks will do for another year to hold the beans and peas. I noticed our new neighbours, on the other side, have partly coppiced their hazel too for their beans. We exchanged eggs and gardening tips, over the fence, with them at the weekend. We barely see any neighbours over the winter, so it's nice to catch up in the spring.
I potted up tomatoes, courgettes, pumpkins and cabbages in my potting shed. After the frost in May we had a couple of years ago, I'm reluctant to put them out too soon. They are enjoying time in the greenhouse instead, while they grow a bit bigger and hopefully more slug resistant. Plenty more potting up to do as there are more seedlings shouldering each other for room in their now overcrowded pots.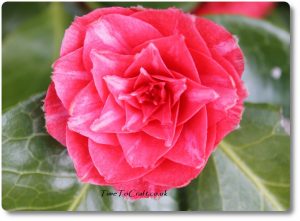 Onwards
It's not just growing season in the garden. The children are growing too. Youngest teen seems to grow out of trousers in a matter of weeks. He loves standing next to me and showing how much he's grown. I always appreciate him pointing this out. Middle Teen seems to have grown more too, although she reckons that's more to do with improved posture, but I'm not sure. She has definitely grown.
She took her first two belts in kick boxing at the weekend and did very well by all accounts. I missed it, as I was dropping Eldest Teen in town so she could catch the coach back to Uni. To be perfectly frank, I'm not sure I'll ever be ready to see her sparring. There was something slightly surreal seeing her gloves and belt on her bedroom floor, when I went in to wake her the next morning. I'm glad she is enjoying it.
She also went to her first University exhibition, which she came back more focused than ever. I'm encouraging her to choose somewhere slightly closer than her older sister did, but who knows. Knowing my luck they will be equal distances away from us, but in opposite directions.
What else? We went to the cinema as a family for the first time since Covid reared its ugly head. The others have been, but it was the first time for me. Very strange seeing the big screen and experiencing the over loud sound track again. We saw Fantastic Beasts 3. It was good, but everyone agreed that parts 1 and 2 were better.
So, we're back to being a household of four again, as school and uni are back. I've managed to serve up five plates at supper more than once as it takes me time to adjust. Servings are a bit larger by accident too. I'll get used to it and then she'll be back again for the summer.
Right, I'm off to the garden. Anyone wants me, I'll be in the potting shed. Hopefully potting up tomatoes and peppers and avoiding the mini beasts that think we built the shed exclusively for them.
Joining in with Anne's lovely word of the week. Slightly late as I worked yesterday. My word(s) are growing season. What are you growing?