I've noticed a flurry of people access my eco friendly posts this month. Especially the ones that go hand in hand with homemade, such as how to knit a dishcloth. Could it be a few new year's resolutions are being put into action, as they start their eco journey, or are they upping their game? Which ever, they are not alone.
Eco friendly impact
One post that is getting a lot of interest, at the moment, is knitting a dishcloth. So easy to make and a really easy swap. Not to mention adding a splash of colour and who doesn't need that?
Instead of throwing away one use cloths each time, the knitted version can be washed, and used over and over again. Single use cloths have micro plastics in them, so if you are cutting back with your plastic waste, cotton cloths are a good option. Less waste to end up in our landfills and waterways. Win-win.
Cotton production has its own overheads where green issues are concerned. The growing and processing is not kind. To make up for this, a quick google suggests that a cotton bag needs to be used 131 times to equal the environmental impact of a similar one use plastic bag. I suspect it might be more in the case of a knitted cotton dishcloth, due to the cleaning in between.
The good news is, that a cotton dishcloth probably gets, and survives, far more uses than 131 times. I have some that are a few years old, still in regular use and look as good as new.
It does win, in another way, by being equivalent to probably three or more flimsy disposable cloths, each time it is used, as it's bigger and more substantial.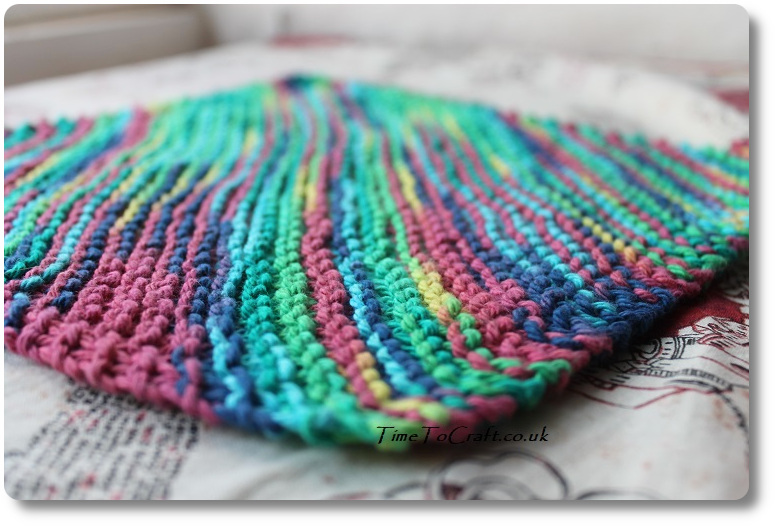 Craft materials
Mine are knitted with 100% cotton, which is available in so many fun colours. I still have the first dishcloth I knitted when I was about 7 years old. I gave it to my mother, but I'm guessing she could never bring herself to use it, as it's still in pristine condition. It was off-white. Pretty sure, there wasn't another colour choice. 
Hunt around a bit more, and you can find recycled cotton yarn, which would cut down the environment impact. Alternatively, you can make your own cotton yarn by cutting up old clothes.
My favourite dishcloths are my knitted ones, but I have crochet ones too, which I find are thicker and great for hard scrubbing. The knitted version are my go to when wiping down surfaces as they are big and a bit more swishy.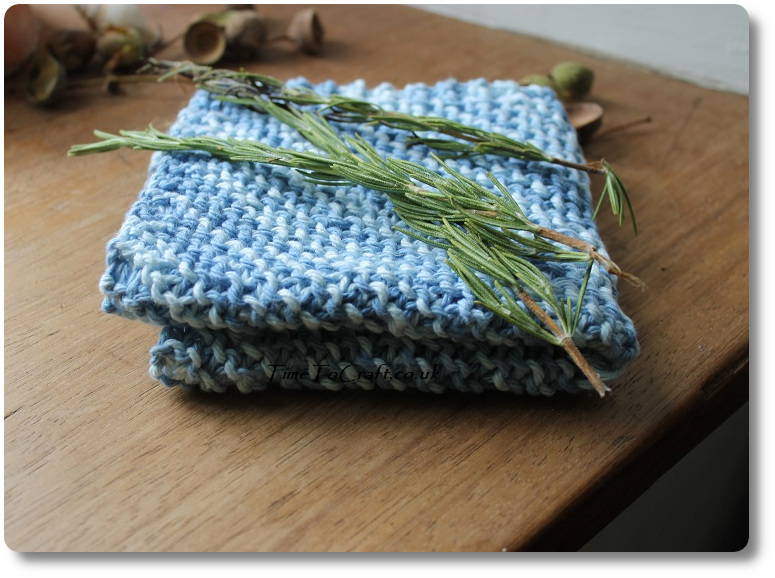 How to knit a dishcloth
My favourite dishcloth knitting pattern is a simple corner to corner knit. The resulting garter stitch gives a bumpy surface, which is great for cleaning. A simple square pattern would work, but I find this one more interesting to knit. Last thing I want to do is find knitting the cloth has turned into a chore in its own right.
I used one ball of Lily Sugar n Cream (affiliated link)57g (Psychedelic Ombre) and 4mm needles.
Cast on 3 stitches
Row RS: knit
Row WS:  K1, increase one stitch*. Knit to last 2 stitches. Increase one stitch. K1
Repeat last the 2 rows until you have 55 stitches on your needle.
Row RS: knit
Row WS: K1, knit two stitches together. Knit to last 3 stitches. Knit two stitches together. K1.
Repeat last two rows until you have 3 stitches on your needle. Cast off.
Notes:
* Increase – Knit into the front and back of the next stitch.
RS – right side
WS – wrong side (not that it makes much difference!)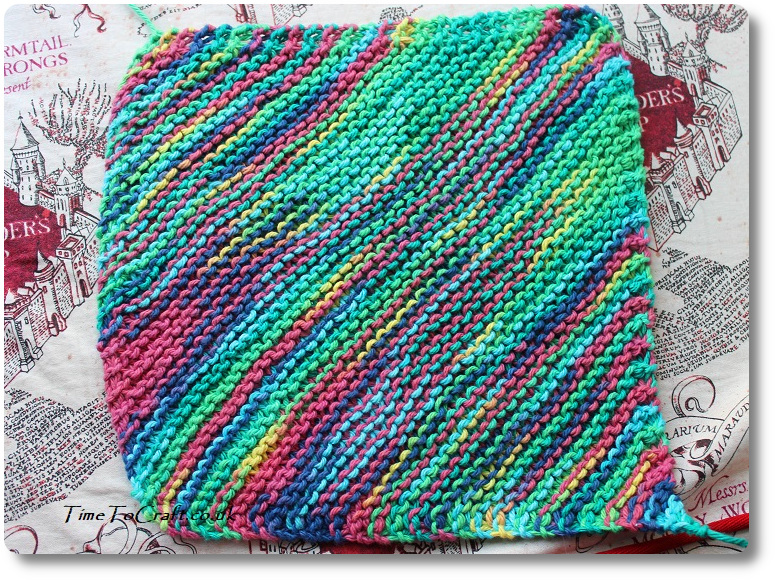 I use my cloths to wipe down the surfaces. I have a 1 litre spray bottle filled, with homemade rosemary and vinegar, on hand to use. I've used this one for years. Topping it up every so often. Half white vinegar, half cooled down boiled water, with 15 to 20 drops of rosemary essential oil. Don't worry about the vinegar smell, I've never noticed it lingering.
Washing
I've washed my dishcloths at 40° and 60°. I throw them in with my towel washes. I've had no problems and I've been using them for years. Choose the wash setting that you feel comfortable with.
Any questions, please let me know. I'm happy to help anyone to knit their first dishcloth.
So, what do you think? It's a great beginner's pattern. Also makes a useful housewarming present. Would you knit your own reusable dishcloth?