So she knitted a humble dishcloth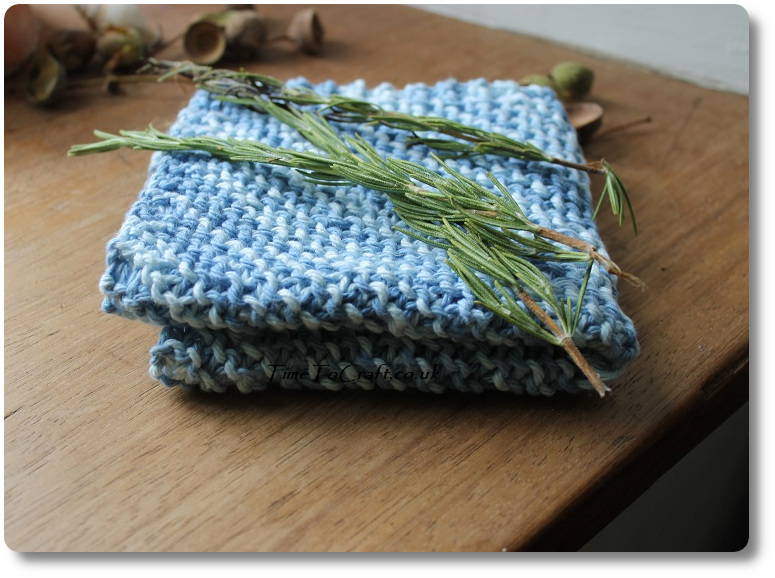 I finished knitting a cotton dishcloth. (pattern instructions here) Haven't made one of these for ages, partly because they last so long. No need to replace them that often. This one is a garter stitch corner-to-corner. It is a quick knit, using 100% cotton yarn. The cotton is variegated, which I never think shows the intricate and complicated stitches up to their best. So garter stitch is perfect.
I'm not sure that knitting your own dishcloth is quite so popular in the UK, as in other countries. It certainly went through a dip. In the 80s, I remember balls of dishcloth cotton being on sale, outside the draper's shop (long since gone), in our local market town. You bought it along with your tea towels, nets and curtains. I can't remember what else the shop sold. It seemed to go back, like an Aladdin's cave. Anyway, it was a small basket for the dishcloth cotton yarn, out the front. Presumably, not a big demand for it, even then. The cotton was always the same off white colour. As dull as the dishwater it was destined to sit in. Now, at least, I can find a lot more choice.
I use my dishcloths for cleaning surfaces rather than dishes.  I mix up a homemade white vinegar and rosemary cleaning solution to wipe the surfaces. I've been refilling the same bottle for 17 years. As old as my Eldest teen, which is no coincidence. From the start, I didn't want her coming in contact with harmful chemicals. I've stuck to the same recipe ever since. I'm sure, in years to come, my children will be hurtled back to the memory of their childhood, kitchen table, at the mere whiff of rosemary. Before you ask, the smell of vinegar does not stick around for long.
Back to the cloths. Maybe it's just me, but I find the reusable cleaning clothes, on sale, a tad thin. They feel too light and flimsy. They don't feel substantial enough to stand up to the elbow grease that's sometimes needed.
Begone you congealed gunk, from last night's feast.
In contrast, the knitted cloths are much easier to scrub with. They work better than towelling or a square of fabric. It is something to do with being knitted and chunky. My knuckles are safe and don't feel like they're in direct contact with the counters. Once I've finished cleaning, they are easy to clean. Ready to be used again.
Being cotton, they don't shed microplastics every time they go in the washing machine, which is a plus. Cotton does have a down side in the environmental cost of producing it, but this cloth will long outlast its microfibre cousin. There is at least one brand of recycled cotton yarn, which I'd like to opt for next time, to cut down on the impact on the Earth's resources. Small? Yes, but it counts.
Also, I'm going to wait until the right ball of cotton yarn crosses my path, rather than dashing back to the craft shop. It is amazing how well this approach works, believe me. Someone else's clutter. Alternatively, if the right fabric comes along, I will use it to make my own knitting yarn.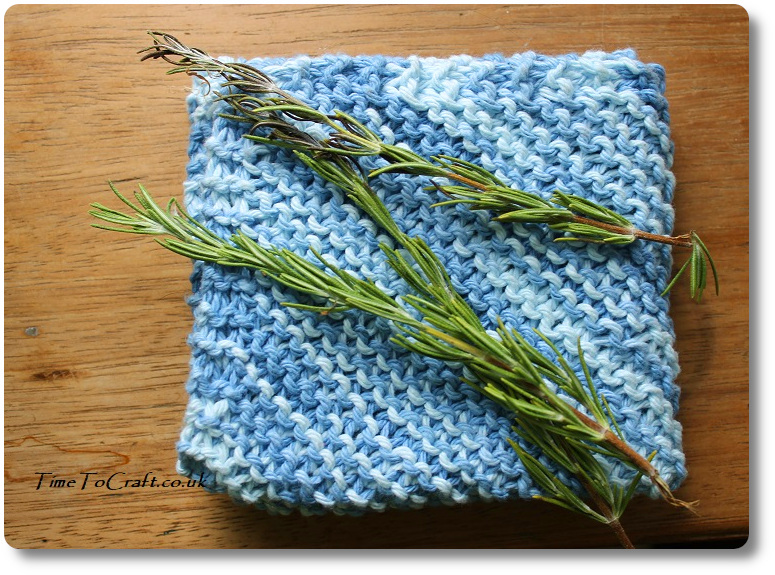 I like knitted dishcloths. I like knitting them too. It always gives a good buzz to finish something that is going to be useful. Not much more basic and functional than a cleaning cloth.
Have you ever knitted/crocheted dishcloths? Do you use them? Would you like to give it a try? I've posted up the instructions here.
Linking up with Rosie's October Going Green Linky