A happy month
They say that for every house you visit in December and devour a mince pie in, you will have a happy month in the following year. Visit 12 friends and you are set up for the year. I've always loved this tradition. So friendly and welcoming. Even as a child, when I didn't particularly like mince pies, I'd eat a pie, when visiting, just to guarantee my allotted happy month. Most December gatherings, you're greeted at the door with a plateful of mince pies, so it soon adds up.
I do like mince pies now.
Unfortunately, this tradition is on a slippery slide this year. We won't be visiting other people's homes, this particular festive season. Maybe we can munch mince pies with friends and family over Zoom and that will count. I certainly hope it does.
I really like making my own mince pies. In the UK, they are available to buy in boxes of six, from the shops as early as October. Bit early. I mean, who's going to resist and put them aside until December? We just end up buying more. I have a bit of a bug bear when it comes to the plastic trays and packaging. So to avoid the waste, I make my own.
Thought I'd share the process. It really is easy.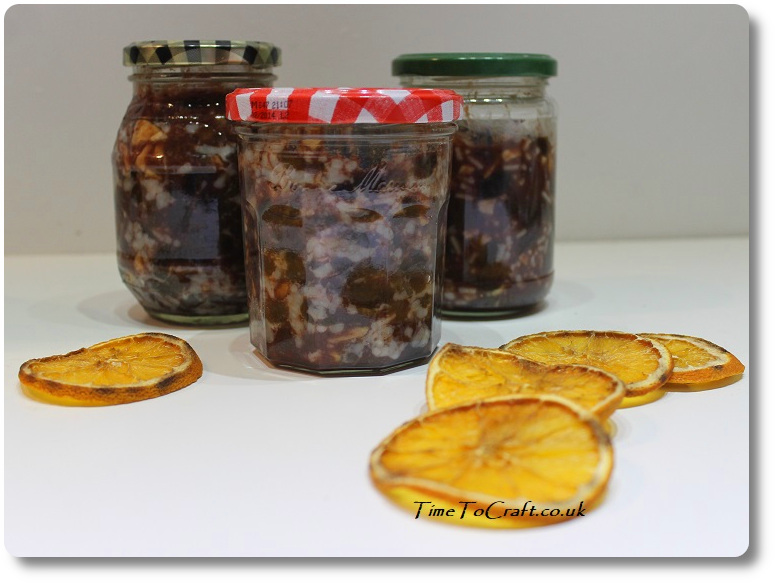 What is in mincemeat?
Up to this year, I bought jars of mincemeat. There is quite a range to choose from. From basic through to luxurious. Usually the more expensive ones have added ingredients such as extra fruits, brandy or ruby port. Yes, you can taste the difference. Some are better than others.
Before I go any further, I need to set the record straight for any non-Brits. Let's get this one out of the way. Mince pies do not contain ground up meat. They used to contain meat, fruit and spices, but somewhere among the centuries, the meat was dropped, but the name remained. They became a round, sweet pie that fits in the palm of your hand. Absolutely no meat.
The basic ingredients for mincemeat is dried fruit, suet, spices and a glass of your chosen tipple. Traditionally the suet was beef suet, but I've always used vegetable suet for baking. You'd be hard pushed to find anywhere that sells mince pies with beef suet in it now. I also omit the lard in the pastry, to make my pies vegetarian.
There, got that one out of the way.
How do I make mincemeat?
I'm glad you asked.
Although, you need to be doing this a few months before December, so unless you've got a time machine, this is a recipe for next year. Bookmark this page and go treat yourself to a jar, in the meantime.
I based this year's mincemeat on the National Trust recipe, but added my own touches.
Ingredients
625g mixed dried fruit (alternative: 225g raisins, 225g currants, 115g sultanas, 60g candied peel)
225g suet (beef or vegetable)
250g Bramley cooking apple diced into small pieces
225g sugar
1 teaspoon each of ground cinnamon, ground nutmeg and ground allspice
1 small wine glass of port (or whatever you fancy; sherry, brandy, whisky)
1 lemon (juice and rind)
Mix all the ingredients together in a bowl, cover and leave over night.
Stir thoroughly and pot up in clean, sterilized jars, with lids.
Store for a month or two.
There are lots of other recipes that use mincemeat. I add it to fruit cakes and cake tray slices. Or in the middle of a baked apple. Yum!
Pastry
I use my trusty short crust pastry recipe. The pastry is short and ever-so-slightly crumbly. It holds together as a pie, but also melts in your mouth. Alternatively, if time is against me, I'll pick up a ready made pastry. It tends to make a more solid pie.
Baking tin
I use a cupcake or bun tray. If I want deeper pies, I use my muffin tray. You'll need to grease the individual holes with butter or similar.
This year, I discovered a silicon flan tray, which has been a total game changer. Not an ad, but you can get one here. No need to grease it. It cooks the pastry faster and the pie flips out of the tray perfectly. No more soggy bottoms, as they say on the Great British Bake Off. Plus, it gives that lovely crinkled edge to the pastry.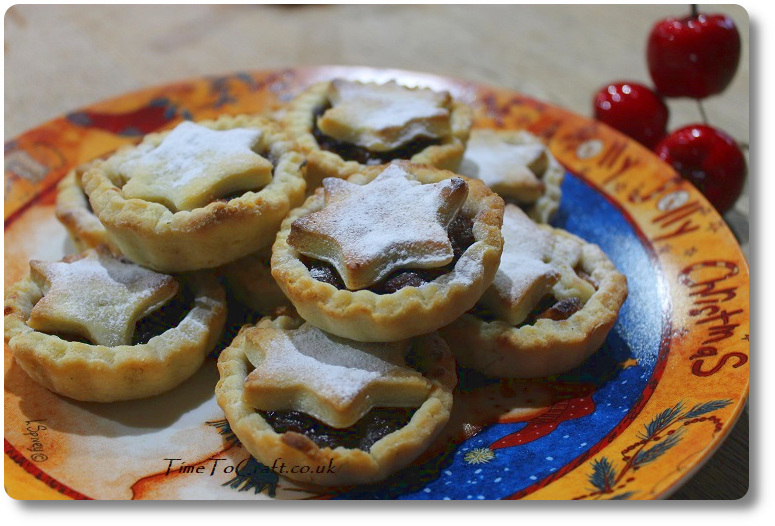 How to make the mince pie
1    Roll out the pastry to about 3mm thick (1/8 inch)
2    Cut out circles to fit your bun tray, so they line the greased hole.
3    Cut equal numbers of lids. Either round, or, if you're feeling less traditional, stars.
4    Fill the pastry with mincemeat, almost to the top.
5    Put the lid on top. Brush a small amount of milk around the rim, before adding the round lid. The stars don't need it.
6    Brush the top of the lids with a little milk.
7     For a 2 oven Aga, bake in the top oven, on the third shelf, for 15 to 20 minutes. The flan tray takes about 10 minutes. Turn half way through the time.
For any other oven, bake in the middle of a 200°c /180ºf for 20 minutes. Check after 10 minutes.
8    Once the pies are a golden brown, bring out of the oven. Allow to cool in the tray for a few minutes. Remove the pies from the tray and place on a cooling rack.
Once cool enough to touch, sift a little bit of icing sugar on the top, to give it a sprinkling of snow.
The pies can either be served hot or cold.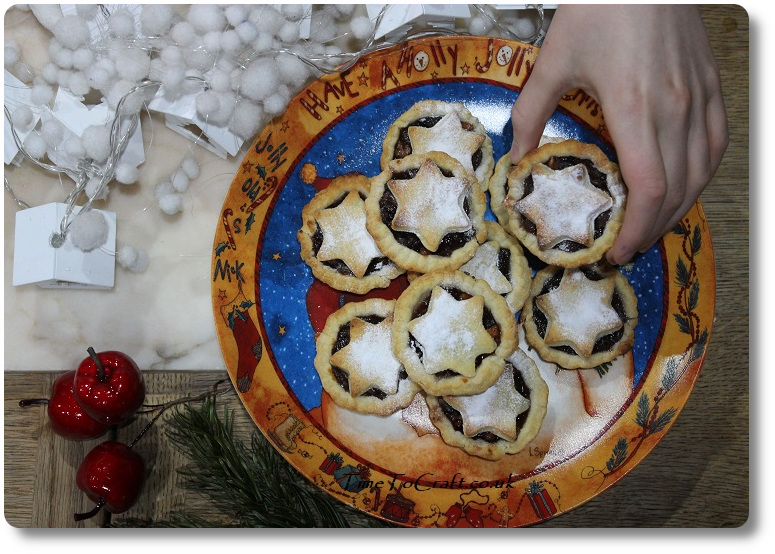 Nothing beats the welcome of mulled wine and a plateful of warm mince pies straight out of the oven, as you walk through the door on a cold evening to see friends and family. I'll miss it this year. Might just make a few more mince pies to make up for it.
Here's to many happy months for all of you.