How about some rhubarb lemonade?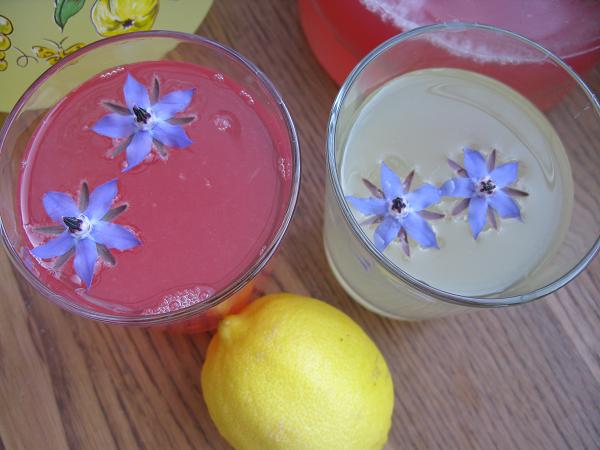 Hot summer days and rhubarb always remind me of time spent in my Grandma's garden. If you went over to her house during rhubarb season, she would inevitably offer you rhubarb lemonade. It would always hit the spot, especially if you had cycled over. If you asked her how she made it, the recipe would always be given in general terms. No measurements given. It was the same with her absolutely yummy welsh cakes. The recipe of which has gone to the grave with her. I'm still trying to perfect that one.
Back to the rhubarb lemonade. I have worked on this one over the years and with my mother's help, I have a recipe. Saying that, I have taken the recipe a little further. I'll do my version , and add a note where Grandma's recipe cuts out a few stages.
Rhubarb juice
1 lb (450g) rhubarb, washed and cut in 1″ cubes
1/2 lbs (225g) caster sugar
2 pints (4 cups) of water
1. Put the rhubarb and water in a saucepan. Cover and bring to the boil.
2. Keep covered and reduce the heat. Simmer for about 10 minutes until the rhubarb is falling apart.
3. Remove from the heat and add the sugar. Stir until the sugar has dissolved.
4. Pour into a jug or bowl and cover. Leave to cool.
5. When cool, extract the juice using a ladle. I take about 2/3rds of the juice, as I don't want to dry out the remaining rhubarb. I use for the rhubarb for puddings. Take as much of the juice as you want. If some of the rhubarb strands escapes into the juice, don't worry. It will  prove that it was made from real rhubarb. I push the ladle gently into the middle of the rhubarb and let the juice seep over the ladle sides, until I have a full ladle, but you could strain it through muslin to catch the bits instead. The remaining rhubarb can be chilled for another dish, such as rhubarb and custard.

6. Cover the rhubarb juice and chill in the fridge.
This is the point where my recipe deviates from Grandma's. Once chilled, she half filled a glass with rhubarb juice and then topped it up with shop bought lemonade. Any sediment fizzed to the top and made a frothy fringe around the edge of the drinks' surface. Time to sit back and enjoy. It makes enough for about 8 medium sized glasses. I love this version, but I couldn't help experimenting.
I've been working on using homemade traditional lemonade, instead of the fizzy version. There are many trad. lemonade recipes, but this is the one that works for me.
Traditional Lemonade
While you are waiting for the rhubarb to chill at step 4, start making the lemonade.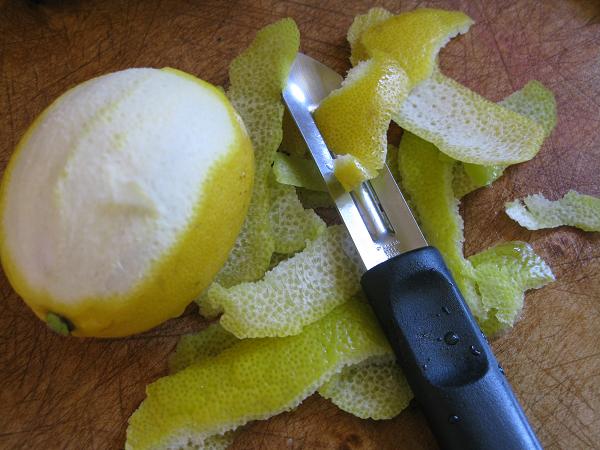 4 unwaxed lemons
4 oz (100g) caster sugar
water
1. Zest the lemons, leaving as much of the white pith on the lemon as possible. I've tried so many fancy lemon zesters, but it ends up that an ordinary vegetable peeler works best for me.
2. Squeeze the juice from the lemons.
3. Put the lemon juice, zest and sugar in a heat proof jug.
4. Pour 1 pint (600ml) of boiling water into the jug and stir until the sugar has completely dissolved.
5. Take a deep breathe. How good is that lemon.
6. Cover the jug and then leave to cool.
7. Once it is cool, strain it into another container. You can use muslin, but I like to use an ordinary sieve, so that some of the lemon bits get through. The remaining lemon zest is not needed, so either compost it or put it aside for another use.
8. Add 3/4 pint (400ml) of chilled water to the filtered juice to dilute it. Add sugar if you like it sweeter. Chill until required.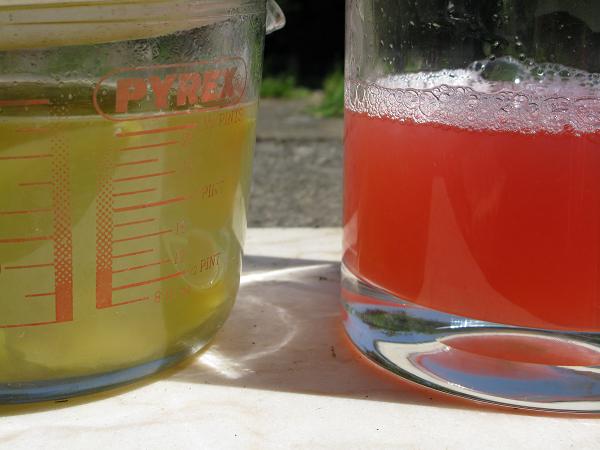 You now have a jug of chilled rhubarb juice and a jug of chilled traditional lemonade. Last stage is to select the perfect glass. Half fill it with rhubarb juice and top it up with traditional lemonade. Leave enough room for lemon slices, ice cubes, borage flowers, paper umbrellas or two…..whatever will finish your creation off with perfection!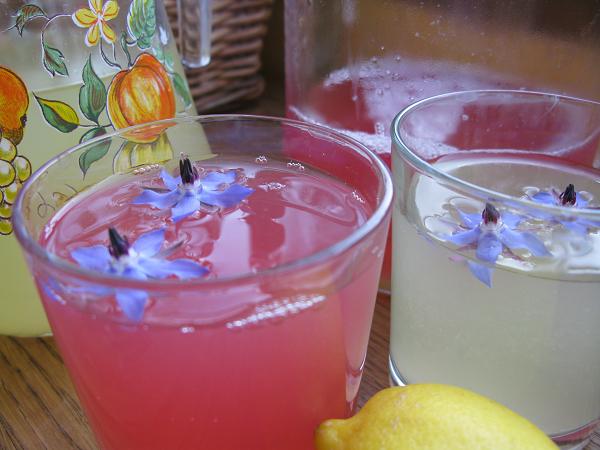 Sit back and enjoy. Here's to you, Grandma. Happy summer, everyone.
I cannot tell you how long it lasts, because it is always gone within a couple of days. If I've missed anything out or you have a question about the recipe, please leave a comment and I'll do my best to answer it. Thank you for getting to the end of this post. I'll try and remember to tell you about Grandma's water otter one day.