Anyone else trying to cut back on their single use plastics? It's an ongoing process for me, but #PlasticFreeJuly is this month and it's encouraging me. I'm under no illusions that I can eliminate all the single use overnight. It will take longer. One item at a time.
Today, I checked reusable produce bags off my list. Instead of using the plastic or paper bags when I buy fruit and veg, I can use my produce bag. A drawstring bag, made from light weight fabric. It's not transparent, but see through enough for a shop's checkout staff to see how many peaches are in the bag.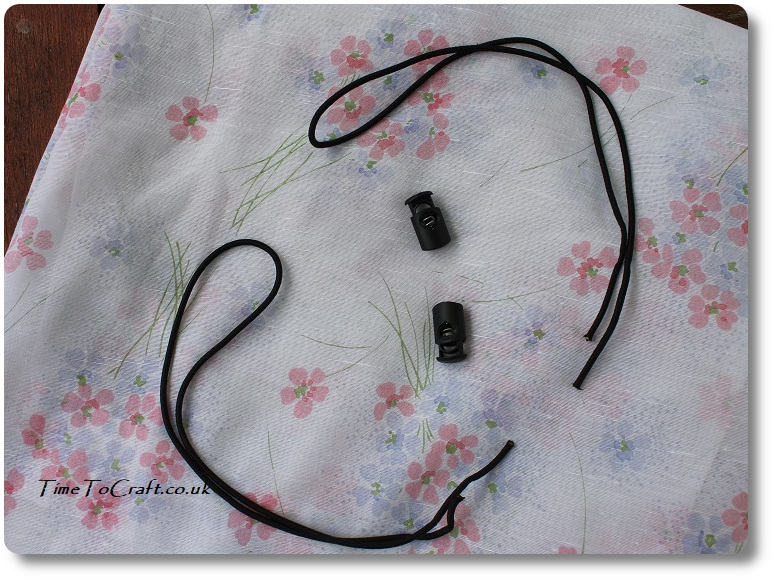 I used a toggle and elastic rescued from a small bag that held one of the children's waterproof coats. The fabric is a net curtain from when we lived in Italy, when I was a child. I call them net curtains, but they were more cosmetic. All the windows had fixed mosquito nets and heavy metal roller venetian blinds, blocking the view. These nets used to hang at the side to soften the look, especially in the bedrooms. Thinking back, I'm not sure it worked.
(One summer, I remember a swarm of bees taking up residence in the box casing for the blinds, in one of the bedrooms, making it unusable. The bees rather objected to their hive being invaded by a clanking metal structure, every morning. If memory serves me right, that bedroom was out of action for a while. No-one went in there. I don't remember what happened in the end.)
Anyway. Not your classic British net curtains. The fabric is more lightweight chiffon. Like a scarf.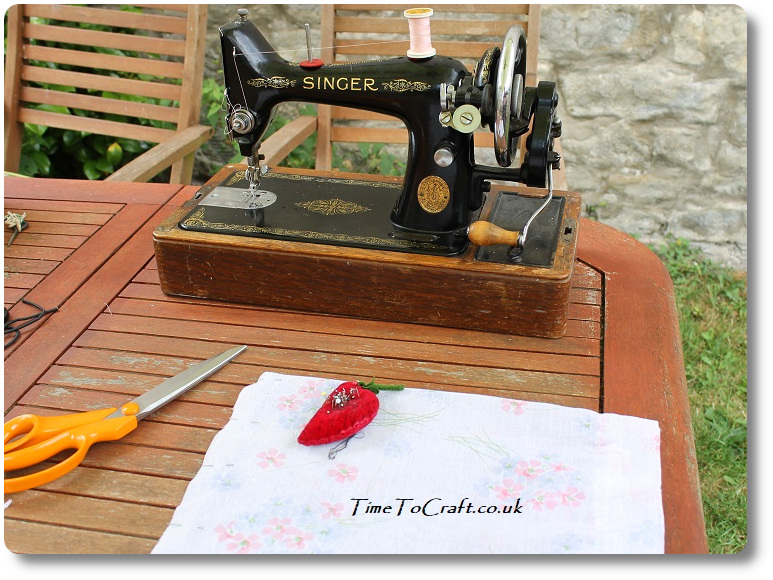 The curtains had a channel at the top for the pole or elastic that it used to hang from. I re used that part for the drawstring. Fortunately, the elastic I had, was just a little bit shorter than the width of the curtain, giving the final bag a bunched opening, which doesn't flop. I cut the fabric to make a square bag and sewed around, leaving the top open.
It was lovely weather, this weekend, and I took my hand cranked Singer machine outside to sew. I used French seams. The fabric tends to fray and is see through, so I wanted to hide the edges. I also think it makes the join stronger and less likely to break. An advantage to making your own. I know it will hold a good number of apples and not split as I put it in my basket. Chasing renegade apples, making a break for freedom around a market floor, is not top of my list of things to do.
The bag was quick to make. Works a dream for the peaches I tried it out with. I have enough fabric left to make several bags. I plan to make one for a baguette too, rather than the long plastic bags that they use in shops. When did they stop wrapping them with a small square of paper for handling purposes? (Showing my age?)
This bag is on a mission today. Youngest is making fruit crumble in food tech at school. The fruit is measured out and, in the bag, waiting to be taken in. No single use bags. After that, I'll roll it up and keep it in my bag, so I don't forget it when I'm shopping. Added bonus, it will be easy to wash.
This is not the only single use plastic I've swapped this month, but the list can wait to a later time. I'm pleased with my home made bags. I've recycled fabric and fixings that could easily have been thrown out as their original use had long since gone. They are pretty too. A win-win all round!
The proof will be the eating of the pudding, as they say. Do you use re-usable produce bags?
——–
Joining in with Rosie's Going Green linky.