Pie dishes and car boot sale
We went to a local car boot sale over the weekend. It's been a while. I warned the children not to expect to buy anything. Always go with a minimal, mental list of things you'd like to find and avoid impulse buying, otherwise all you're doing is moving clutter from one home to another. Shifting the problem. It works if one person's clutter becomes your desired purchase. Everyone wins that way.
So included on my list were garden tools (I could do with another fork), a tailors dummy (I live in hope) and individual pie dishes. I know I could buy all these first hand very easily and have it all straight away, but that's daft if I can help someone else clear their clutter and save it going to a landfill. It's one of the reasons I try to buy nothing new.
I'm patient. I can wait to find the right solution.
(Unless it's fabric. Then the conversation in my head, about the gorgeous new fabric in my hands, goes on a whole heap longer and can get heated. Fabric is my weakness, but I'm working on it)
Also I find items fall off the list after a while, proving I really didn't need them.
I think by the end, the children were more than ready to go home. They chattered happily in the car about the strange things they'd seen for sale, conversations they'd overheard and no one was upset about coming home empty handed.
Nestled by my feet, were a stack of small pie dishes.
Six of them.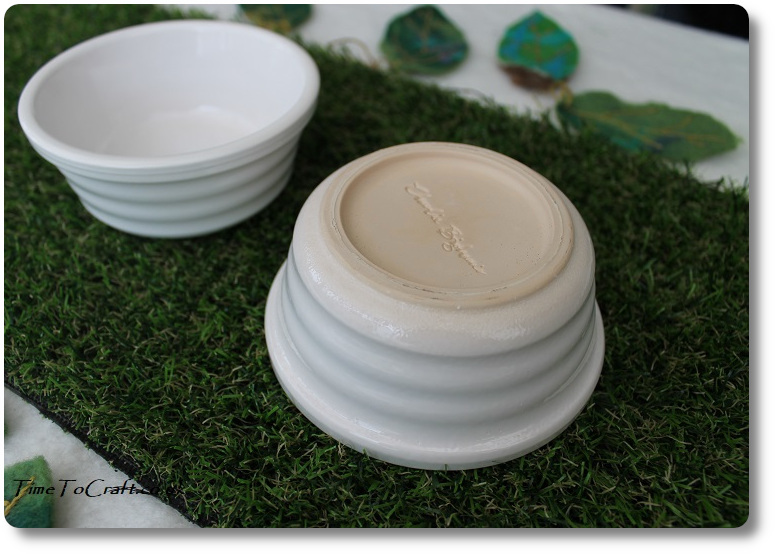 They are the ceramic dishes that Charlie Bingham's pies come in. I've never tried this range of pies. I like to make my own. I'm assuming that the owner of the stall must have absolutely loved them, as she had a box brimming over with these dishes. Empty and clean! Perfect for my pie making. I bought 6 for £1.
Last night, I used them to make fruit crumble. Using up leftovers before my supermarket delivery arrives today. I mixed pears, blueberries and raspberries, with a dash of almond essence. I'm not sure if it was the new dishes, the stormy weather raging outside or the fruit combination, but everyone really loved the crumble. Bowls were cleaned.
The new dishes have given me the chance to try out something else that's been on my list – bowl cosies. Especially important as the dishes are coming straight out of the Aga and I wanted to protect everyone's hands.  Turns out that bowl cosies are ridiculously easy to make. A few darts and the flat square turn into a bowl, with the perfect dimensions for my new individual pie dishes.
I've made one so far, as a proof of concept. I'm using Aldi fat quarters, with cotton wadding. Sewn up with cotton thread. The theory is that by avoiding mademade fibres, I can put these in the microwave or my lower oven, without fear of anything melting. It makes it easier to lift the hot bowls out. The cosies can either be held by two diagonal corners or in the palm of your hands. Even if it spills, the fabric catches most of the hot splashes before they can hit anyone. Usually me, to be honest.
It's reversible too. I'm not sure how important that feels to me at the moment. I guess that some dishes will look better against the yellow and others with the blue. Flexibility to change the colour may be nice, but I'm more interesting in making a set of cosies that complement each other but not match. I am not a matching kind of person.
Sometimes you win. Sometimes you lose. I'm quite happy with my new pie dishes. Love that it pushed me to dabble in a new sewing project too. It seems to have gone down well with everyone. Even had requests for customised bowl cosies. I like that. It means they are already picturing themselves using these cosies for late evening, garden eating.
Oh. Roll on summer!