A bit of crafting progress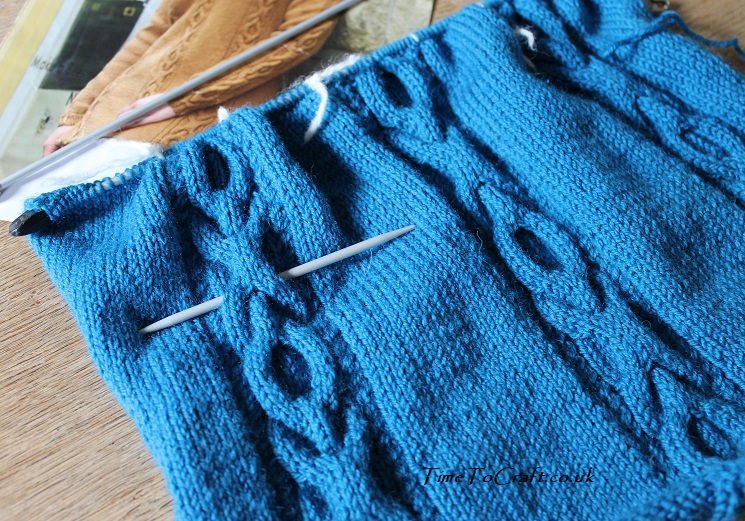 It's Wednesday, and the wind is still blowing a hoolie, courtesy of Storm Gareth. I'm getting a tad fed up with it. I have a few outside jobs I want to do, but they don't lend to everything blowing around. Never mind. There is always a silver lining. A good excuse to stay in and get on with indoor jobs instead. I have a list, which is gradually being checked off. One item is a crafting update, which is handy.
I  have actual progress to share. Nothing finished yet. Big projects always take so long to complete, by their very nature. Reaching a ta-da moment is few and far between, so I'll admit I'm only sharing milestone progress this time. Better than radio silence for months, while my fingers spin fibre and textile into something worth showing.
Anyway, here is my current knitting project. And may I just say, this is a first for me. Usually I finish one knit and then straight on to something completely different. I'm pretty sure it's all down to the length of time each project takes. Too long doing the same thing, means I'm yearning for a change of scene.
Not this time.
After knitting my purple cardigan, I took the plunge and dived straight into knitting the jumper version of the same pattern. I know. Bar a buttonhole band, it's the same pattern. I loved the fit and style of the cardigan. It seems to suit me perfectly. So I've got my fingers crossed. I'm hoping that it will be true with the jumper too.
I chose King Cole yarn again, but this time in blue. The colour is called petrol. Not sure why. Maybe I'm missing the point. Whatever the name, I'm pleased with the colour. Strong colours suits me. The yarn is gorgeous to knit with and also to wear. It washes well in the wool cycle of our washing machine, which is a relief when it comes to 100% wool. I find hand washing an easy task to put off. Whatever the weather.
I was lucky with the yarn. They didn't have enough of the same dye lot, but managed to do 12 of one batch and one of another. I can't see the difference, but will use the odd ball for the ribbing, where any colour change won't be so obvious.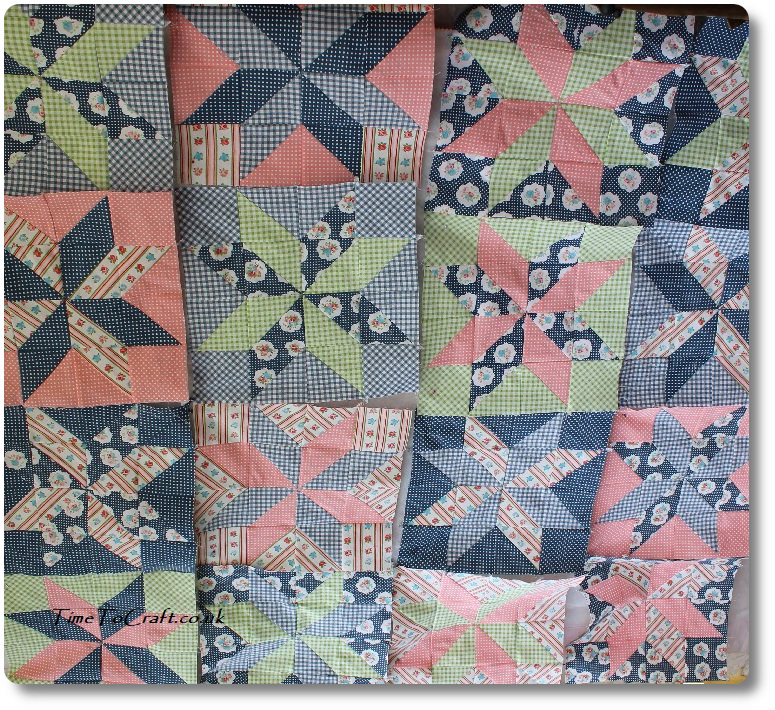 Second craft project. I've finished all 16 blocks of my latest quilt. I loved sewing these together. Now to decide the colour of the borders/sashing. I find the blocks a bit washed out. Close up they are not so bad. I'd like a strong colour in between the blocks to lift the quilt a bit. I thought royal blue at first, but I might go for raspberry instead. I'm open to suggests. What do you think?
So there you are. Progress updated. I do have a ta-da moment tomorrow. Something I made a couple of months ago and can now share.
Right. Over to you. What are you working on, at the moment?