My Sunday Photo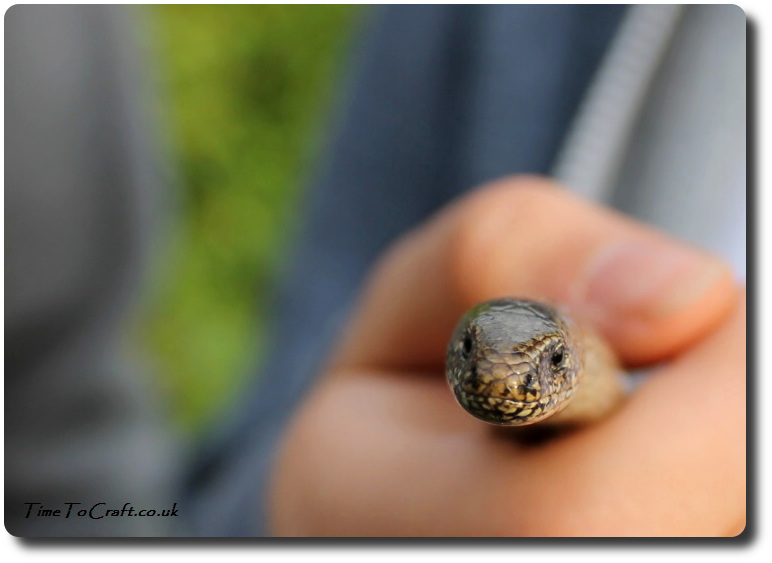 A slow worm, which is not slow, found in our grass compost. We put corrugated sheets of iron over our grass heaps. On hot days, the cry will go up, "I'm going to check for snakes", and the children will rush from every corner to be there. Then we lift the sheets.
If we're lucky, we'll see grass snakes or slow worms. Sometimes both. Either adults or babies, enjoying the warmth of the metal sheet.
Most slither away quickly. Always we cover up again, after our curiosity is satisfied, to reduce disturbing them. Very occasionally we pick them up. The grass snakes give off a foul smell. The slow worms play dead, then curl themselves around our hands.
(The slow worms are not snakes. They are legless lizards and eat our slugs, among other things.)
We love seeing them. They may not be cuddly or everyone's cup of tea, but they are part of the picture that makes our garden and surrounding area. It's a sign of a healthy food chain. It shows the diversity in our garden and they are welcome.
22 Responses to My Sunday Photo
There have been cases when people lifted my photos and words, and used them without credit to me or asking permission first. Using them for their own commercial gain. I have now added a level of security to deter people from doing this. Apologies to people who do play nicely. If you would like to use any of my photos, please contact me.
All my words and photos are copyrighted to me. They cannot be used for commercial benefit by anyone else. If you would like to use any of them, then please ask me first and don't just take. Written permission only. Don't pass my words, photos or ideas off as your own. It's not nice.
Cookie Policy
Our web pages do not use cookies however this website uses Google Analytics, a web analytics service provided by Google, Inc. Google Analytics uses cookies to help us analyse how people use our site. The use of cookies by Google Analytics is subject to change.