From the contents of pockets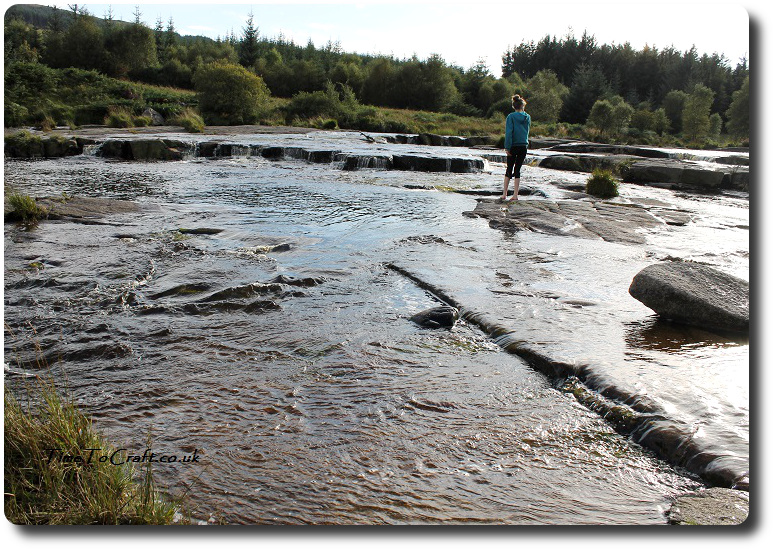 (Otter Pool Galloway Forest)
Beside my washing machine are two little piles that gradually grow as the months go by, until I sweep them up and rehome the contents. The first pile consists of small stones, some rounded, some with hints of fossils and others glisten with minerals.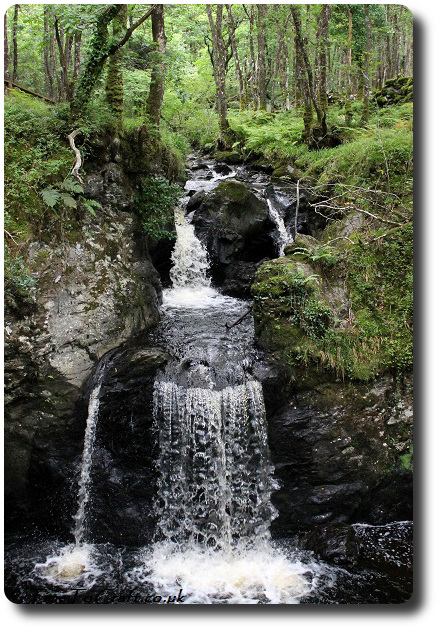 (RSPB Wood of Cree)
The second pile is of little sticks, pine cones and other seeds. There is a third pile but that is swept away once the washing machine is loaded and running. No need to keep the tissues, pieces of crumpled paper and similar.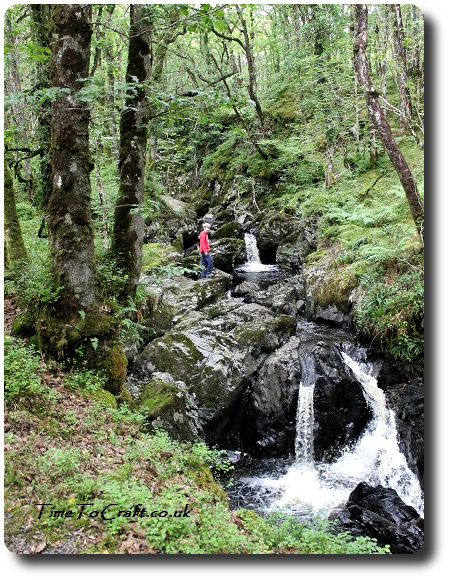 The contents of all three piles, as you have probably guessed by now, come from the pockets of clothes worn on our many walks and adventures. The children take after me. They cannot resist bringing back interesting nature finds.
But what to do with them all? I have jam jars full of stones and sea glass of all descriptions, so some are redistributed around the garden. I have baskets of acorns, walnuts and other seeds on our shelves, which are great for crafting.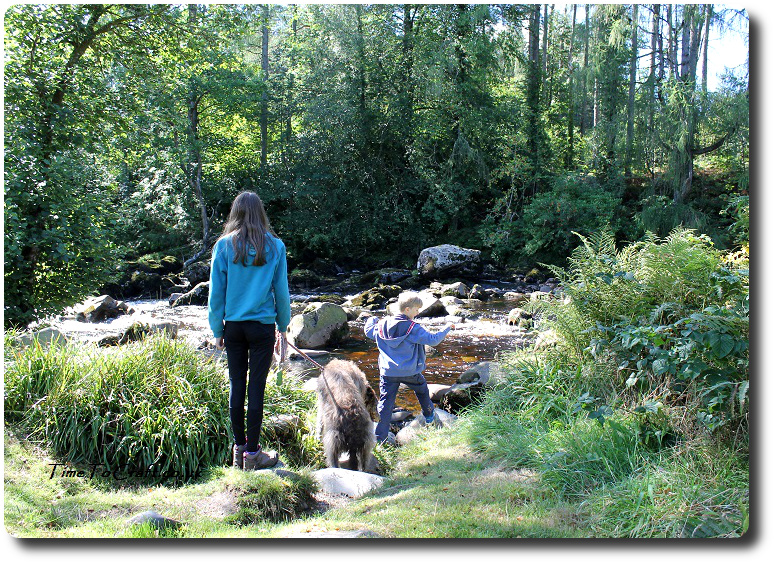 It is fun to search and collect the pieces, but our house would soon feel crowded if we didn't use them for something.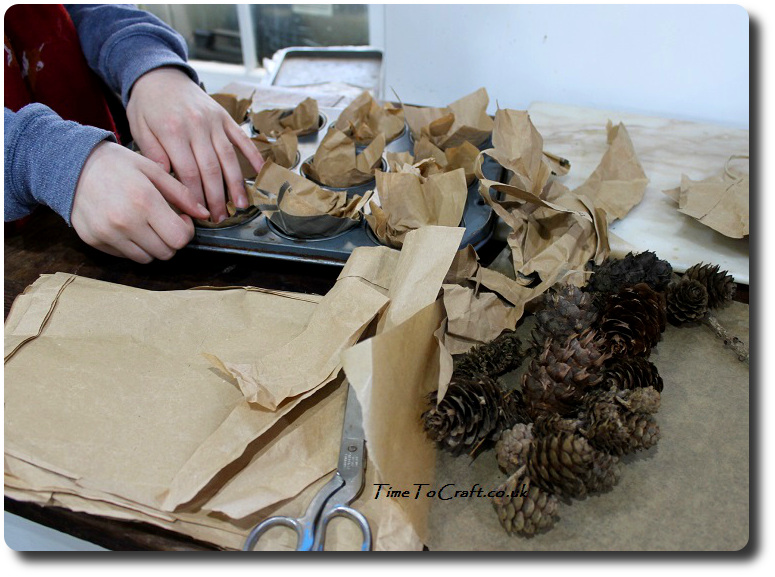 This weekend we have been reducing our collection of pine cones, and scrap brown paper, to make beautifully scented firestarters.
Years ago, before children, we went to New England around leaf peeping season. It was a fabulous holiday and I'd love to go back. One of the souvenirs I brought back was a cupcake shape firestarter, with a pine cone in the middle. The fragrance was absolutely amazing compared to the white version we use at home. I have looked high and low for something similar, but no luck so far.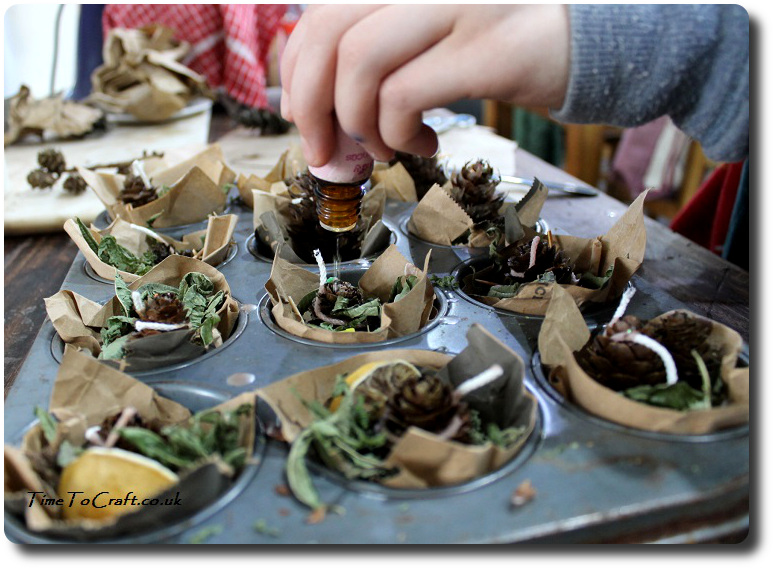 In the meantime, we make our own.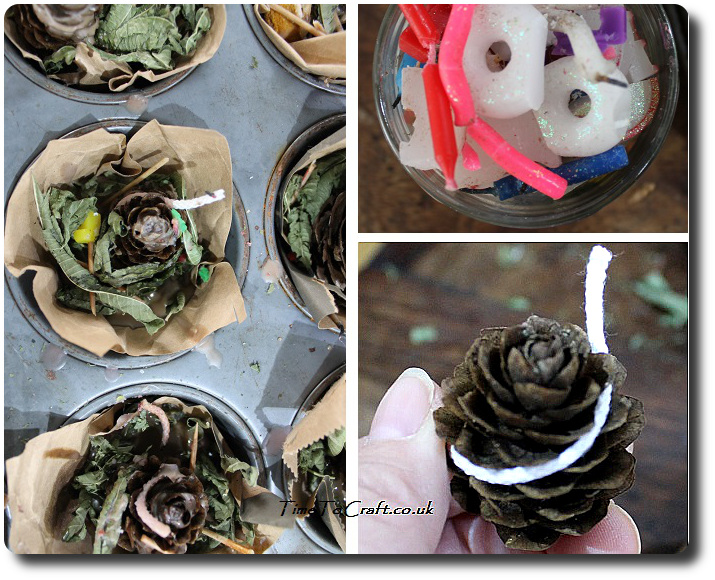 We used:
an old muffin tin
an old coffee scoop
thick, brown paper bags
old birthday candles and other wax ends
bits of string
old potpourri refresher oils
pine cones, twigs and dried herb leaves from the pile
dried ends of lemons and limes (left over from squeezing) and clementine peel
Step one: cut the paper into squares to fit the muffin tray holes and line the tray with the paper.
Step two: wrap string around pine cone, pushing the string into the cone and leaving a wick at the top, ready for lighting.
Step three: divide the cone, twigs, leaves and peel between each of the paper holders.
Step four: melt candle bits in jam jar. I pop this in the Aga, but I have used the microwave before.
Step five: once it is melted, I laddle the wax over the cones carefully, using the old coffee scoop to coat them. No need to fill the hole. There will be a small puddle of wax at the bottom.
Step six: leave to set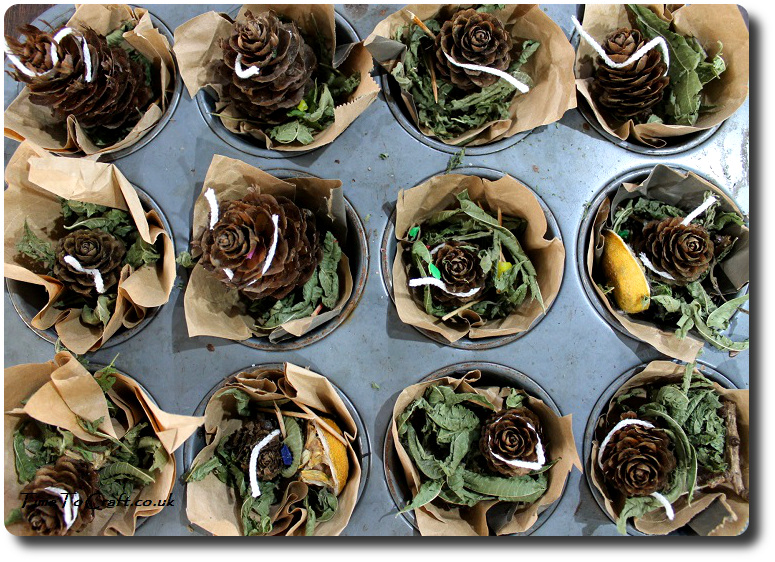 Once set, I like to pop them in a basket, ready for use. They scent the room and add a bit of rustic charm, while they wait for their moment in the flame.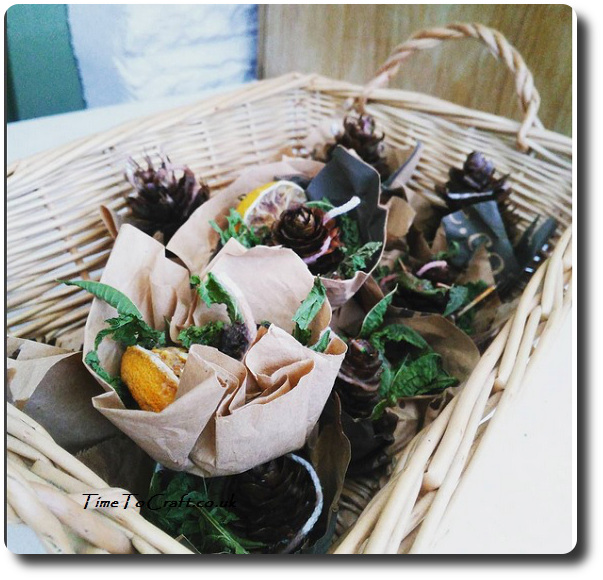 There will be more walks. There will be more finds. Already the washing machine nature piles grow again (I'm sure there is a name for them), just from dog walking over this weekend.
The children enjoyed making these. We talked about the three things you need for fire – fuel, spark/warmth and oxygen. What happens when one is missing.Why the wax didn't burst into flames as it melted. We also talked about a very neat experiment that we want to do, which I hope to share soon.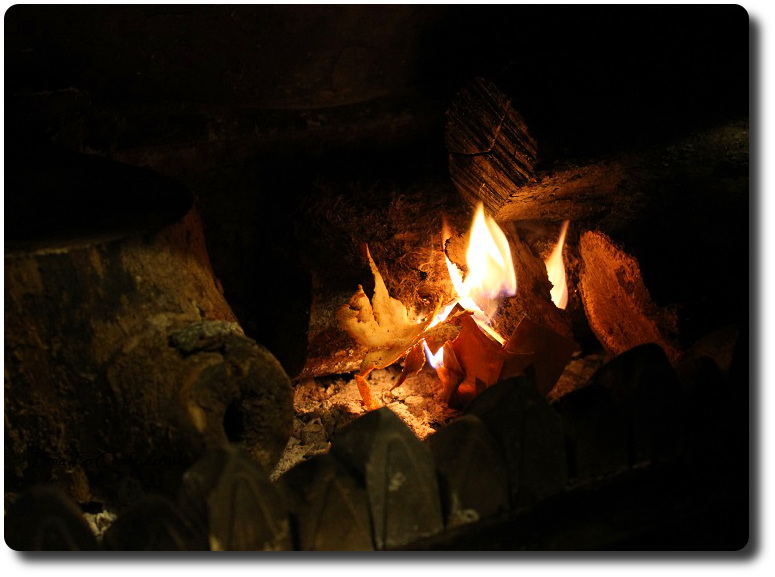 I have a feeling they have started searching for just the right nature finds to go in our homemade firestarters. Hmm. Not exactly what I intended, but at least they have fun looking when they are out and about.