I think I've found the right balance when it comes to making clothes for my tweens. * little dance of joy *. With three tweens in the house, it is a good place to be. Believe me. The answer, for us, is to let them choose the fabric, but negotiate over the pattern.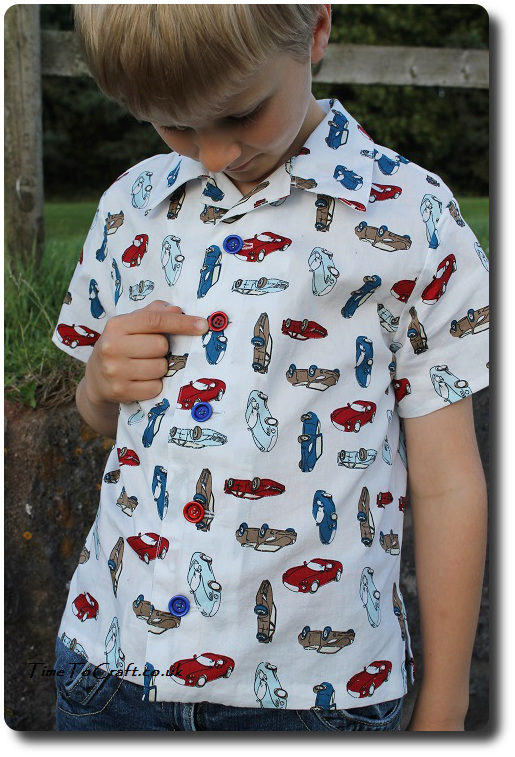 At the moment, the boy is really into shirts. I've used the pattern Simplicity 5581 a couple of times now (here and here) and it is perfect, so long as he can choose the fabric. Oh boy. Does he love the choice.
When I take him along to our local fabric shop, he is a pro. He efficiently selects and narrows down his favourites. Weighing up the pros and cons. Fortunately he's pretty good at making his selection. Much faster than me. Somehow he has turned out a much better shopper than me. I now take him when I shoe shop as he gets it right every time. This boy is never leaving home!
Back to the shirt. I like this fabric. Its fun, but a little more grown-up, which is right for an eight year old.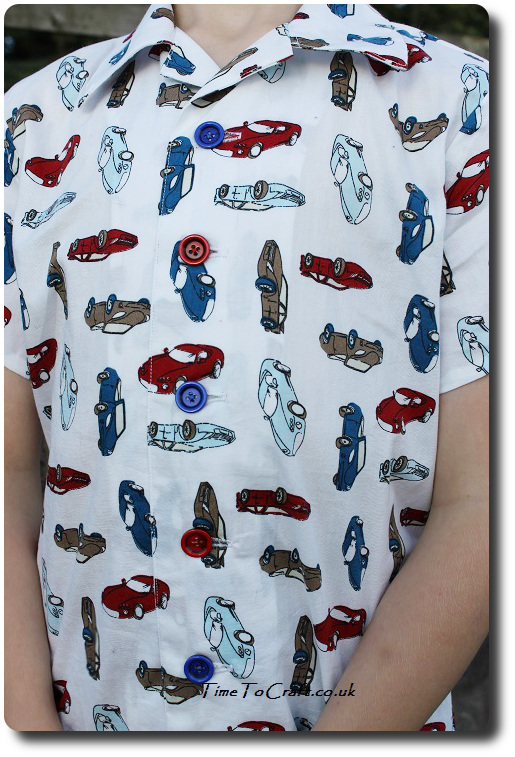 Notice how no cars are cut in half by the front edge. Victory!
Buttons don't interest him as much. My turn. Yah! I love buttons. This is my kind of shopping. They can change a garment from ordinary-could-find-in-a-shop to something special. These buttons are perfect. They remind me of car hubs. Very fitting for the car fabric, he had selected.
I also wanted to mix up the colours so went for the same buttons but in red and blue. It makes the buttons more subtle. The eye is less likely to be drawn to them compared to a line of the same coloured buttons, so they don't dominate the shirt.
I think they're more fun. Buttons should be. Shouldn't they? While still working as buttons, of course.
This is going to be a popular shirt.
Before you think that letting the boy choose the fabric only works with him, I've started on my next project. A top for my fussy exacting Eldest.
She's chosen the fabric and we've agreed on the pattern. One I've not used before, and so far so good. She has ….reminded me at every opportunity… patiently waited over a month. Hopefully I should have it finished by the weekend…….ish. I've already chosen the buttons.
Photo location: Chew Valley Lake. Sailing boats racing in background