A handmade new shirt for the boy
Long time readers may remember the boy's VW Camper van shirt I made a while back. He has loved it and worn it tons, but now it's too small. Sigh. How they grow.
Pauses long enough to reflect. Then…
Cue more fabric. Same pattern. Just bigger.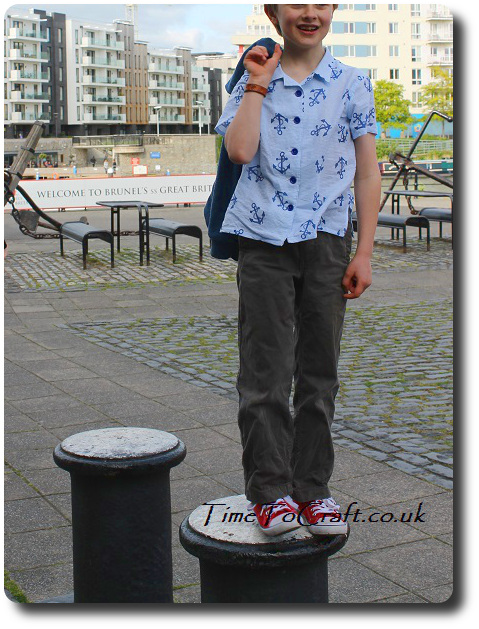 I knew he would love the anchor fabric. It's thinner fabric, but perfect for all the hot weather we are going to get this summer. She says with optimism.
I'm always more comfortable handstitching this fabric weight as opposed to machining it. Results in a better finish. I used the machine for most of it, but finished the last bits by hand.
Maybe not the perfect fabric weight for a windy day. Ah well. Needs must when your mother requires photos. We took him to the waterfront in Bristol. Down near the SS Great Britain. They have big anchors, which are perfect for a boy to climb and pose for photos in his anchor themed shirt. Even in the wind.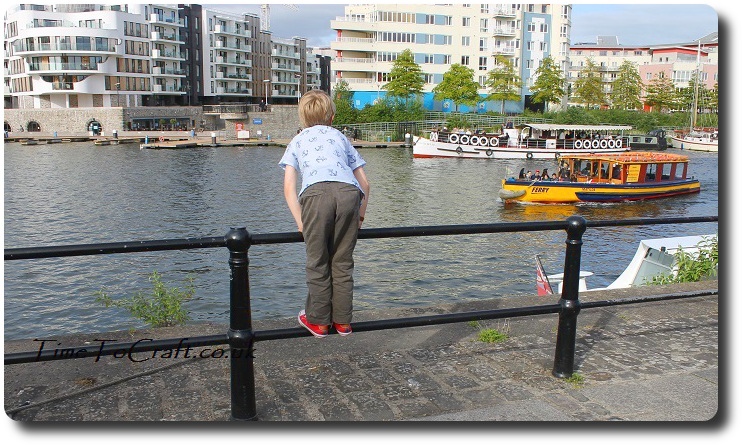 I love how Bristol has morphed in the time I've worked here. The waterfront and centre really are bustling areas now. The modern mixed in with the old. Of course, it's always fun to watch the ferries and admire the moored boats.
Right. Back to the shirt. I think all the balancing on bollards prove the new shirt is a comfortable fit. Doesn't prevent goofing around, and boys being boys.
He got a little overwhelmed being the centre of attention. Fortunately big sister was there to help. She suggested certain poses, and jumped out of most photos in time. Caught her this time.
Joining in with Fiona's inspiring #CountryKids Linky. He did have fun on the waterside. A country kid in the city!
---
Sewing details
Pattern: Simplicity 5581 Boy's medium (from stash)
Fabric: Sky & Royal Blue Nautical Anchor Print Cotton Dress Fabric from Minerva Crafts
Buttons: Local fabric shop
Notes.
1. Copied the pattern on to stronger paper. I'll be using this size a few more times.
2. No need for me to make any changes to the pattern. Children are so easy to sew for!
3. Straight forward pattern, as before, although I did muck up the collar at the back. I cut to the wrong place. It was late at night. I know its a bit bulkier, but I doubt anyone else could tell.
4. Buttonholes are on the wrong side. Distracted at the wrong moment. Never mind. I'm over it.
5. Used lighter weight interfacing this time. Collar has turned out flatter (apart from mistake) and behaves better than last time.
Did I mention he has already picked out his next fabric for a shirt? Retro sports cars, this time. I wonder where I'll take him for the photos for this one……