Mother Nature does not write memorandums
We went out in the garden searching for cherry blossom, today. The air, in our garden, is so fragrant with blossom and lilac. We found the blossom and it was beautiful and simple. Oh, and the cherries that it promises.
As we walked to see the other trees, I looked down to check I wasn't about to step on my little friends, the Ashy Mining bees. They weren't buzzing about but their holes are very evidently still in use. I guess they were visiting the blossom too. Among their homes, I spotted another hole.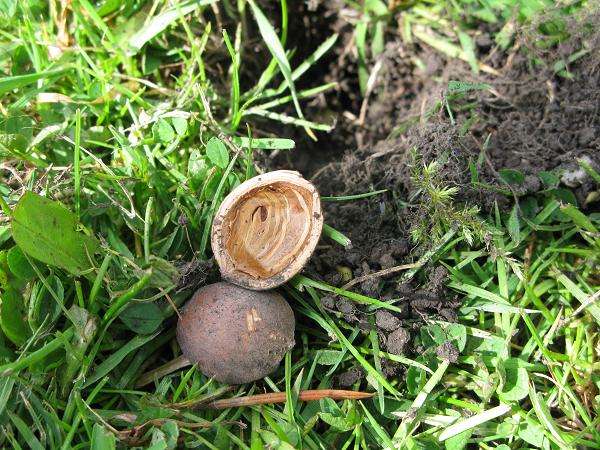 A squirrel had visited and dug a hole. Beside the hole, oh so neatly, were two halves of a hazelnut shell. Not two metres away, stands a hazelnut tree. I'm always too late to collect the hazelnuts, as the squirrels have better timing than me and clear the lot.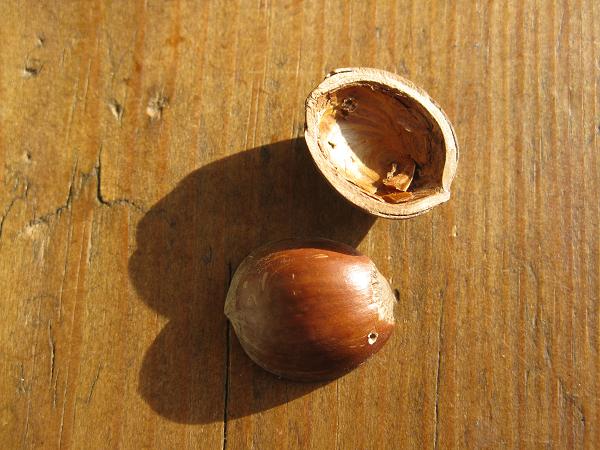 Last Autumn a squirrel must have collected a nut and buried it in the hole by one of our apple trees. Every year, some of these nuts are not found and grow into tiny hazelnuts or oaks among our fruit trees. I try and transplant as many as I can. It seems one squirrel struck lucky, today. I hope the squirrel enjoyed its prize.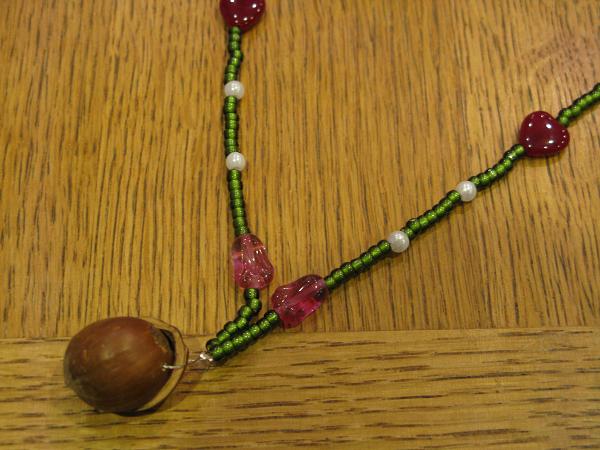 If I ever received a reminder that I should not begrudge sharing my harvest with the wild animals and birds, well, this was the moment. Mother Nature does not need to sharpen her pencil and write me a note. Two empty, unearthed shells beside the hole, say it all.
So when the bullfinches pinch all the cherries, I'm not going to moan. When the blackbirds feast on my raspberries, I'm going to shrug my shoulders. When the rabbits nibble off the top of my broad beans, I'll try and see it from another point of view. I'm not going to hand over the whole harvest, but I don't see why I shouldn't share some of it. Right?
In a nutshell, I get the message. And just in case I need a reminder of my reminder, I'm going to be wearing this necklace a lot this year. In the garden. A lot.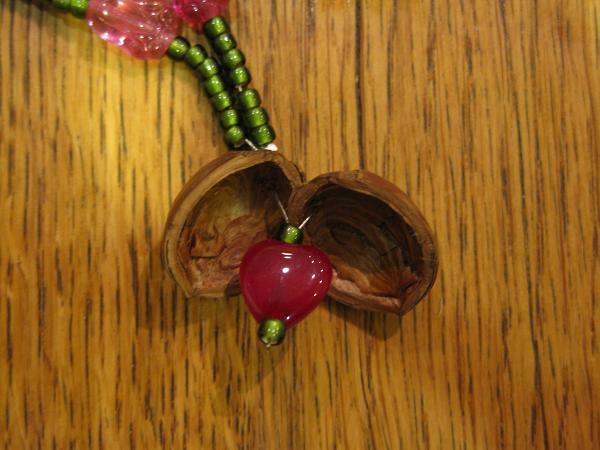 I'm linking this to The Magic Onions Friday Nature Table, as the necklace is now on our nature table. It has inspired lots of imagination in the children. There are so many good ideas and thoughts featured over at The Magic Onion. So for more inspiration, why not go and take a look.