Traditional Welsh cakes down the generations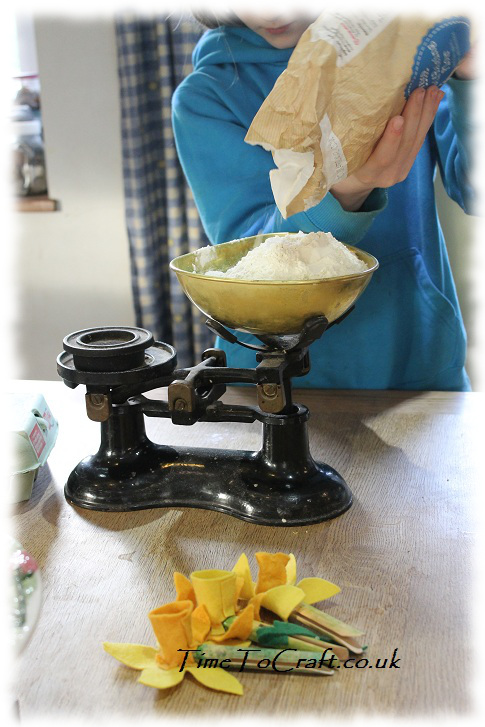 With St David's day just 2 days away, it was time to make traditional welsh cakes, yesterday. BL loves to help me make these yummy cakes. She takes on the weighing out and cutting out.
Welsh cakes always remind me of visiting my welsh Grandma. She would have a batch ready in a tin for all the grandchildren. To me, these cakes still epitomize the perfect welsh cake. And always will. She used beef lard and fried them, which added the flavour. My adaption of her recipe exchanges butter for lard and I dry fry them. Flavour is less, but I hope the calorific value and fat content is less too.
It's strange to think that my children's idea of welsh cakes, will be my version and not hers. She died before they were old enough to sample the contents of her tin.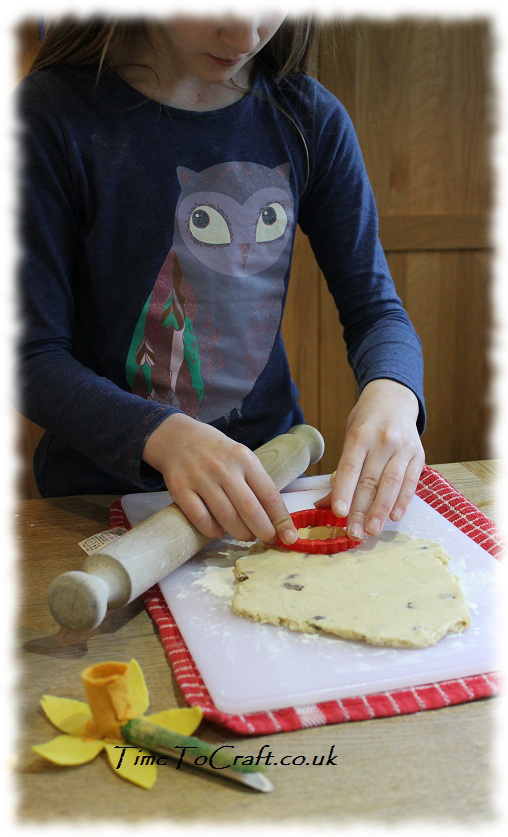 As promised, I am going to share my recipe for our traditional welsh cakes. In time for St David's day.
Ingredients
1lb (450g) self raising flour
8oz (225g) softened butter
6oz (175g) caster sugar
3oz (80g) sultanas or currants
2 eggs
1 tsp of mixed spice
pinch of salt
splash of milk
makes about 30 cakes
Method
In a bowl, rub the butter into the flour and salt with fingertips (or throw into the food mixer) until it resembles breadcrumbs and no big lumps are left.
Add the sugar, eggs, spice and dried fruit.
Mix until it becomes a dough. If it is too dry, add a splash of milk. The dough should not be sticky, but easy to manage.
Roll out the dough on a floured surface until the dough is about half a centimetre thick.
Use a round cutter. I use an 8cm cutter.
Pop them into a flat frying pan or, we use a bakestone griddle(see photo below). I line my griddle with a silicon baking sheet, so that I don't need any extra fat to fry it in, but otherwise the pan will need a light greasing. They will rise slightly, but they don't tend to spread.
Cook over a medium heat. Too hot and they will burn before the inside cooks. Too slow and they will turn out dry. They should be a golden brown on both sides, so don't forget to turn them.
Once ready, remove from the pan, and cool the cakes on a wire tray, but they are even better warm.
(optional) the cakes can be sprinkled with caster sugar, whilst warm, but they don't need it.
Once the first batch is out of the pan, BL tends to grab a few and disappear. Soon after, her little brother will appear and help himself. Even the dogs queue up. Then I am left to cook the rest. That's ok. BL knows how to make them and I've passed this recipe on to her.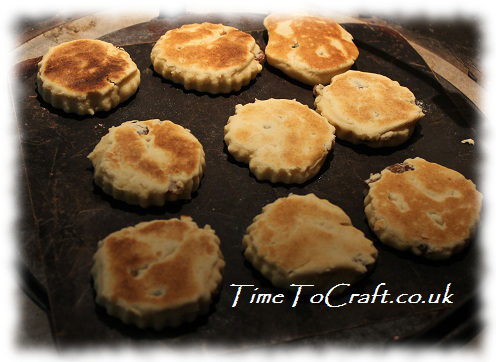 Who knows. Maybe she will make my welsh cakes with her children. Maybe even talk about her welsh Great Grandma. I hope so.
The welsh cakes can be frozen. When needed, defrost. Pop in a tray and cover with tin foil. Warm them up in a medium oven, until sufficiently hot.
Alternative
As an alternative to dried fruit, we sometimes add chocolate chips instead. These are very popular too, if not quite so traditional.