Apple Sauce and Cinnamon Christmas decorations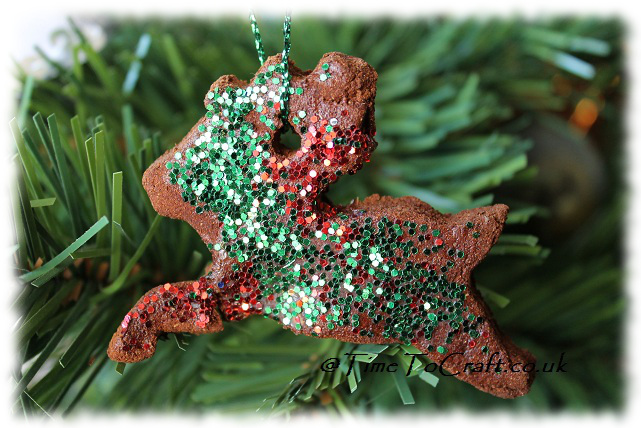 If you have never come across Apple Sauce and Cinnamon tree decorations, it is difficult to explain why they are so wonderful to make. Seriously wonderful. Not only do they look cute, but they smell exceedingly festive. They keep from Christmas to Christmas. I keep our expanding collection in an airtight box and each year, it is a real joy to open up the box. Scenting the room naturally. Plus they can also make lovely gift tags!
I love sharing my crafting passions. That is why I absolutely love it when each year the Reception teacher asks when I can come in and do some Christmas crafting with her class. These tree decorations are her favourite, so we do them each year.
This year, I've arranged two crafting sessions.  We've had our first crafting session making apple sauce and cinnamon tree decorations. There are many instructions for apple sauce and cinnamon decorations, but I thought I'd share how to do it with a group or class room of 4 – 5 year olds.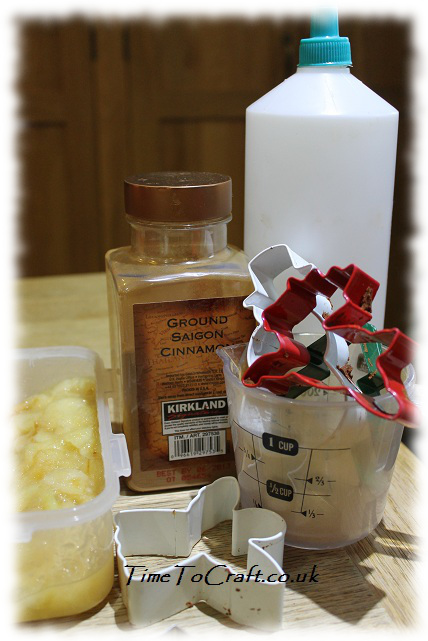 Ingredients:
Makes roughly 25-30 decorations depending on the size of your cutters.
1 cup of apple sauce – I stew apples to make a puree. I haven't tried tinned puree, but it is another option. I've found it best if the sauce is not too watery.
1 cup of ground cinnamon – I get mine in bulk either from Costco or our local health food shop. Comes out at about £1.60.
1 tablespoon of PVA glue – it is optional, but I've found that the resulting decorations have less tendency to crack. (Yes, I forgot it one year – oops!)
a handful of Christmas cookie cutters
squares of greaseproof paper
ribbon, yarn, elastic, etc for hanging loop
glitter and glue for decorating
a plastic straw
rolling pin
What to do:
I always explain what we are doing to the children first and show them what we are making. I always tell them not to eat the mixture or the decorations. Even if they do look and smell like cookies. It is a strong smell. I think each time I've run one of these sessions, one of the children will say its pongy, which sets their friends off too. They soon get over it.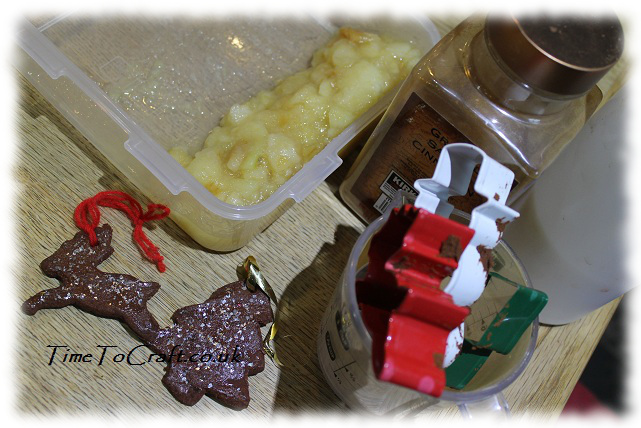 1. Make the mixture. Have the children measure one cup of apple sauce and one cup of cinnamon into a bowl. Another child will add a generous squeeze of glue which is roughly a tablespoon. They can then take turns to stir until it starts to turn into a dough. Not too stiff, not too sticky. (It kind of crackles like muffin batter.) This mixture will be shared between all the children. If you are short of time, then bring the mixture ready mixed.
2. Hand out the dough. Give each of the children a lump of the dough which is about the size of a large walnut. This will be more than enough to make one decoration. Also give then a square of greaseproof paper about 15cm x 15cm, which they write their names on.
3. Flatten the dough. The children can either use a rolling pin or the palm of their hand to flatten the dough. It should be about 3mm thick. Give or take, but much fatter and it will take longer to dry. Any thinner and it is liable to snap when dry.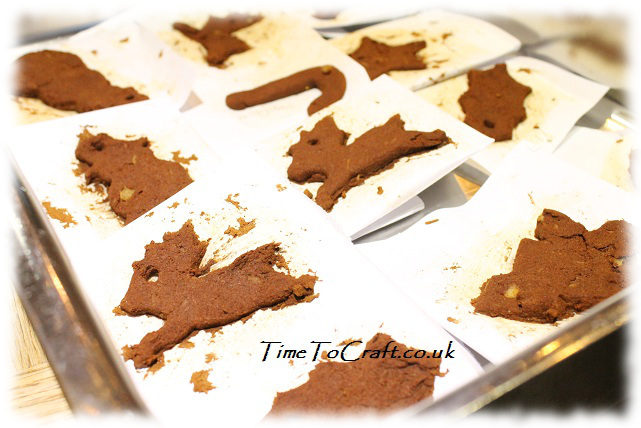 4. Cutting out. Using a cookie cutter, cut the dough just as you would when making cookies. As the dough can be quite sticky, I ask the children to leave the cutter in place and remove the excess dough from around the cutter. This avoids the shape being stretched out of shape. Then carefully remove the cutter. Leave the cut out shape on the greaseproof paper. (It will stay on the paper until it has dried)
5. Make a hole. Using the plastic straw, make a hole in the decoration. Not too near the edge. This is for the ribbon to hang it up.
Wash hands.
The cinnamon can irritate the skin, so please make sure they wash hands well.
6. Dry it. The decorations can be dried in a low temperature oven as if they were meringues, but not as long. I put them at the bottom of my Aga and check every half an hour at first, turning them each time. Best to keep an eye on them. (One year I went out and they were slightly desiccated by the time I got back. Oops!) Alternatively, they can be left to dry in a warm room,  which will take longer. Turn them occasionally too. The decorations will eventually go hard, like a crisp biscuit.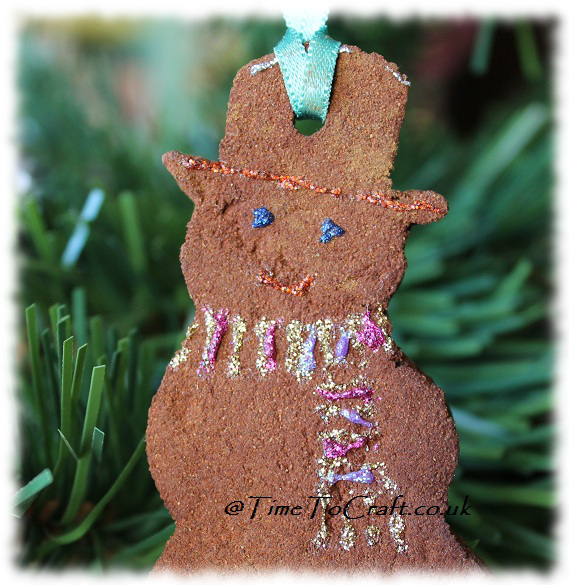 7. Carefully remove the greaseproof from the back of the decoration.
The fun part is making sure the right child gets the right decoration back. Once they are dry, I cut out the names from the greaseproof paper for each decoration, use a hole punch to make a hole in the label and then thread the ribbon through the label and the decoration. Then its back into school and on with the glitter.
Additional notes:
If you are making these decorations for myself, you can use a fine sandpaper to smooth off the edges.
If cinnamon is not your favourite, you could use another ground spice. Or even a mixture of spices.
Remind them not to eat them.
I hope that you are inspired to have a go at making these decorations. They are easy to make, cost relatively little and make a fun crafting session for the children. What more could you want? Oh, and they smell divine!
Linking to the ever inspiring  #LetKidsBeKids, the newly discovered Christmas Collection over at PinkOddy, and also Creative Mondays for the first time. Special hello to anyone whose hopped in from there!