I spotted these beauties, yesterday, in the garden. It was raining and dull. No good for photos, but they did stand out. Vibrant purple flashes in the grass. Like crocuses appearing in the spring. They are up where we cut the logs down to the right size to fit into the wood burner. I suspect the spores were transported on a log or sole of a boot, and found a good place to thrive.
They are covering an area of about metre and a half in diameter. Don't be fooled by my photos. These toadstools are tiny. About 5cm across. Maybe 30 or more fruiting bodies. It's the first year I've noticed them, although I'm sure they've been there longer. I'm always cautious about identifying fungi. I suspect I know what they are, but toadstools and misinformation are not a good combination.
This morning, I flattened a cardboard box to sit on and took photos of these little gems. Clocks have gone back today, and that's how I spent my extra hour. On my tummy. Taking photos. In the frost. At first it was to identify them, but after a while I was chasing the light bouncing off them and the dew drops on the grass. Fascinated by the toadstools' fur like texture, as I focused in.
If ever there was a magic moment in our garden, I'm sure this would be it.
I'm very much still on my eco friendly living journey. Little changes where I can, with my eye on the bigger ones I can make at some point. Every now and again, I give myself a review, to see how it's going and what I can do. A nudge.
One area that I know I need to look at closer is my crafting area. I've cut out buying any more man-made materials. Partly to cut down on the micro fibres I might be adding to the environment. With other natural textiles, I use what I have, before I buy anything new.  I source second hand. Sustainable when I can. Even then, I know I could do better. I worry about the production of the materials I use. Polluting dyes, toxic fumes, pesticides and water grabbing practises.
It's not pretty.
Giving up?
Crafting is my therapy. The repetitive act of small sewing stitches, knitting rows or spinning fibres, grounds me. Concentration overriding all. I'm sure my breathing must change and chemicals are released. Wrongs are righted. In my head at least. I can cope. The world is a better place when I craft.
I will not be giving up crafting, anytime soon. So, that is not an option.
Source
I'd like to delve more into its source.
For instance, I love when I buy wool and the name of the sheep is printed on the label. I have a fleece, at the moment, waiting to be spun, grown by a sheep called Nicola from Hampshire. I like that. I imagine her skipping off after being shorn, feeling lighter and ready to munch more grass. No dye involved.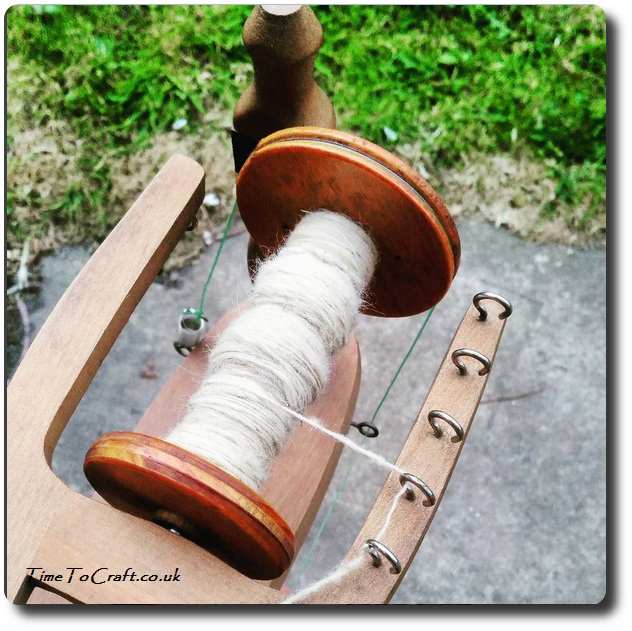 Packaging
Another area that I have been looking at is the packaging. It is cheaper and less polluting if I buy on line. I like to buy in real shops or straight from the producer, but I don't often get the chance, living in the country (unless it is a sheep's fleece, of course). Plus, searching for the right yarn or material could lead me to several shops which are usually in different towns. If I buy on line, the postman brings it, cutting out any journey I would make. He was delivering my letters anyway. I can shop around for the best price too.
The only downside is that my house is inundated with packaging. Most yarn or fabric is sent in a plastic bag. I understand. I get it. Who wants to receive potentially wet or otherwise damaged fabric through the post? I re-use the bags as I can, but I'd prefer not to. I'd prefer not to receive them.
The thing is, I remember parcels before they were sent in plastic bags. Brown paper, knotted string and sealing wax. Hugely exciting, as a child, when a parcel like that was waiting for you after school. With your name on it! Yes, some did get damaged, but my childhood was not blighted by the memory, so I'm guessing it didn't happen often.
What's more, Amazon seem to be managing quite fine to send books and so on, in cardboard. They send out millions of boxes and doing quite well for themselves. So, why can't others?
I've started to check the delivery details on line, before I order. How it will be packaged. This is not an ad, but a heads up for anyone else who buys yarn on line. I've had two deliveries now from The Knitting Network. Each time they have arrived in a cardboard box (shown in first and last photo), with brown paper inside to pad it out. No damage. No plastic. Yarn is perfect.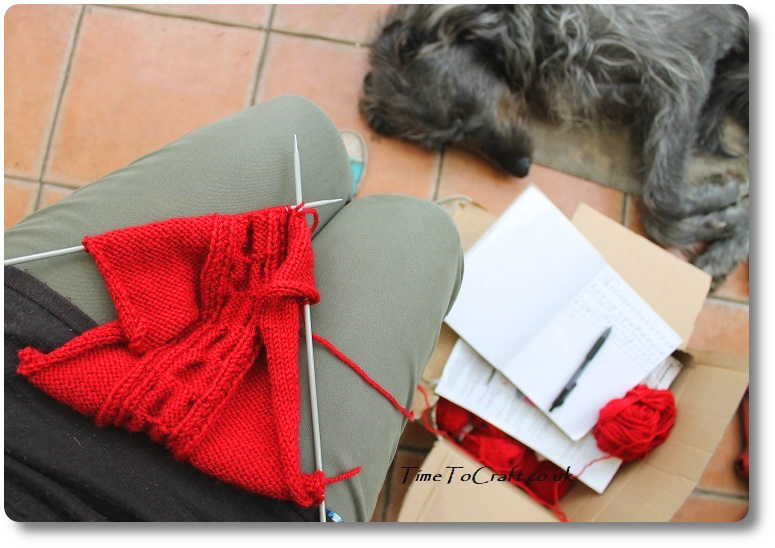 Question now is, which other companies are doing the same? Please let me know if you've had any craft materials delivered in eco friendly packaging. Also, have you any other eco friendly crafting tips? I'd really love to know.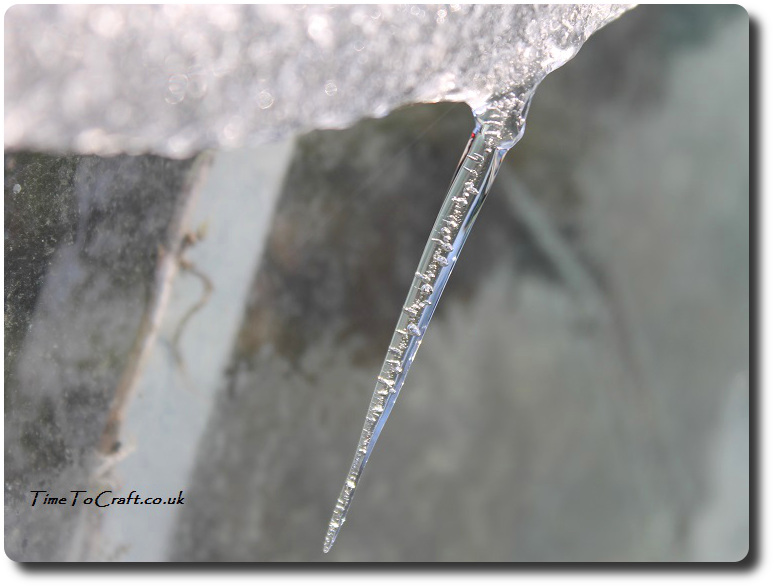 It's been very tempting to head back down my burrow again, this week. Cold weather. Demands on my time. Too long a to-do list. To counteract the urge, I've given myself time to be creative and be outside. It's worked.
Over the weekend, I made my Cleo dress (for non-dressmakers, such as my husband, yes, some dress patterns have names. It's not me being quirky – this time).
While I sewed, jobs around the house were put on hold. Meals were simple affairs such as pizzas, with extra toppings, thrown in the oven. I was able to start and finish the project in next to no time. Within 24 hours. A satisfying feeling.
Next up, I knitted a pair of gloves from the left over purple yarn. When I started, these were meant to be for me. Not for long. Once my youngest tried on the first finished glove, that was it. He wore it for the rest of the day. They were referred to as his gloves before I knew it and he paid keen interest to when the other one would be finished. So finished I did. A surprisingly big hit with him, as he actually wears them to school.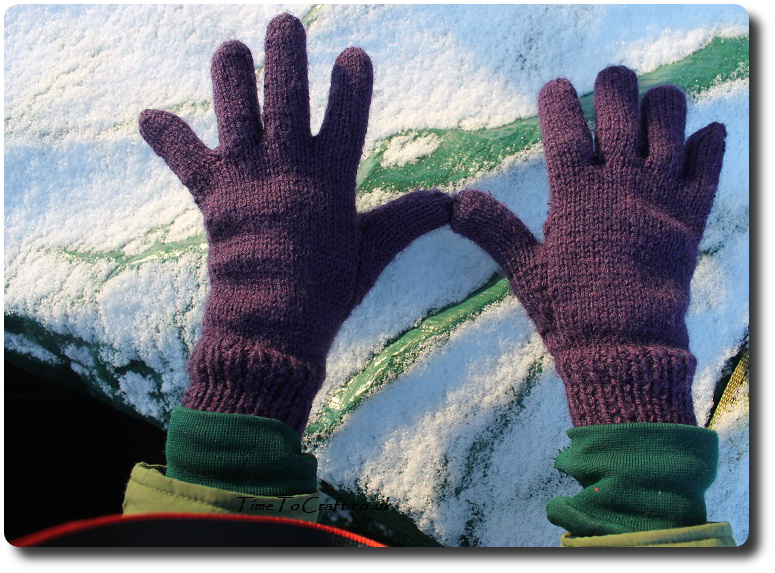 I'll have to make some more for me.
Creating something that goes straight into daily use is good for my soul. My new Cleo dress has been worn a few times. Sometimes when I make something, it takes a while for me to feel comfortable wearing it. Not with the Cleo. I could live in it from the start.
It was also fun to use my creativity to set up a themed American diner evening this week. In the short time I had to set it up, I had fun and I know the children enjoyed it too. A good reminder for me that it doesn't take much to turn the ordinary into something memorable.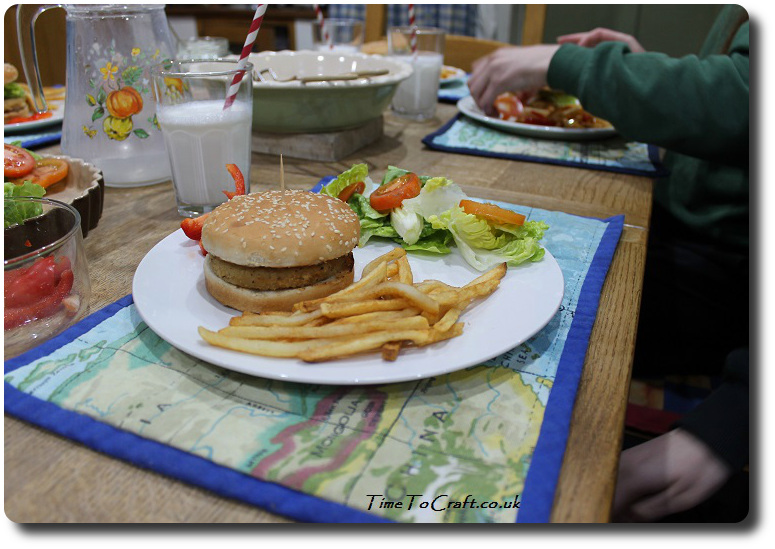 Not that I've been the only creative one. The children's music practise is much easier on the ears now a days. I'm grateful for them sticking to it for all these years. Honestly, listening to them play recognizable pieces as they work towards their grades is a real pleasure.
For all you parents out there, listening to plink, plank, plonks and screech, screech at the early stages of musical instrument learning – hold on in there. There is a glorious light at the end of the tunnel, that is worth waiting for.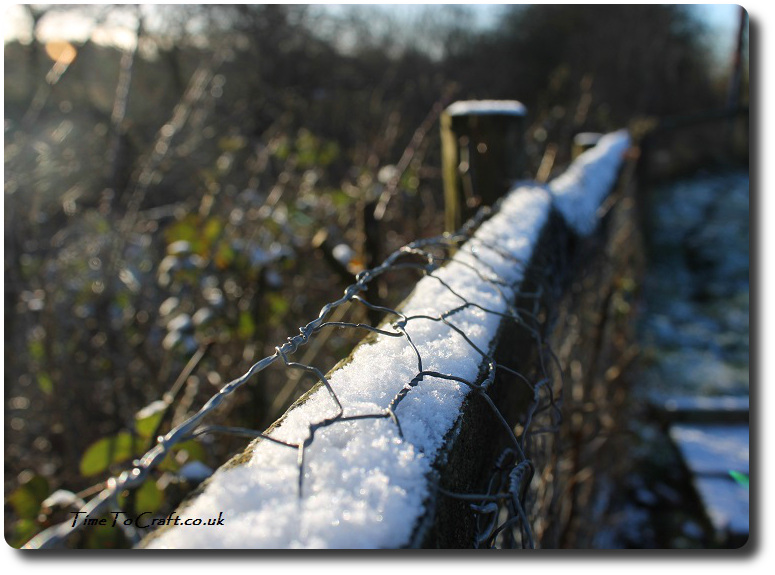 Getting outside has also helped me fight the urge to burrow.
Wednesday we woke to a thin layer of snow. Not enough to cover the garden. More as a lacey offering. We've escaped the snow this winter, compared to the rest of the country, so this made a pleasant change. After dropping youngest off at school, I took my camera out into the garden.
As I wandered around the winter neglected garden, I became aware of something small fluttering in the trees beside me. Took me a few minutes before I could make out a tiny goldcrest, scutterling around and around the closely packed branches of our holly tree. It had a totally different perspective of the tree to me. It saw corridors where it could fly and hop. I saw a tree. I couldn't help watching its progress. Giving me a fresh perspective.
This week has been restorative. In simple ways. It would have been easy to disappear back into my winter burrow again, but I've had a few wonderful moments to restore my soul that make me glad I didn't.
Joining in with #wotw with the word "Restore". What word sums up your week?
Photos
There have been cases when people lifted my photos and words, and used them without credit to me or asking permission first. Using them for their own commercial gain. I have now added a level of security to deter people from doing this. Apologies to people who do play nicely. If you would like to use any of my photos, please contact me.
Copyright notice:
All my words and photos are copyrighted to me. They cannot be used for commercial benefit by anyone else. If you would like to use any of them, then please ask me first and don't just take. Written permission only. Don't pass my words, photos or ideas off as your own. It's not nice.
Cookie Policy
Our web pages do not use cookies however this website uses Google Analytics, a web analytics service provided by Google, Inc. Google Analytics uses cookies to help us analyse how people use our site. The use of cookies by Google Analytics is subject to change.