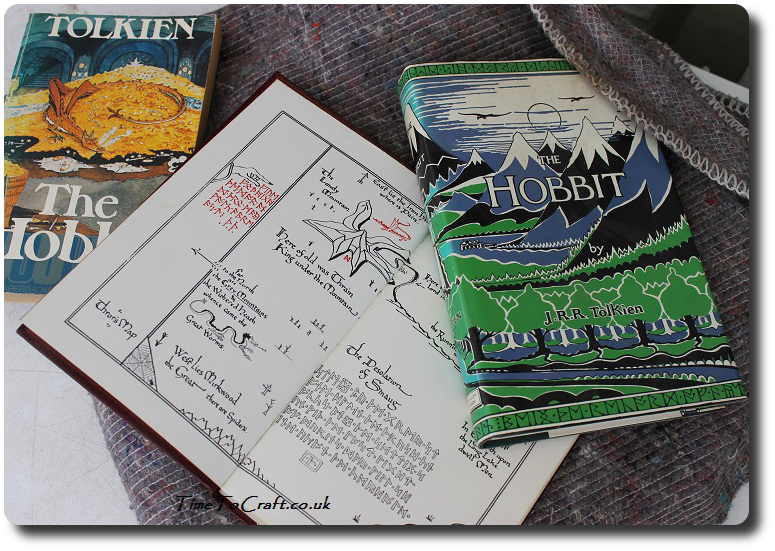 World Book Day is next Thursday. Hurray!  Are you excited? I know not everyone likes it, but I love making costumes.
We've had the notice for a while, but I always leave the costume for the last week. Apart from the fact I work better under pressure, it allows time for them to change their minds. I've learnt. One year, I had a definite a Golden Compass Lyra who proceeded to change her mind a day before, and was transformed into an Arietty from The Borrowers. It's OK. I'm good at short notice.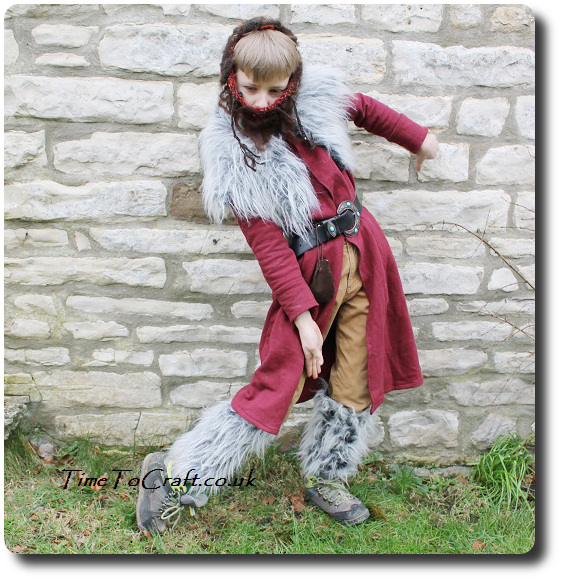 (Can't find a  photo of Arrietty, but this is Hobbit's Kili from two years ago)
This year is our last year.
(silent sob)
Youngest will be at Secondary school next time, where it is major uncool to dress up. (Probably not cool to say "uncool" either, but I'm old school) This is our grand finale. Time to go out with a bang.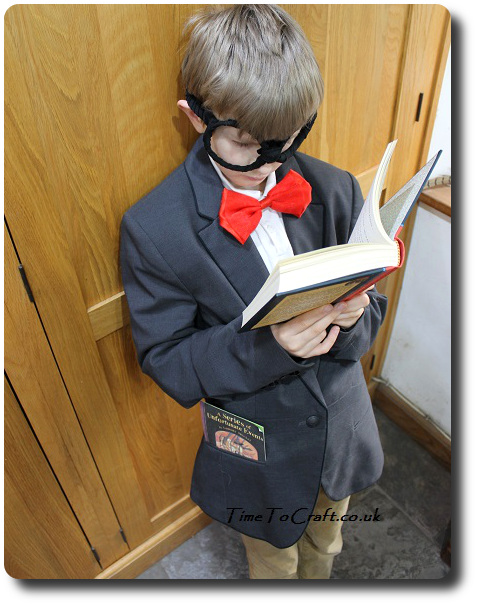 (Klaus-Baudelaire from A Series of Unfortunate Events – last year)
Given the choice*, we always make the costumes. It's half the fun. Trying to use what we already have in the house. It's always their choice when it comes to World Book Day. I have a capsule costume wardrobe (tips and tricks here) that pretty much covers it, with a few accessories thrown in. Other costumes are even simpler and just use their normal clothes with props.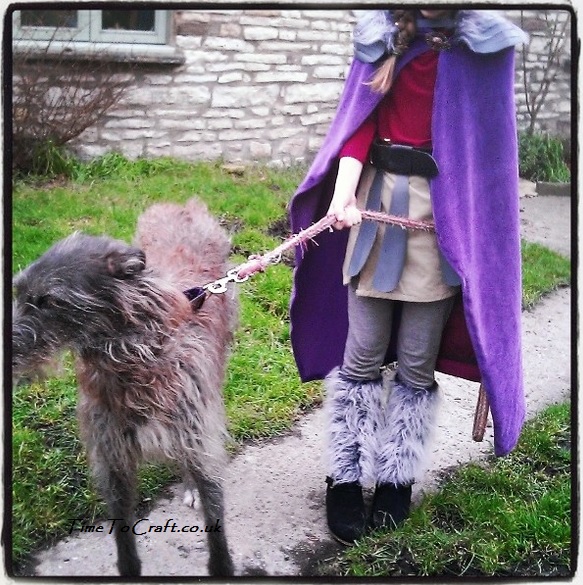 (Astrid and dragon from How to Train a Dragon – two years ago)
Except…not this time.
He has decided to go as Gandalf. He loves the Hobbit, so I'm happy with his choice. My challenge is that it's all grey apart from the beard. I'm not big on grey and my craft stash echoes this sentiment. Give me bright colours any day.
I'm excited about making the hat. A pointed, slightly crumpled, wide brimmed, wizard's hat is required. I've been longing for an excuse to make a felted hat. It may end up being more cream coloured than grey, due to the fleece I have at hand, but maybe I can slightly spray it afterwards to give it a travelled look.
I have a choice with the beard and hair. Either white fluffy fabric or untwisting lengths of a ball of icelandic wool that I've had for eons and not used. Maybe a mixture of the two.
I found an old grey storage blanket. The sort house movers use to protect goods in transit in their vans. No idea why we have this as we've always moved house by ourselves. Anyway, it has a couple or so holes but I reckon I can make it into a cloak. I've made a few cloaks (instructions here if you're interested) in the past, so no problem. It is a quick project.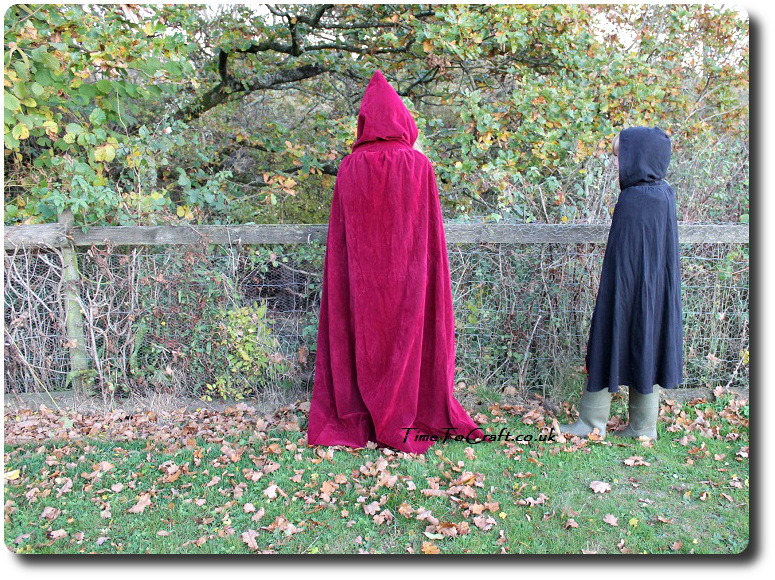 The only parts I've not solved yet are the footwear and the grey gown underneath. I could adapt the cloak, so no gown is needed, if all else fails.
That's my weekend sorted. I'm looking forward to it. Might even start tomorrow if I can wrangle it. I'll share photos of the resulting costume once I'm done.
How about you? Are you making a costume this year? If you need a costume, do you usually make or buy? Do you love the call for a costume or do you dread the request?
Our last year. Can I come round and make costumes for anyone else next year?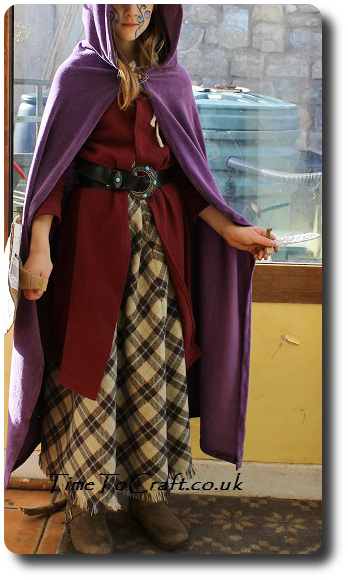 (costume from 3 years ago)
*We love making our costumes for dressing up days and plays. Not always possible. One year, we were sent a link to the desired costume to buy for a play. I could have bucked the trend and made my own, but then he wouldn't have matched the rest of the class in the line up, so I reluctantly bought instead. Not a happy costume maker.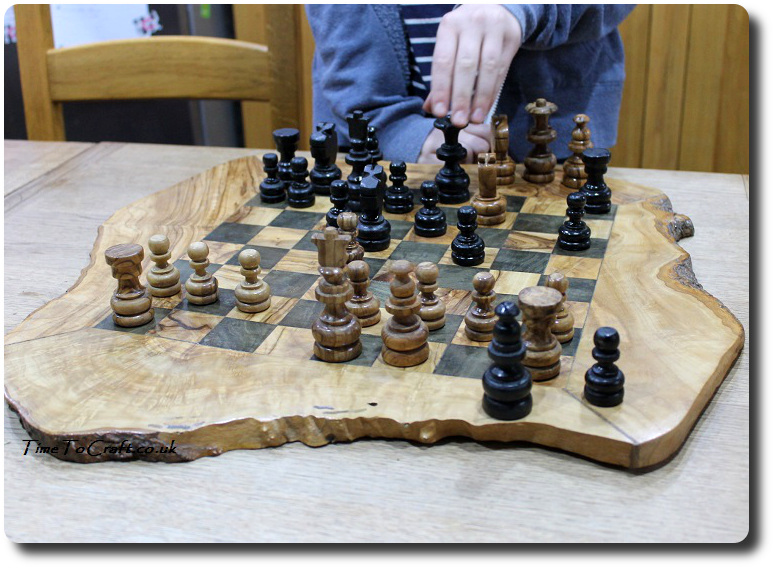 In January, I imposed a no-spend month. Quietly. I didn't really announce it as a thing to the family. I tried to lead by example and reason. "Do we need it?" was my rallying call.
It worked. Continue reading →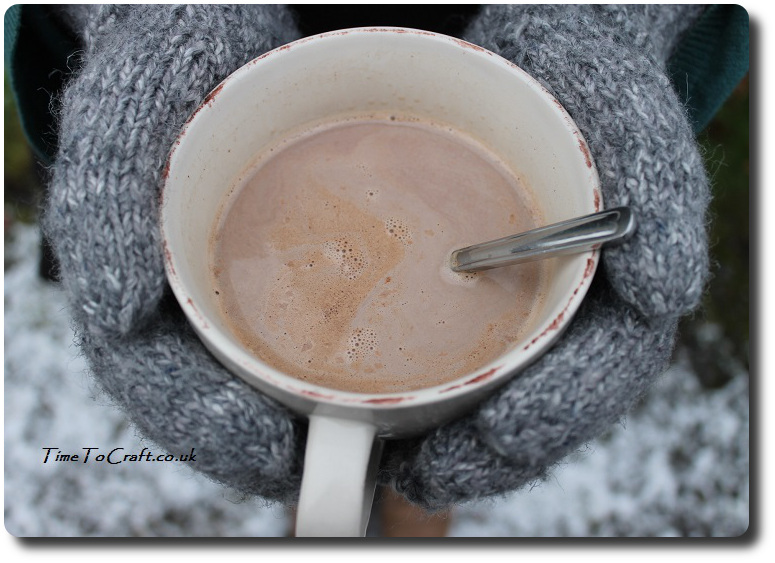 Making the most of the merest of sprinkling of snow to take my photos today. Perfect backdrop for my latest finished knitting project. Grey against the white seems to show these gloves off at their best. Although, I bet the hot chocolate takes the focus. It certainly kept my hands even warmer, during the photo shoot, and the contents soon disappeared. Brr! It sure was chilly out there.
But back to the gloves. It's been eons since I last knitted gloves. Mittens are fast and furious to knit, and easy for young children to wear. So knitting mittens have been a natural course in the last few years. I have created basketfuls of mittens since becoming a mother. Seriously. Basketfuls.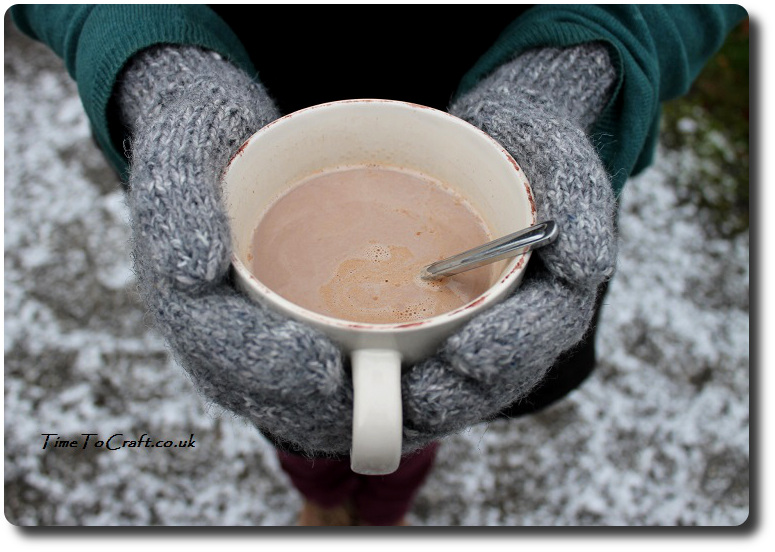 So why gloves now? Cold hands. Walking to school, last week, I had three choices: big, chunky gloves, fingerless gloves or nothing. None seemed to fit the bill exactly.
Back home, I dug out my Grandma's glove pattern. I've used it before. Also, a couple of balls of wool picked up last year from a charity shop for 50p. ( I know, 50p!) The yarn is Sirdar Freya  – short and brushed winter cotton grey. Not a yarn mixture I'd normally choose. That's true for the colour too.
Grey is not kind to my complexion, or the increasing grey in my hair. I like grey. I even like the grey in my hair, but combining too much grey, saps all the other colour out of me.
Gloves are a perfect solution. Not near my face – well not often. I'm incredibly glad I bought this wool in the end. I was surprised at how exceedingly warm it turned out. It is described as brushed, which does seem to trap the warmth, as it should. Being a cotton blend, it has less give than wool, when you're knitting it, but wonderfully luxurious when finished.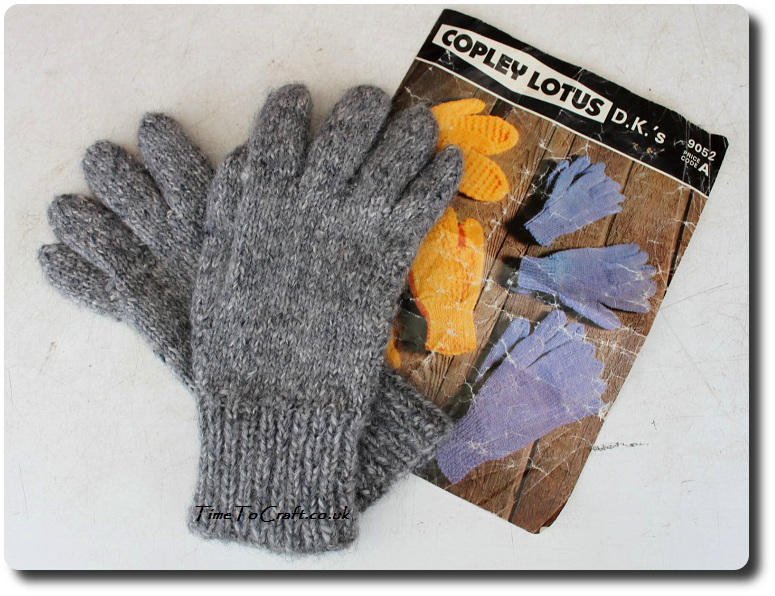 The glove pattern was printed in 1975. I like using it. Next time, I might down size the needles when knitting the cuff, as it could be a bit more snug.
Grandma has added her notes to the pattern. Judging by her numbers, she counted every other row and used it a few times. There is something comforting about using a pattern that she would have knitted on a similar cold, winter evening too.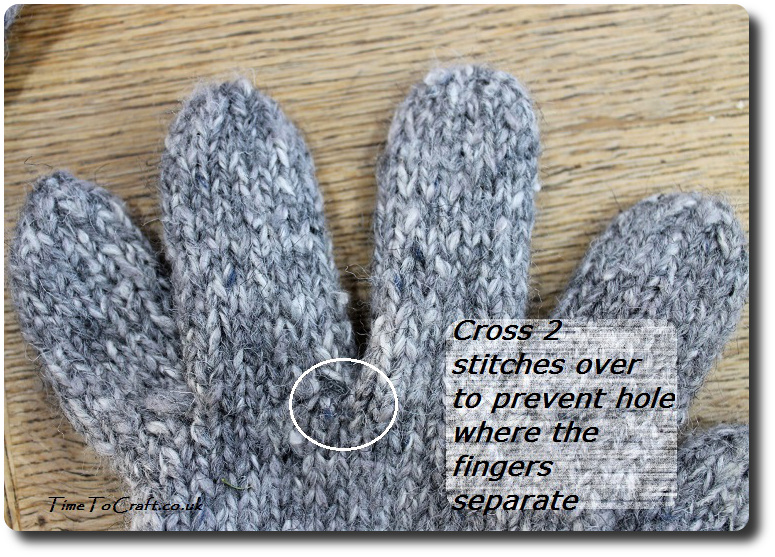 Something new. I used a tip I picked up on Pinterest to prevent holes where the glove splits into fingers. I usually end up stitching closed resulting holes. For those of you that knit gloves and have the same issue, the answer is to cross over two stitches, as you split the glove. It fixes the problem very neatly.
I love my new gloves. They are lovely to wear. Warm without being too chunky. Not itchy, in the least. For the ladies's size, it uses 60g of yarn. Three balls of 20g each, according to the instructions. I like the idea that you could walk into your local wool shop and buy a 20g ball with no problem or compromise. It makes sense. Multiples of 20. Less yarn left over, as you can buy nearer to the required quantity.
For these gloves, I started with 100g of yarn, I still have about 40g left of it. It might make a smaller pair. I know my boy hopes they do. He'd like a pair too. For the school run, of course. Can you imagine? If I manage it, I'll have made two pairs of warm, luxurious gloves for 50p. Just goes to show that sometimes those odd balls of yarn in charity shops may be a better bargain than you thought.
If that's not a good reason to learn to knit, then I really don't know a better.
Photos
There have been cases when people lifted my photos and words, and used them without credit to me or asking permission first. Using them for their own commercial gain. I have now added a level of security to deter people from doing this. Apologies to people who do play nicely. If you would like to use any of my photos, please contact me.
Copyright notice:
All my words and photos are copyrighted to me. They cannot be used for commercial benefit by anyone else. If you would like to use any of them, then please ask me first and don't just take. Written permission only. Don't pass my words, photos or ideas off as your own. It's not nice.
Cookie Policy
Our web pages do not use cookies however this website uses Google Analytics, a web analytics service provided by Google, Inc. Google Analytics uses cookies to help us analyse how people use our site. The use of cookies by Google Analytics is subject to change.