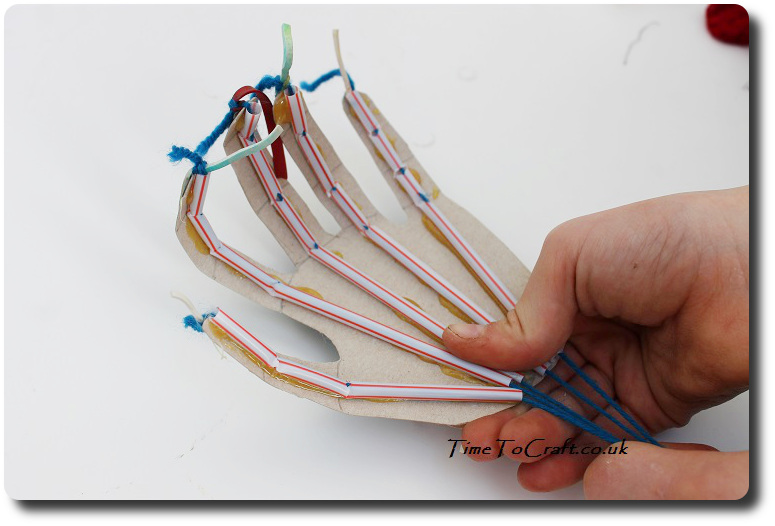 The perfect project, I think, is one that combines creativity and learning. This STEM activity fits the bill. Middle daughter really wanted to make an articulated hand. I've seen the project before, but was impressed by how clear the instructions were in the Amazing! magazine. Middle is now of the age that she can follow the instructions by herself, with very little interference help from me.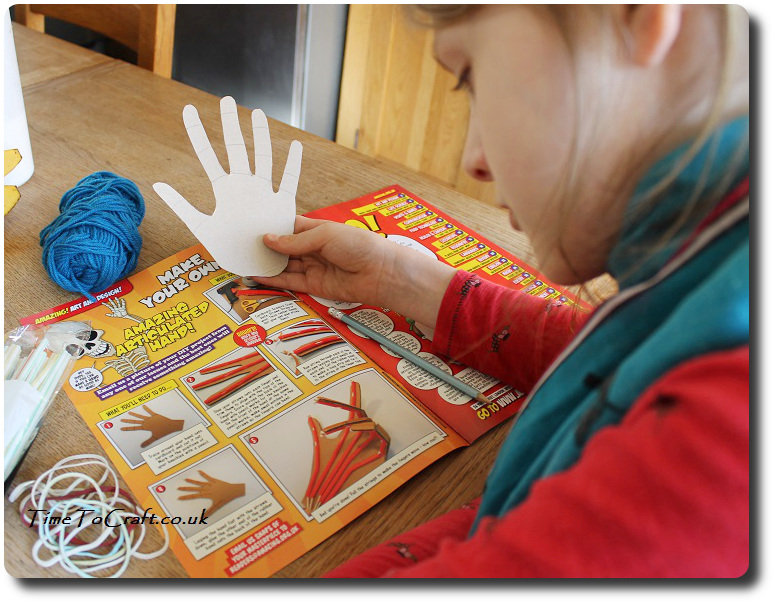 We used my glue gun to stick the straws to the cardboard. The only other change she made was using cardboard from a cereal box instead of corrugated cardboard. The end result is remarkably sturdy, and strong enough for everyone in the family to play with. Continue reading →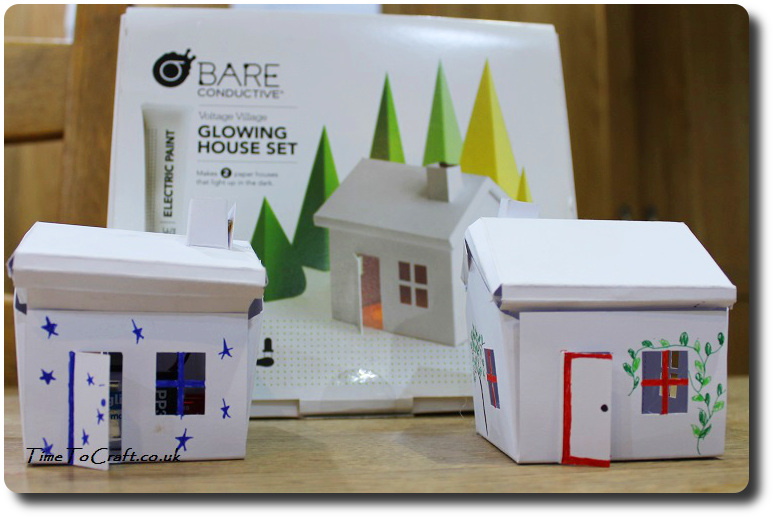 Last year, I bought a Glowing House Set for my Middle daughter. I wanted something that coupled her curiosity in science and her artistic nature. It was both a craft and engineering project.
Over the Christmas holiday, she sat down and made the houses. Putting the houses together, decorating them and creating the electronic circuit. All by herself.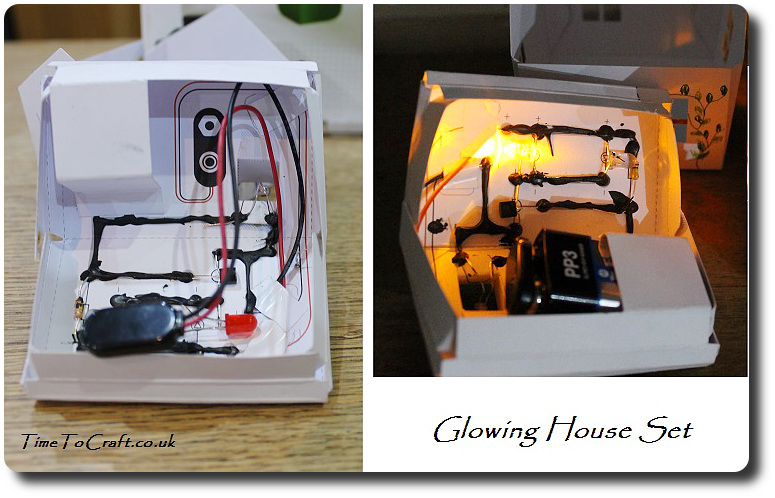 The electronics in the roof are the clever part of the kit. She used electric paint, (the black lines in the photo above) to make the circuit which linked the LEDs to the battery and the light sensor. It's called cold soldering. A great way for a child to make a circuit without risking burnt fingers.
It worked. The houses lit up when the light sensor was triggered in the evening. Very cool for an eleven year old. Only slight problem was that the blue LED was not lighting up. The rest were working. By then the electric paint was dry and would become brittle if broken. Not great for problem solving, as it would destroy the working part of the circuit, so she carefully removed the blue LED.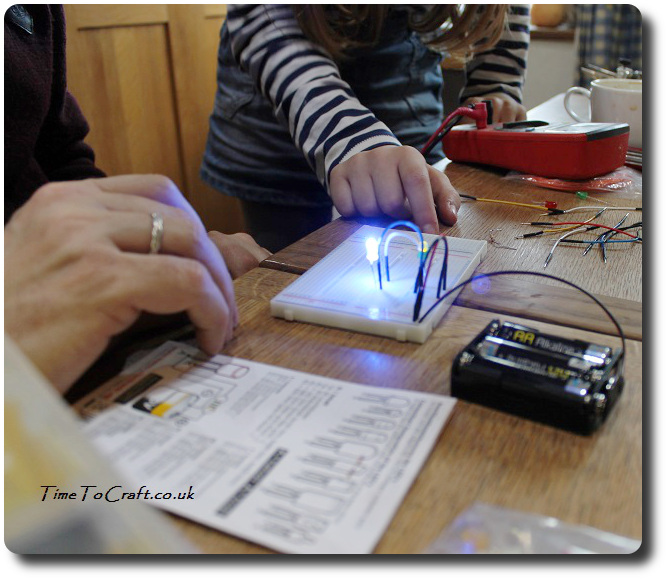 She took the problem to her father and he had a solution. (Aren't Dads great?) He found a breadboard (the white board above, not for slicing loaves) to test the blue LED. It didn't take long for all the children to join in. Pushing in the jumpers, resistors, transistors and lights. Making LEDs light up and the noise component to vibrate noisily.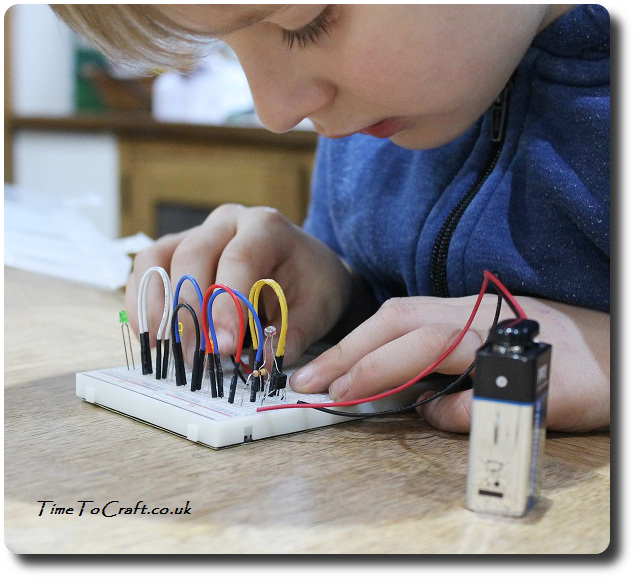 (little brother joining in)
They made mistakes. Some components died. I cannot lie, but they had even more successes and they learnt so much. Oh, those curious minds. The hands on experience, of putting the circuits together, was perfect. They were captivated.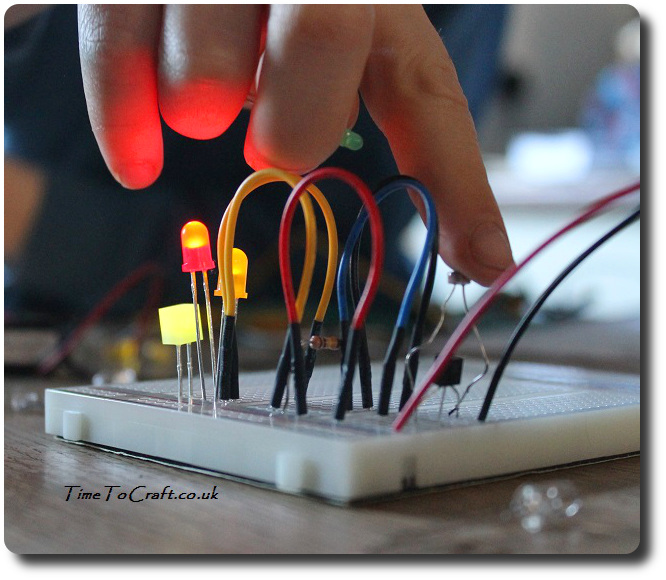 Oh, and what of the blue LED?
The original problem?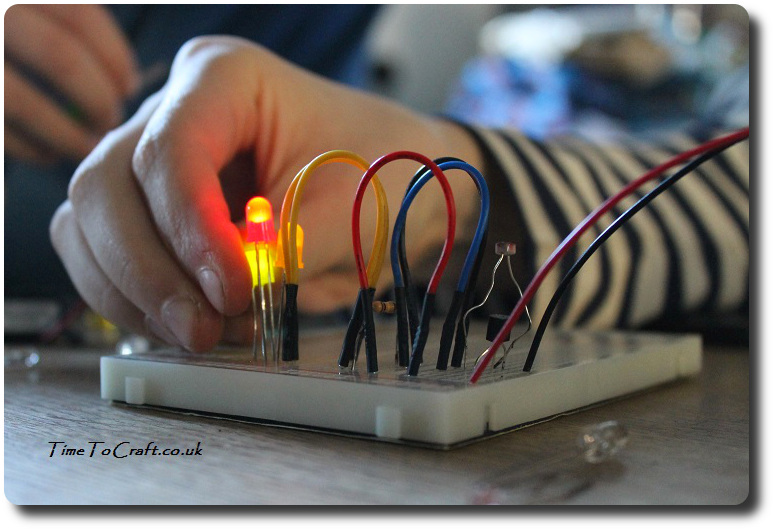 It was dead. It happens. Do you know what, I'm glad it didn't work? I would not have thought of buying her a breadboard to experiment with. If all the components had worked in the original kit, she would never have experienced the process of isolating the fault.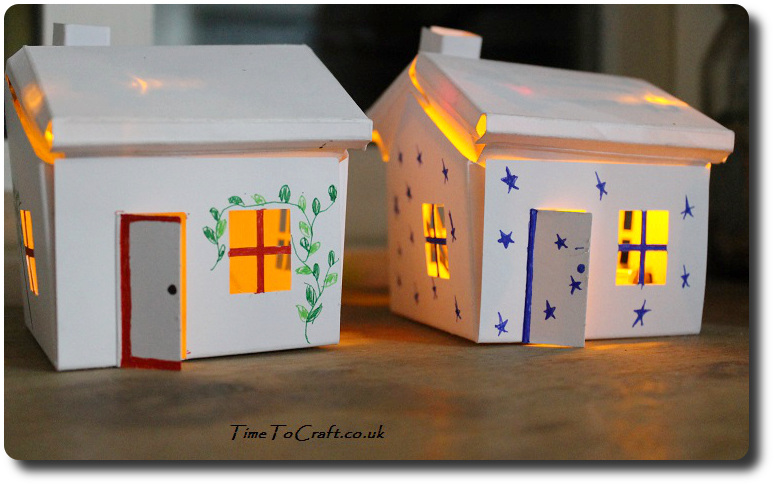 She loves both kits and has learnt so much. More importantly, she wants to do more.
Steps on to soap box: This is NOT a sponsored post, in any shape or form. I am fortunate to have an engineering father who saw no reason why his youngest daughter shouldn't become an engineer too, and provided encouragement. That was me, and I did. I'd like my children to see no barriers to pursuing careers in science or engineering, if they want to, especially my daughters. This kit is perfect for stretching her experience. I also love that it does not patronize her or seem to overtly attract her by being obviously for a "girl". No stereotypes.

(steps off soap box)
Just before Christmas, I was leafing through my copy of More Last-Minute Knitted Gifts
for ……well last minute inspiration. I kept going back to the Soft as Clouds Cowl. I loved the idea of knitting with cashmere. I couldn't justify the time or expense in the run up to the festive season, so I put it on my "will-do-one-day,-but-probably-not" list.
Can you imagine the squeal when I opened my sister's present? Continue reading →
Photos
There have been cases when people lifted my photos and words, and used them without credit to me or asking permission first. Using them for their own commercial gain. I have now added a level of security to deter people from doing this. Apologies to people who do play nicely. If you would like to use any of my photos, please contact me.
Copyright notice:
All my words and photos are copyrighted to me. They cannot be used for commercial benefit by anyone else. If you would like to use any of them, then please ask me first and don't just take. Written permission only. Don't pass my words, photos or ideas off as your own. It's not nice.
Cookie Policy
Our web pages do not use cookies however this website uses Google Analytics, a web analytics service provided by Google, Inc. Google Analytics uses cookies to help us analyse how people use our site. The use of cookies by Google Analytics is subject to change.