This week I feel I have risen to a number of challenges. Pushing me that little bit. In a good way.
To start with, I finished making my summer dress within a week. This is unheard of for me. I am the worst procrastinator. Or is that the best? Either way, I always stop to think if I'm doing it the best way. Niggles about fit and whether it is worth carrying on with. Is the print too much? The result is that sewing projects take me ages. The previous pj project took months. It was such an easy pattern, it should have been a doddle.
This time I broke the project into bite size chunks and tackled one a day. The challenge was met and I now have a dress, which I've worn twice already. Happy dance!
Second challenge. With half term, we have been out and about a bit more. Thursday, I took all the children and all the dogs out in the car for a walk in the woods on the Mendips, by myself. This is a first. Usually I'll either take the dogs or the children. I know from past experience, that if they all go to the woods, the moment the car doors open, they are gone. Disappearing in five different directions, in a blink of an eye, which I find stressful. Honestly, I don't know which way to turn.
This time, it was easier. The children are all old enough. The older dog is slowing down and tends to stick to me, and the younger dog goes between everyone. It was easier than I thought it would be.
My over thinking was creating an obstacle. I'm so glad we did it as everyone had such a good time. Climbing trees. Spotting nature. I can do this!
We went for a walk on Monday. It was quite a setting and very dramatic. I could walk all day, but I find steep slopes, at my husband's speed, challenging. The children can do it, but not me. There wasn't even a view to pretend to stop and admire, due to the sea fog.
But I did it. And I felt good at the end. Challenge accomplished.
green dock beetle?
Of course, we have also been challenging ourselves in the last two days, joining in with the Wildlife Trusts #30DaysWild. I want to take a closer look at our wild areas in the garden and surrounding area. Improve my photography. The children have been challenged to draw a picture a day. Studying a bit of nature in the flesh, so to speak! We also have a few more activities planned.
I've still tasked myself to weed the last part of the kitchen garden, and plant it up before the end of the weekend. Also I've started on my next dress. I'm tackling it the same way. Hopefully by the end of next week, it will be done.
Quite a half term!
(note to self: must find my sewing pattern for this blouse, to make another)
I used to travel a lot with one of my early jobs. It meant days of living out of a suitcase and turning up at the railway stations. Checking myself that I didn't go into automatic and head off to London instead of Birmingham. Checking connections to Edinburgh, so I had a good chance of getting there in time. Making sure I had all my teaching notes, info on disk (memory sticks and the Cloud were yet to be invented) and a good book, before I put miles between me and home. Organization was the key.
Roll on twenty years and my commute only takes five steps to my home office. Phew. The difference now is that I have a household of people to organize. Make sure they have the right kit and can get to the right place at the right time. Logistics.
This week
For instance this week, we had a year 7 parent's evening. I booked the slots in the school on-line system, in good time, to see each teacher, and booked a two hour meeting in my Husband's calendar, weeks ahead, to ensure he was free.
So far so good.
Wondering if I can start another crochet blanket like this one.
Next, I still have two other children not directly involved in the parent's evening.
The Teen was at an after school club, so she would miss her taxi home. Solution: fortunately she is at the same school, so I could take refreshments and her mobile. She'd have to wait it out until I finished.
Youngest had cricket which clashed. Solution: take him with me, in his cricket outfit (subs in pocket), along with refreshments and a new book. The Teen could look after him once she finished her club. In the meantime, he could experience secondary school parent's evening for a while. (It would be good for him. He only has just over a year before he joins his sisters.) Then Husband would leave the evening early and take Youngest to cricket. I'd cook when I got home.
Eventually.
Our cricketer in younger years
Job done. I issued the timetable for parent's evenings to the Teen and Husband, so they knew how to find us. Teachers are dotted around the school in classrooms that are not their usual ones, so its a bit like a scavenger/treasure  hunt finding them. Even with the map supplied, clues of their whereabouts are gleaned from passing friends. (Labelling six rooms as "Head of Year" without a year group number, is not helpful)
That is just one evening. I could list other evenings/days this week that have required a thinking cap to be placed firmly on my head, but I'm sure you've got the idea. Trying to juggle it all so that everyone can achieve what they want to do, or have to do, without leaving anyone out. Some days I win.
Somehow working out a train connection, all those years ago, seems a walk in the park.
Secondary v Primary school
Seeing as I've survived a fair few parent's evenings at various schools now, I thought I'd share eight differences between primary and secondary parent's evenings.
1. Gooseberry. The teachers talk more to the pupil than the parents. At least us parents get top billing in the evening's name, I suppose.
2. Obviously this means the pupils come along to the meetings, unlike primary school.
3. Speed dating. You have less time to talk to each of the teachers before you move to the next. We have 5 minutes for each meeting, in comparison to the primary school's 10 minutes. Takes on the air of how I imagine speed dating must feel.
4. It's long. You have more teachers to talk to. There are 5 minutes to get from one meeting to another. Sometimes all the appointments don't fit in perfectly, so you end up with 10 minutes to kill inbetween teachers. The whole evening can take over 2 hours. Not for the faint hearted after a full-on day at work.
5. Blast from the past. As you navigate school corridors and different buildings to find the right room, you will spot people that you haven't seen since toddler groups. Try remembering names that you struggled with even back then, due to sleepless nights and pregnancy hormones.
6. Blast from the past 2. As you wait outside classrooms, leaning against the walls, trying to avoid eye contact with people you recognize but can't remember how, you will be suddenly plummeted back to your own school days.
7. Time flies. All the teachers will be younger than you. Ok. Not all, but enough. There will be teachers that are nearer to your children's age than yours.
8. Over the top. Your child will have prepared you before meeting certain teachers, explaining that you are about to meet an unreasonable ogre that makes the Vogons from Hitch Hikers Guide to the Galaxy sound like a fabulous alternative. It's not true. They are usually perfectly nice people, that despite being at work for far too many hours that day, can still hold a very pleasant and useful conversation.
Only three more weeks until half term. I know the weeks after that are even busier, as school, etc fits in all the other events and outings that are still to happen. Sigh. It's best not to look too far ahead. Fill in the forms at the time, put it in the calendar and check the kit. Take one week at a time.
As you may have guessed all the logistics have meant that I've not been organized enough to take many photos this week. They are all old ones.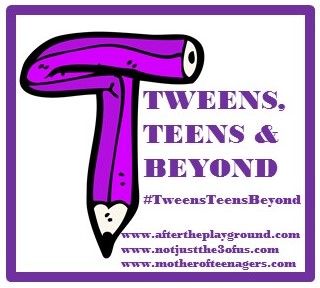 This is our first week of the Easter holiday. It's been a good start. The weather has been kind and the children have settled down to being a merry band of friends again. They shook off the dust of school. The age and school differences soon diminished. They were ready for adventures again.
I restrict screen time. It's not perfect, but it does mean that I don't spend the whole day talking to the backs of their heads. They need to look for other alternatives. We are hugely lucky to be surrounded by woods and fields, on all sides. Places to explore. Spotting nature. Especially as they are old enough to go off by themselves now.
Whether on foot or bike.
So long as they go with at least one other.
The track is suitable for mountain bikes and goes on for about a mile, until you would need a machete to get through. I'm not sending them into the woods with one of those! They have had so much fun this week, riding their bikes and pushing their limits. Each day they show me new bruises and tell me new things they've spotted.
New skills they are acquiring from being out there and doing.
They've also had fun doing more stone crafting and playing badminton in the garden. They've spent a few days helping me to clear the kitchen garden, ready for planting.
It is all action here.
The dogs are loving all the energy this week. Sometimes they join the children. Inbetween, they catch up with sleep. Ready for the next adventure.
Word of the week: Action
Photos
There have been cases when people lifted my photos and words, and used them without credit to me or asking permission first. Using them for their own commercial gain. I have now added a level of security to deter people from doing this. Apologies to people who do play nicely. If you would like to use any of my photos, please contact me.
Copyright notice:
All my words and photos are copyrighted to me. They cannot be used for commercial benefit by anyone else. If you would like to use any of them, then please ask me first and don't just take. Written permission only. Don't pass my words, photos or ideas off as your own. It's not nice.