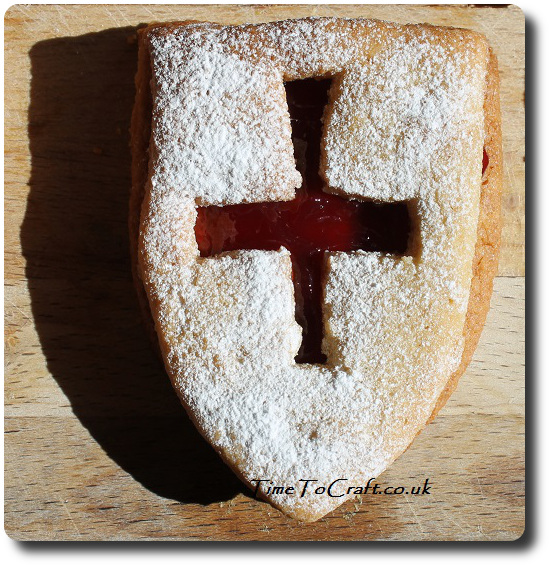 Yesterday, I put together a St George's Day after school activity, for the children. St George's Day is on Thursday, but as it is baking, it made sense to do it earlier.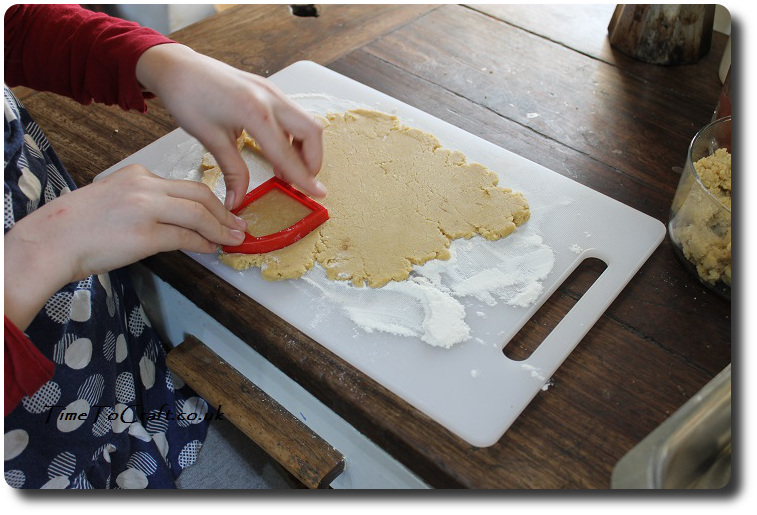 We made two different varieties of biscuits, using the same mixture. I like using the "Rainy Day biscuit" recipe from the book Nigella Bites
. It keeps its shape when it bakes, uses ground almonds and tastes good on its own. A really good, proper biscuit. Saying that, any biscuit recipe that uses cookie cutters will do.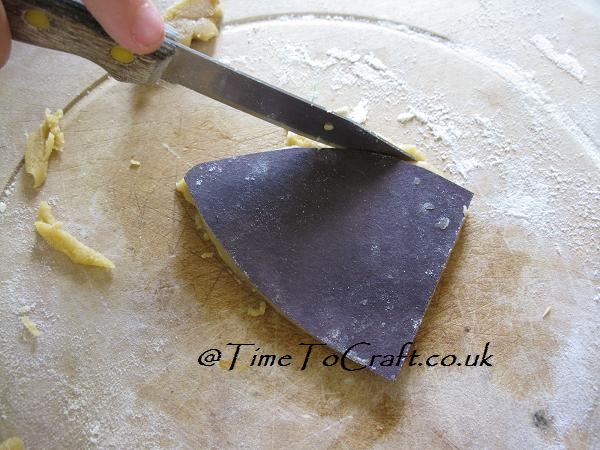 We used a shield cookie cutter. If you haven't got a shield cookie cutter then, you can also use a paper template to cut round. You can see how we did this when making our castle and shield cookies.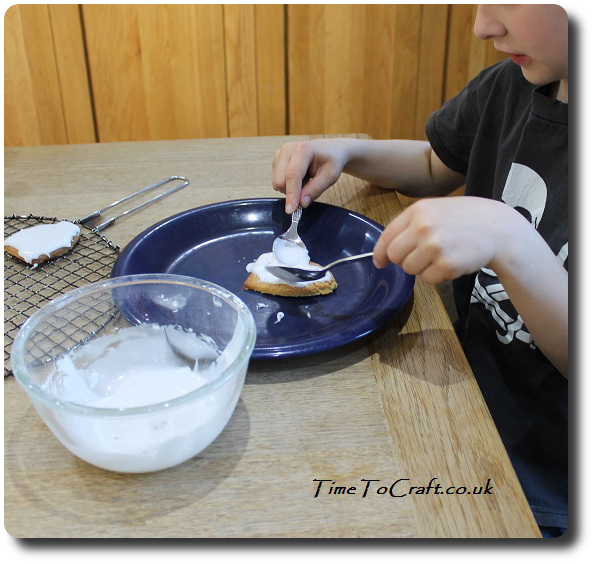 Once baked, the children had fun icing the biscuits. We used ordinary icing for a change, but fondant icing would be an even better option, according to the children. Instructions here.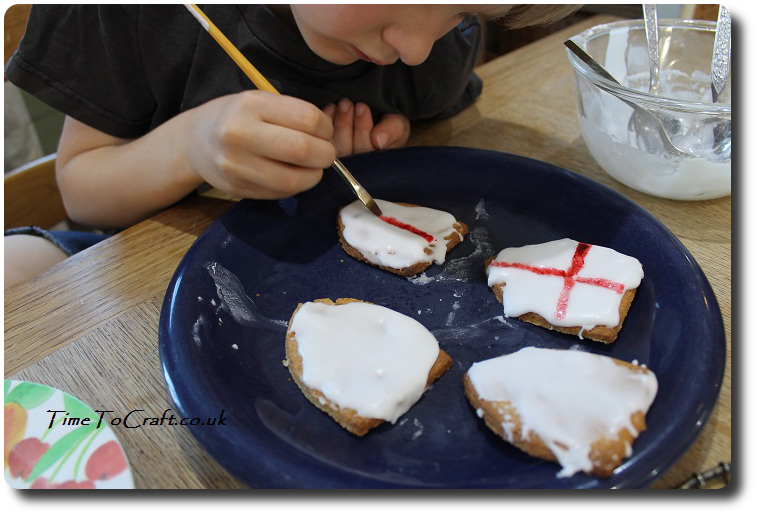 Once the icing had set, using a new paint brush, the children painted crosses on to the biscuits with red food dye on the shields. Really does take a light brush stroke. It's still easy to make furrows in the icing.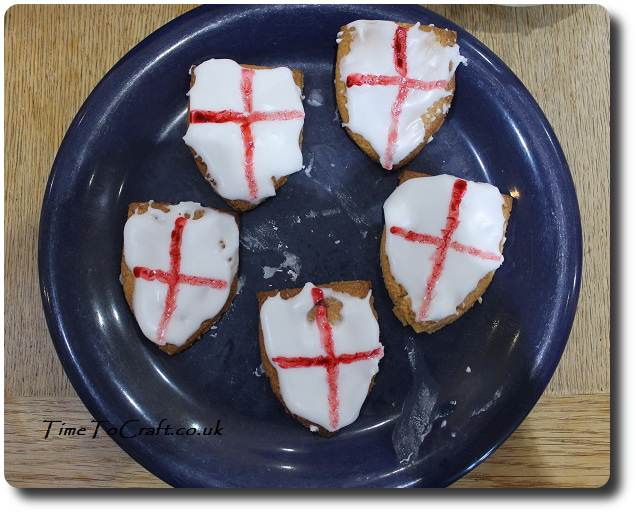 These biscuits disappeared quickly. I caught the last five for a photo, before they too were devoured. (Managed to hide two, for the next day's packed lunch)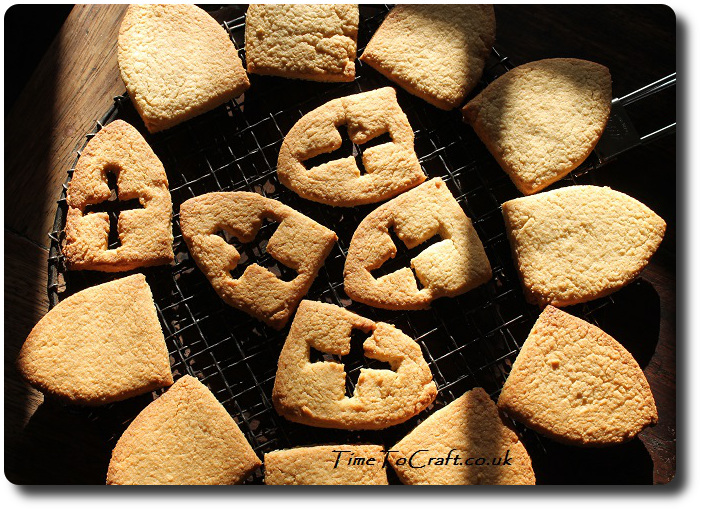 I hung on to half the unbaked biscuit mix and used the shield cookie cutter to cut out more. Half of these, I cut plus signs or crosses in. I found it easier to keep the shape if I cut the crosses and moved them on to the baking tray while they were still in the cutter.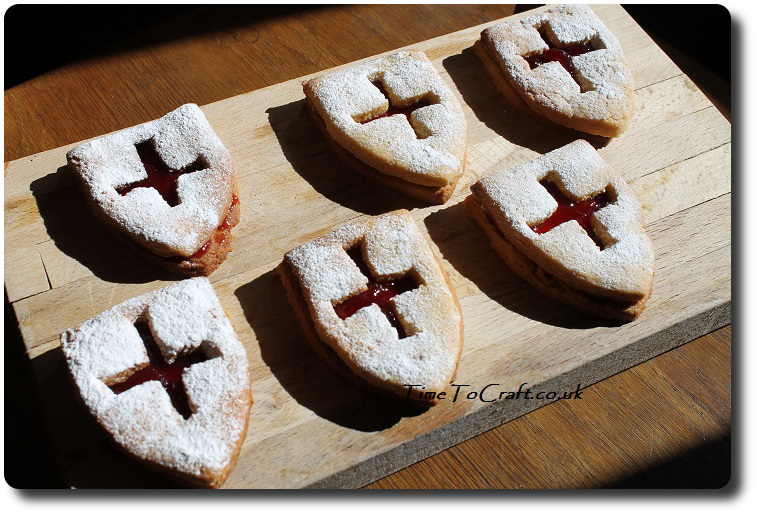 Once baked and cooled, I dusted the crossed shields with icing sugar. The other biscuits were spread with raspberry jam. Then the crossed shields were put on the top to make jammy dodgers. Easy! Does make a perfect (yummy) St George's shield or English flag.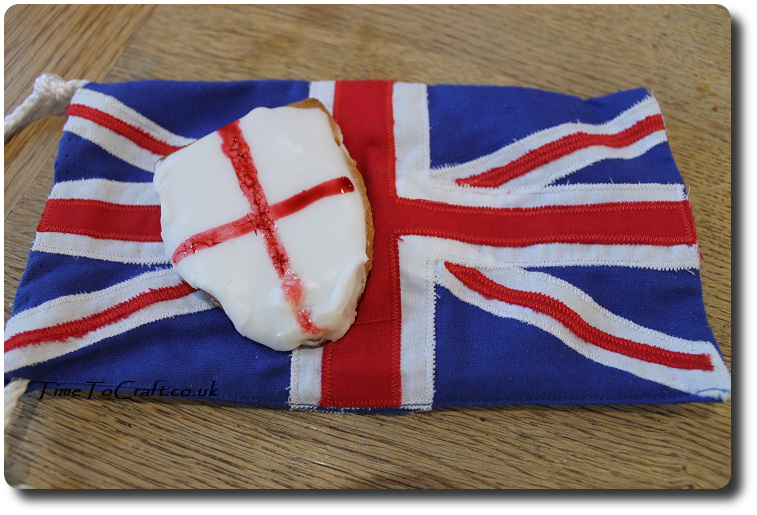 So two variations on the theme. I'm not big on icing, so I prefer the jammy dodger versions. The children like both.
If you make any of the biscuits and post a photo up on Instagram (@CherylTimeToCraft) or Twitter (@CherylInTheUK), please tag me. I'd love to see them.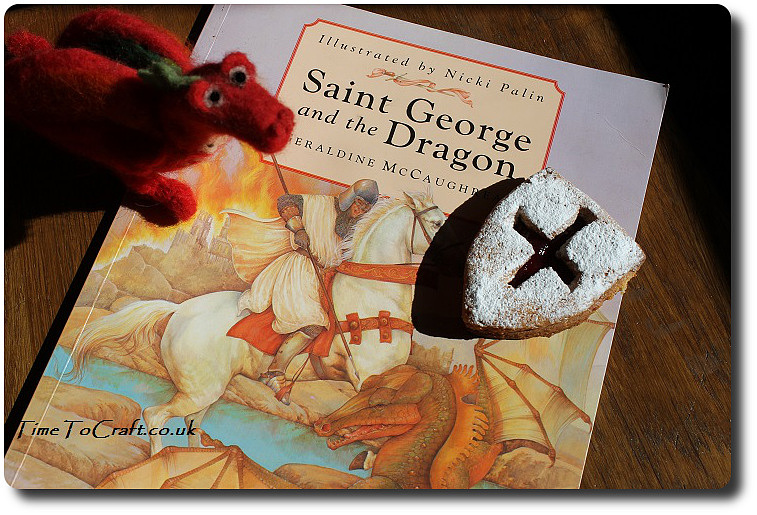 Either way, they make good biscuits to munch on while reading a book. Children have been enjoying re-reading the story of Saint George and the Dragon
. (Not in front of Norbert the dragon though)
Other St George's Day activities: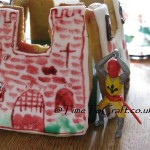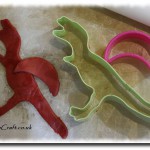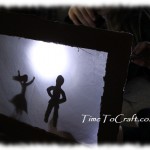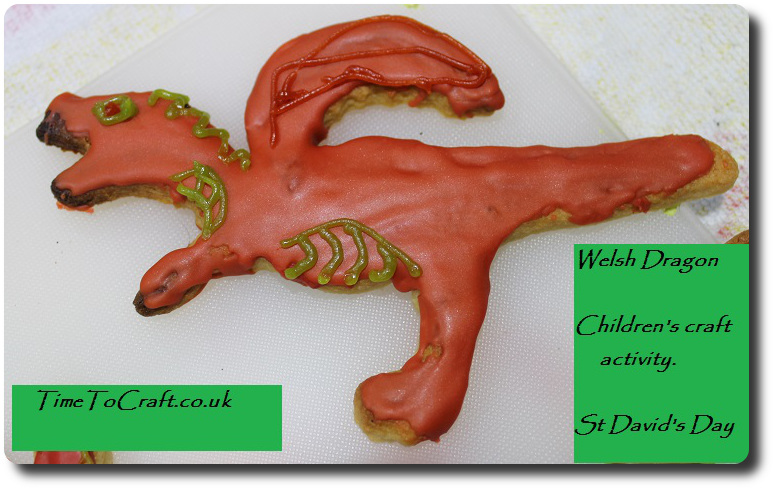 I am a firm believer that crafting is a great way to teach. One of my children learns best through tactile learning (Kinaesthetic Learning), making crafting a perfect choice for projects at home. All the children still talk about ruins and erosion within the context of our castle cookies we made a few years ago.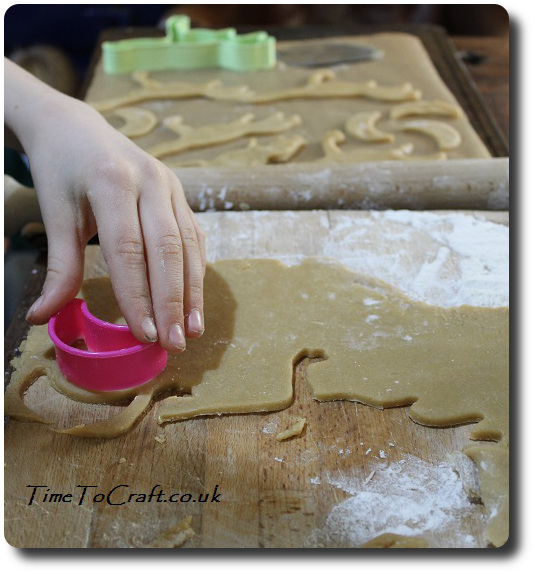 When we celebrate the seasons, I like to set up a project for them. As a big fan of St David's Day, this year I thought we would make dragon cookies. As with our dragon cake, we used the dinosaur and moon cookie cutters. This time we used a small crimped cookie cutter on the edge of the wings to add a webbed effect.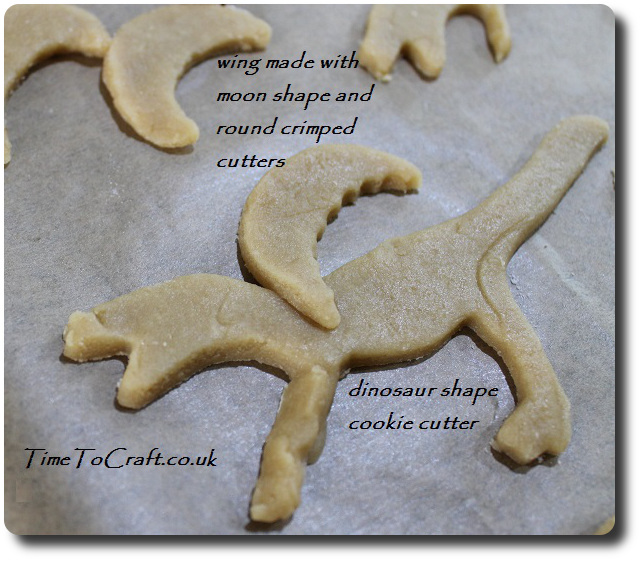 The cookie recipe is the rainy day cookies from Nigella Bites
book.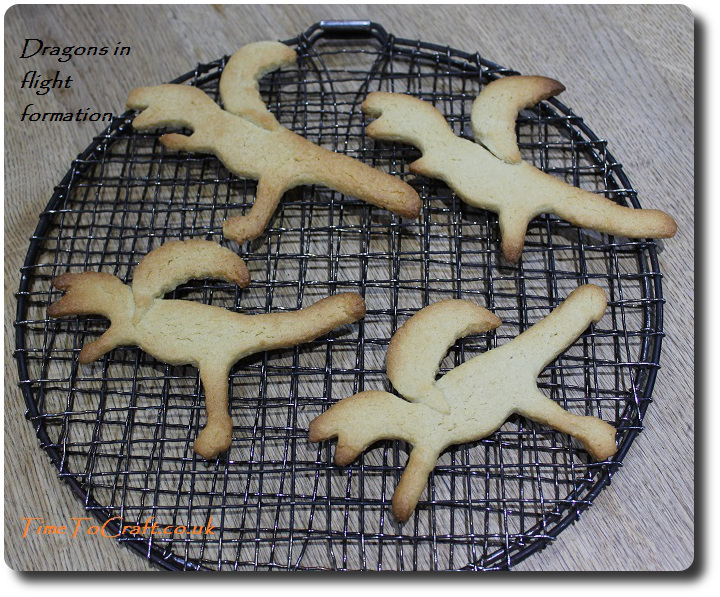 It gave us an excuse to discuss why the dragon is red and why it appears on the Wales's flag.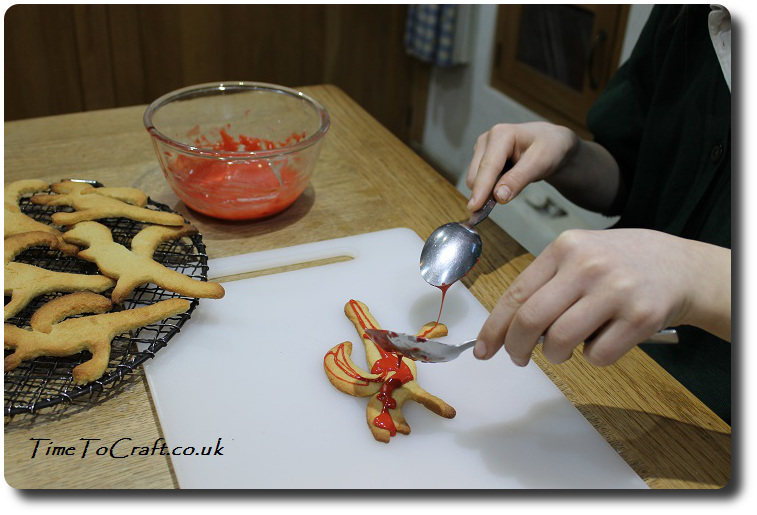 I was tempted to slip one white dragon in just to re-enact the battle, but the children were happy with red, so red it was. (It would have been fun though, wouldn't it?)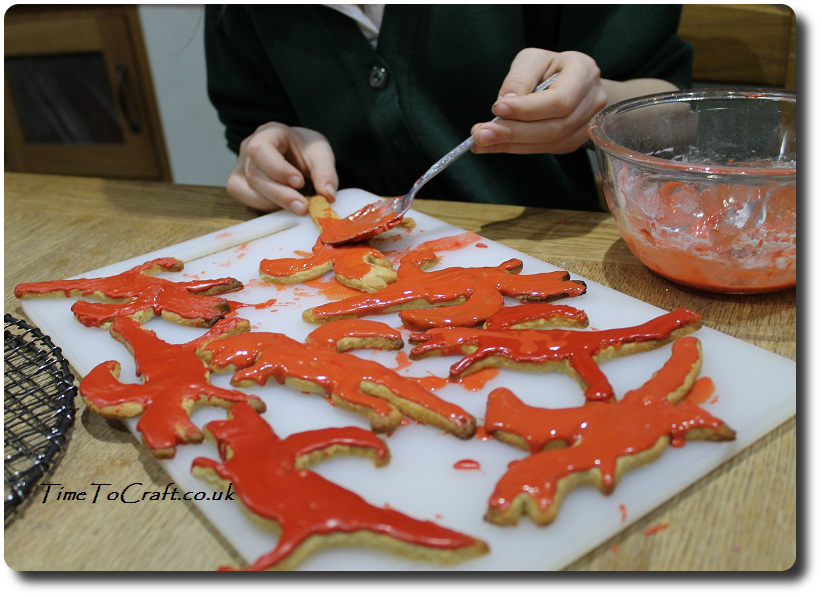 We spooned the red icing on. Also tried the flooding method, but outlining the shape with thicker icing too, but it took a lot longer.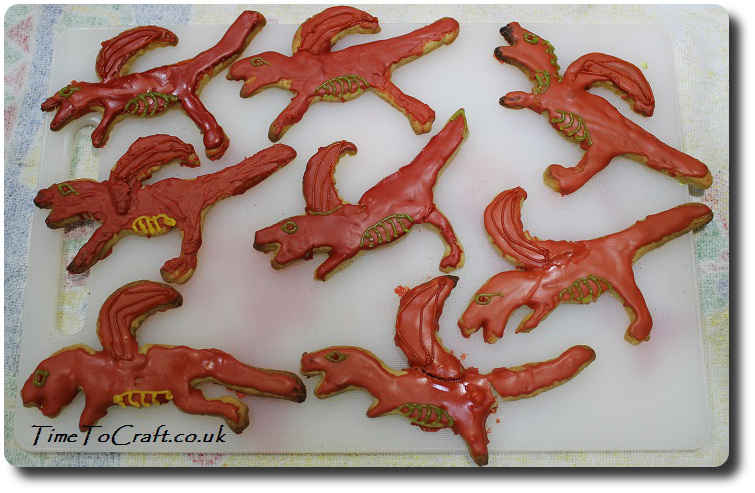 Once the icing had set, we added details with icing writing pens. Each dragon being slightly different. One poor dragon lost his wing and leg. With so many fierce dragons around, I guess it was inevitable.
In the end, they all met their maker (or one of the rest of the family) and very nice they were indeed.
I made more cookie dough than we could use in one session, so I'm sure a few more dragons will be made this weekend. Running up to St David's Day on Sunday. Maybe I'll sneak a few white dragons in to the mix. Facing the other way, ready for battle. Just to act out the story, of course. I can't resist a chance for an interactive story telling moment.
(these would look great any colour. I might make green ones for St George's day)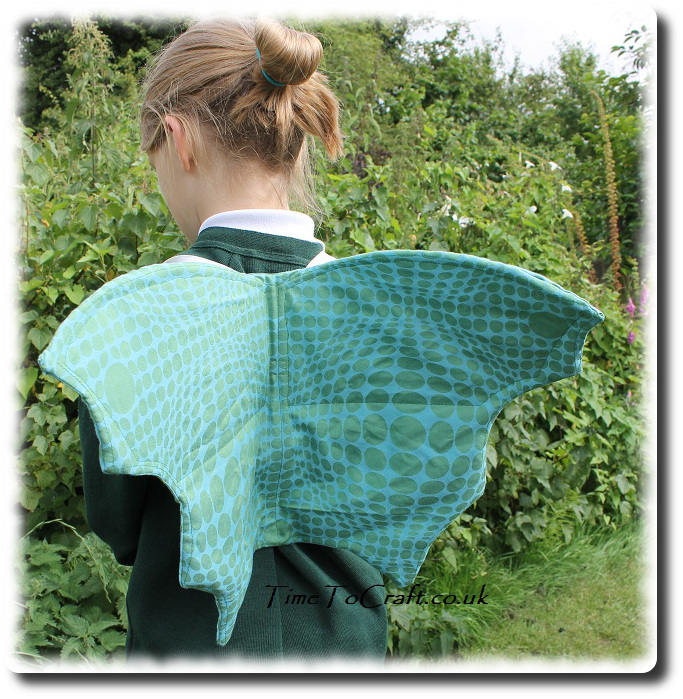 The note from school said that they were making dragon heads, but if parents would like to make dragon wings, they were more than welcome. This is the kind of note that a mother, that sews, loves. LOVES. My head filled with different design options. I mentally went through my craft supply cupboards deciding on the best materials.
" No thanks"
"What do you mean – no thanks?"
" I don't want dragon wings. "
" Oh." The shoulders of the sewing mother dropped.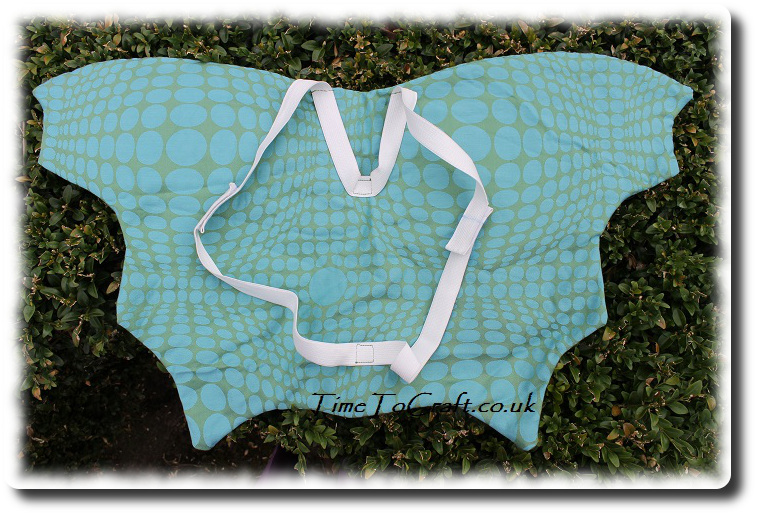 Roll on to the evening after the dress rehearsal. He changed his mind. He'd seen his friends having fun with their wings. He did want dragon wings for the next day's school assembly. In a mere 15 and a half hours time, which included some hours that I was hoping to grab some shut eye.
Paper out, pencil swirling, design made.
No. Wings had to be on the back, not flapping ones hanging from arms. Redesign. Hmm. Needs something to preserve the structure. Hope it will look like dragon wings and not butterfly ones.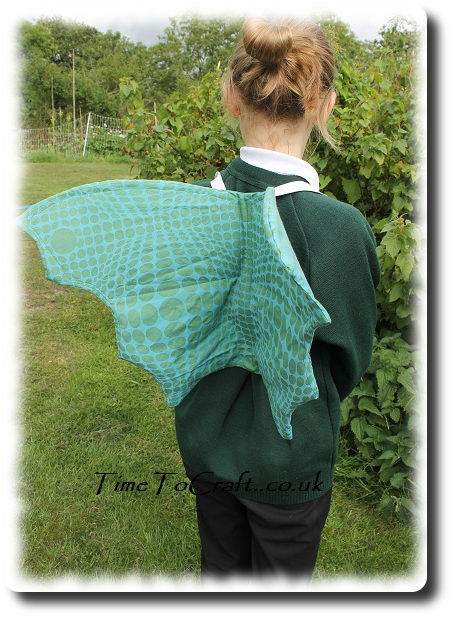 I like a challenge. The clock was ticking.
17:30 The left over fabric from the bean bags I made, was hauled out. The stiffest dress interface net was dug out of the depths of the cupboard. Coat hanger tossed to one side and plastic canvas substituted.
(interval for eating, bathing and children put to bed.)
20:40 Dragon wings cut, pinned and sewn. Turned right way round. Hand sew the finishing edge begins.
21:36 Check for the right length of elastic on now sleeping child.
22:03 Wings finished. Rest on laurels.
(sleep)
07:34 Wings tried on. Flop. Centre of gravity wrong. Despite all attempts to rearrange.
07:41 Think
08:01 Change elastic to go over shoulders, rather than around chest. Sew it to the top of wings. Try again. Yes!
09:15 Assembly. Child has wings.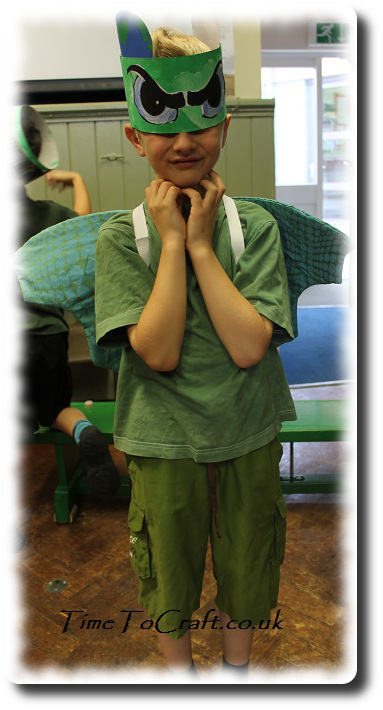 He is happy and I love a sewing challenge. Nothing new was bought for the project, so my stash has been usefully reduced. They are built to last and be played with. I hope the eye-defying fabric print and gentle droop from the top makes them look more like dragon wings than butterfly ones. To him they are dragon wings, so I guess that is all that counts.
(special thanks to daughter who modelled the wings for the top photos. School broke up earlier this week.)
Photos
There have been cases when people lifted my photos and words, and used them without credit to me or asking permission first. Using them for their own commercial gain. I have now added a level of security to deter people from doing this. Apologies to people who do play nicely. If you would like to use any of my photos, please contact me.
Copyright notice:
All my words and photos are copyrighted to me. They cannot be used for commercial benefit by anyone else. If you would like to use any of them, then please ask me first and don't just take. Written permission only. Don't pass my words, photos or ideas off as your own. It's not nice.
Cookie Policy
Our web pages do not use cookies however this website uses Google Analytics, a web analytics service provided by Google, Inc. Google Analytics uses cookies to help us analyse how people use our site. The use of cookies by Google Analytics is subject to change.