Hello again. Seems like a while since I've written a post. No apologies. Half way through the summer holidays and I'm facing the fact that it's proving a monumental task to do everything. Who knew? All work and play, leaves no time for blogging. I've also fallen into the trap that it's quicker to post a photo up on Instagram, but then I go on and gabble away, which rather undoes the quick part.
Talking of which, if you do follow me over on Instagram, you'll have seen that our summer has been filled with sun and crafting. I have so many projects to share here. Starting, as it's as good a place as any, with my latest finished knit. I finished my leafy cardigan, on one of the hottest days of the summer. It's remained too hot to wear, except in the evenings. Sirdar 9428, which is not a catchy title, so I'll stick with leafy cardigan.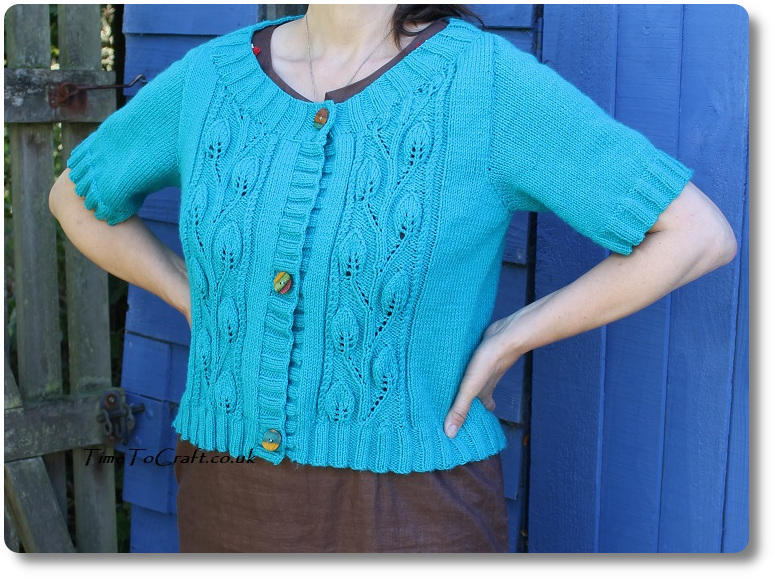 I loved this knit. The leaves only go on either side of the centre front, but I was actually bottom-lip-pouting sad when I finished the front panels. These leaves are good to knit. At the start, I wasn't sure if I'd ever get the hang of this stitch pattern, but perseverance won out, as you can see. Otherwise I'd be calling this project, my teal or modern art/abstract/slightly messy cardigan, I guess. Or not showing it at all. Anyway, here it is. It took one repeat of the rows, before I was liking it.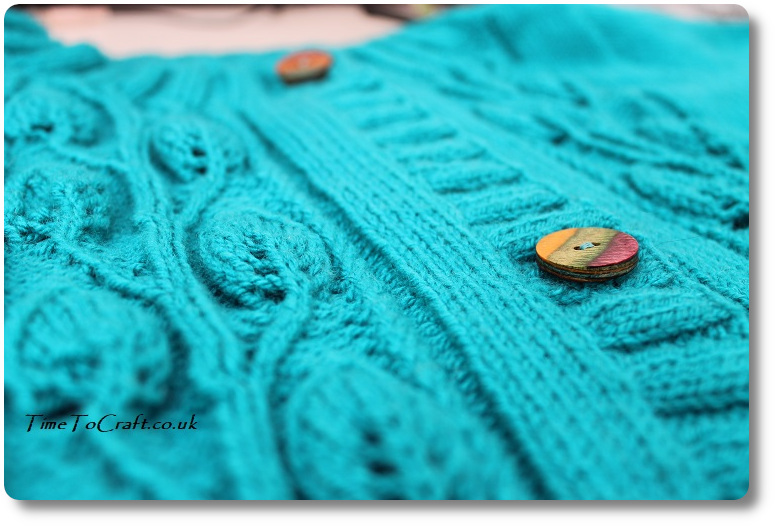 I was impressed at how the leaves almost look like they are about to grow out of the garment. One curly stem at a time. A slight breeze and they could almost flap elegantly and lazily. Eldest Teen even exclaimed that she didn't know you could make something like this with knitting, which I take as a compliment.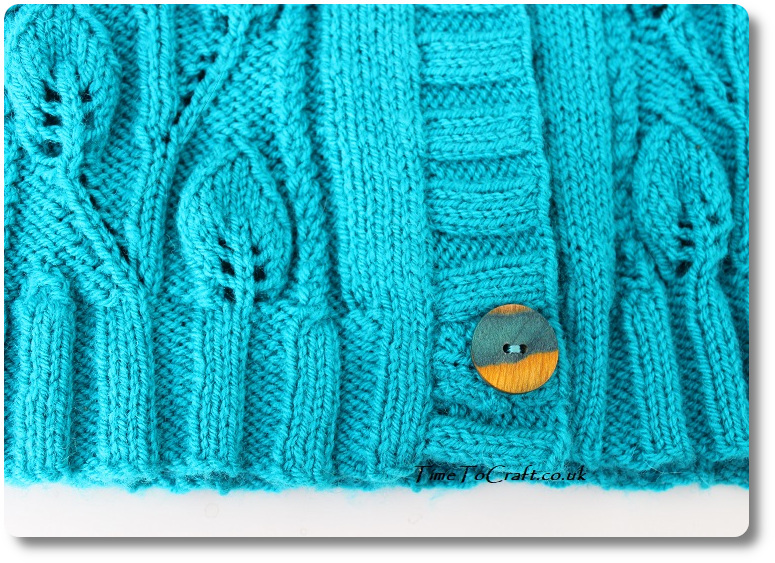 I wanted to avoid the cardigan looking too homemade. It kind of knocks my enthusiasm to wear something if I'm greeted with "Did you make that?" everywhere I go. Self doubt creeps in. Not a good feeling. I find my ribbing always gives the game away, so I purposely chose a pattern that did not use a knit one, purl one rib. This one is knit three, purl three and it does seem to give a smarter finish.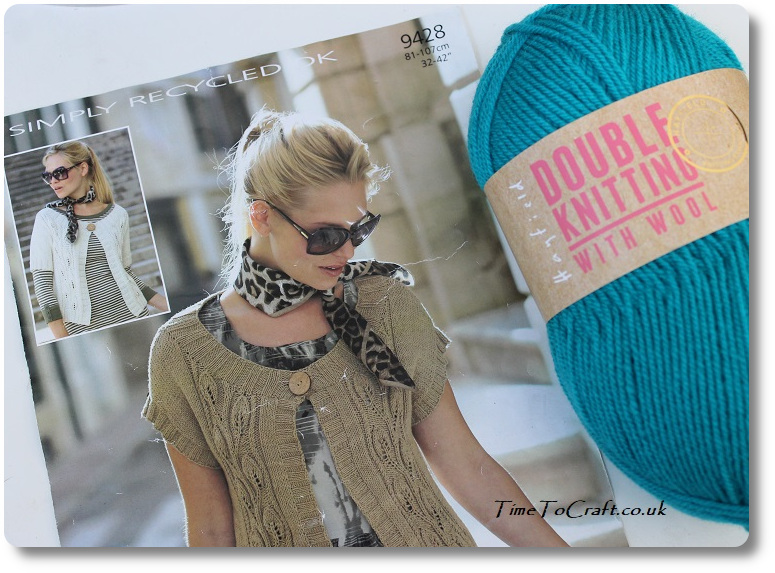 The pattern also calls for one, lone button at the top, which looked fabulous on the pattern's front cover model.  Once I tried the finished cardigan on, I realised that this style does not suit me. The front opening makes diagonal lines across my front, not almost straight down like the model. The diagonals were doing no favours to my midriff. Seriously, not a look I need.
Instead, I decided to add two more buttons. I've not added buttonholes to a finished knit before, but I've seen it done. When it came to the point of cutting into one of my stitches, I took a deep breath as there was no going back. The other fly in the ointment was that the knitted rows meant that the two new buttonholes would be vertical rather than matching the top button's horizontal alignment. No choice but to go for it and I'm not sure anyone could really tell unless they got close up and invaded my personal space.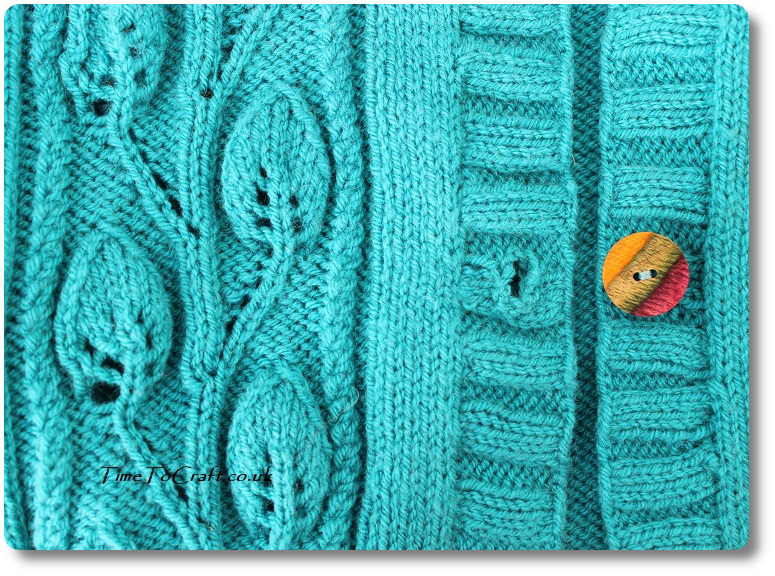 The buttons are 23mm Knit Pro wooden buttons. My sister gifted me the first one, a few years ago. Fortunately, I found two more. I love how they look against the teal wool. I used Hayfield double knit with wool, which is the same type as I used for the two hoodie's last summer. I'm not sure it shows how vibrant this colour is in the photos.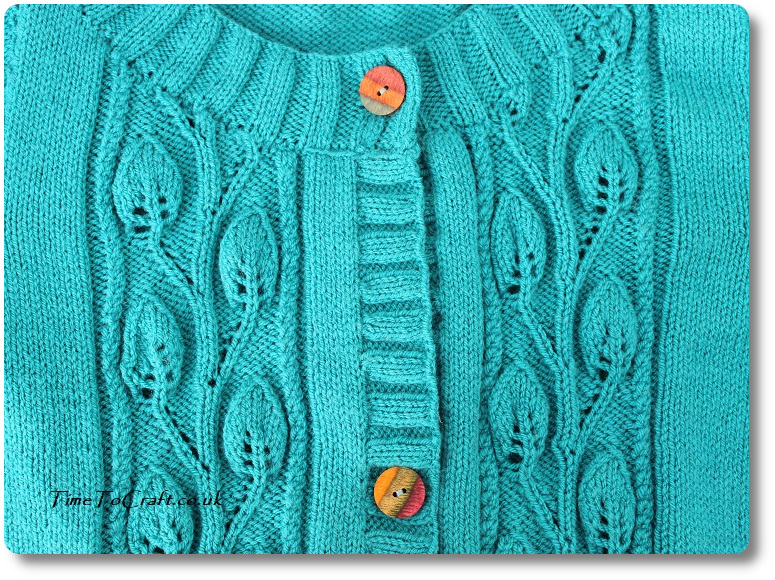 I made it in the fifth size. I wish I'd gone down to the fourth as it's a bit too big. All that running and giving up crisps since I started knitting it, has made a difference. Optimistically, I washed it straight away, but it still feels a little looser than I'd like. I've also found I prefer to wear it with more figure hugging, plain dresses, as it's more flattering if it's not competing with anything else.
I tried it on with my brown, linen, sheath dress today, for the photos, and it makes a perfect combination, I think.
Only other change I made was to make the sleeves, slightly longer. I had plenty of yarn. Ah, yes. OK. I'll admit. Between you and me, I managed to over order the yarn again. Again! When will I learn. I really don't know how I do it. I probably have enough left over to knit another in a smaller size, but I won't.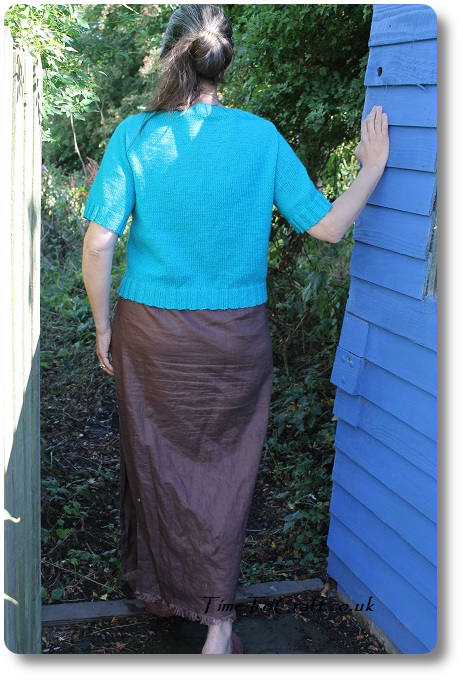 One is enough.
I'm very happy with my new leafy cardigan. It is warm and comfortable. I've cast on a different jumper already. Struggling with the first row, as the ribbing is complex, to say the least. I will get there. Just got to keep going. I've opted for a smaller size, too. And less yarn. Definitely less yarn, this time.
Right. Back soon with my next summer crafting project. It's a doozy, as they say.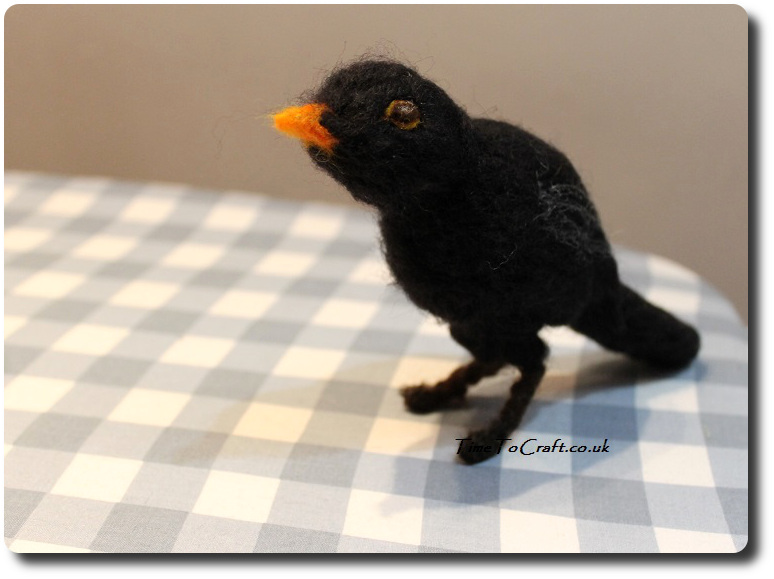 Some birds seem to just get us humans, so to speak. There will be individuals,  that interact with us on their own terms. They learn our habits, evaluate advantages and assess our risk factor. Before long, us humans give them names and a routine of interaction is established.
One of my family had just such a relationship with a blackbird. He called the bird Blackie. The bird learnt to trust his human and would come to be fed when called. He was quite a character. Every time we visited, we heard more of this blackbird's antics.
Blackie raised several clutches of little blackbirds, over the years. Always keeping his nests in close proximity to the dwelling of his human friends. Then one day, he didn't turn up. No-one knows what happened. His adult offspring are still around, but not Blackie.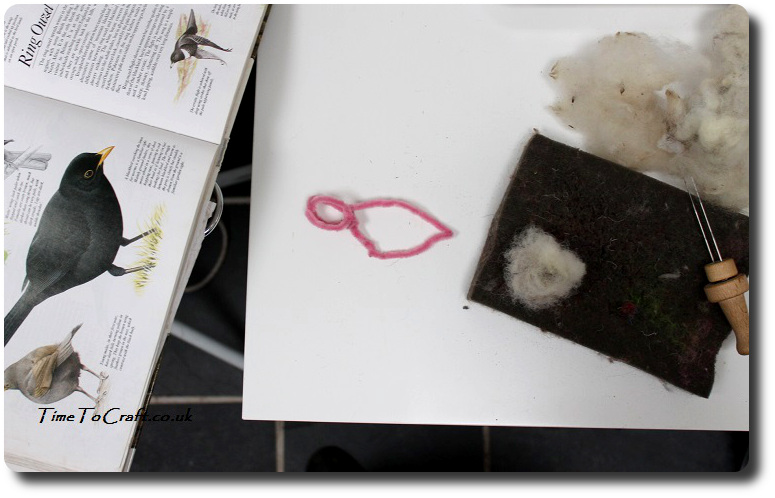 So I decided to make Blackie. A young version. Why not?
To start, I used pipe cleaners to form the frame. Makes it easier to shape and re-shape, I find. The white is from a Jacob sheep fleece which forms the base. It is springy and felts up to be a firm structure.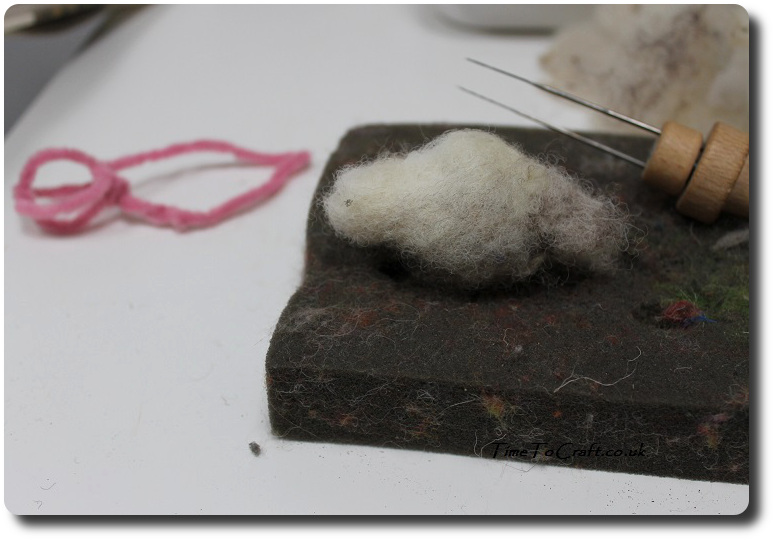 I felted the base of the body, tail and the head separately and fitted them into the pipe cleaner frame, then felted more white fleece over the top, until the pipe cleaners were hidden and I had the right shape.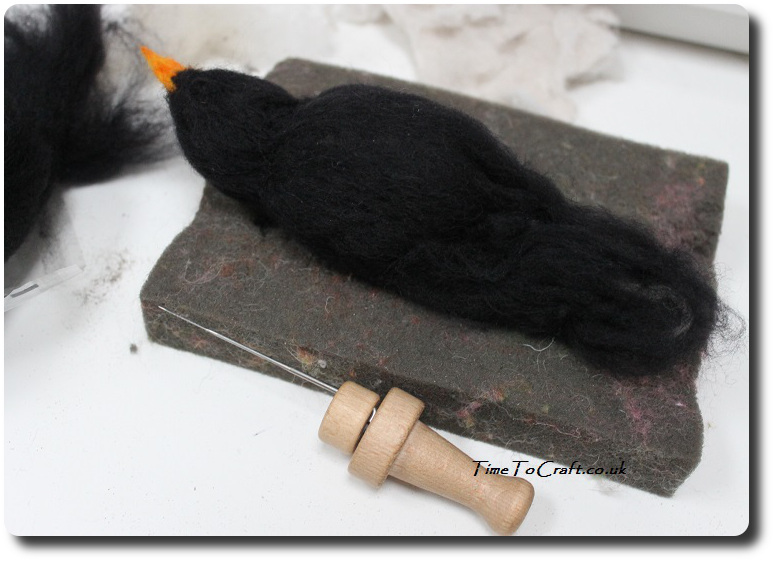 Next the black. I kept the length long, so it covered the whole length of the body. It was at this stage I knew I was getting the shape right. It's very difficult stabbing a needle into something thats starting to look like a living creature.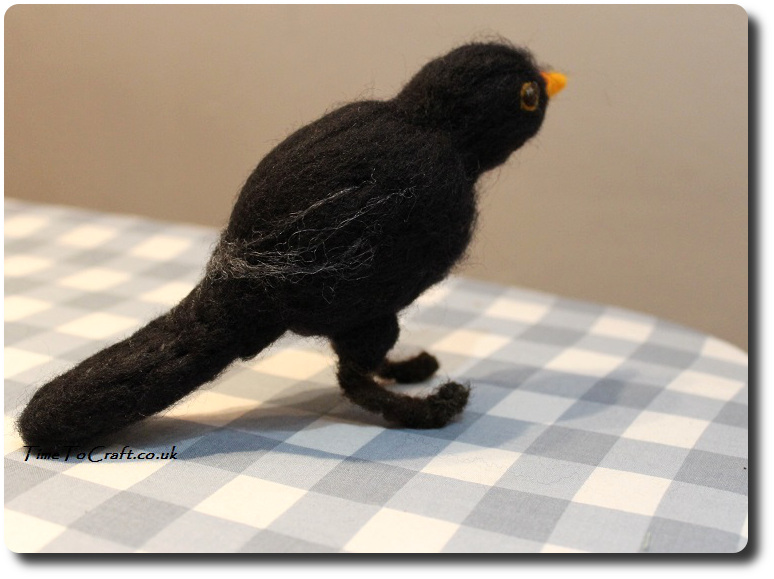 The legs are wire, covered in brown fleece. I used silk filaments to give the impression of wings folded back along the body.
The eye is a felted circle of yellow, with an inner brown circle. I added a touch of white, for a sparkle in the young blackbird's eyes. Giving him character. The beak was a mixture of orange and yellow, that I hand mixed, to avoid a solid block of orange.
I took these photos, to check the shape. Afterwards, I thinned down the tail, added shoulder definition, flattened his back and chin. Totally forgot to take a final photo.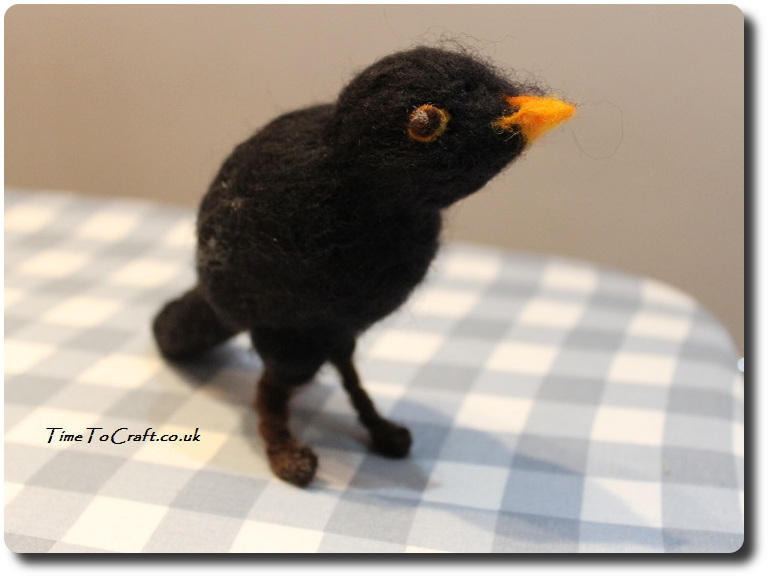 Blackie has now been gifted. I could have played with the shape for longer. I wonder if I would ever be totally happy with it. Probably best that he's gone to live somewhere else.
---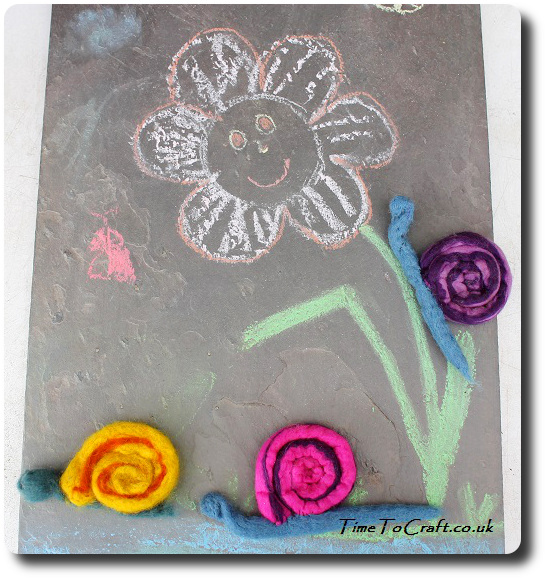 (wet felted snails)
There are some tasks that seem destined to constant interruption. Forever work in progresses. As soon as all the tools are assembled, and work on the verge to commence, a voice pipes up and my priorities are changed in a moment. A different task beckons. Sigh. I know I'm not alone.
All week, I've been trying to clear a weed flower bed to plant a few new plants. All week. Finally Sunday, I woke early, before the rest of the household, and dug.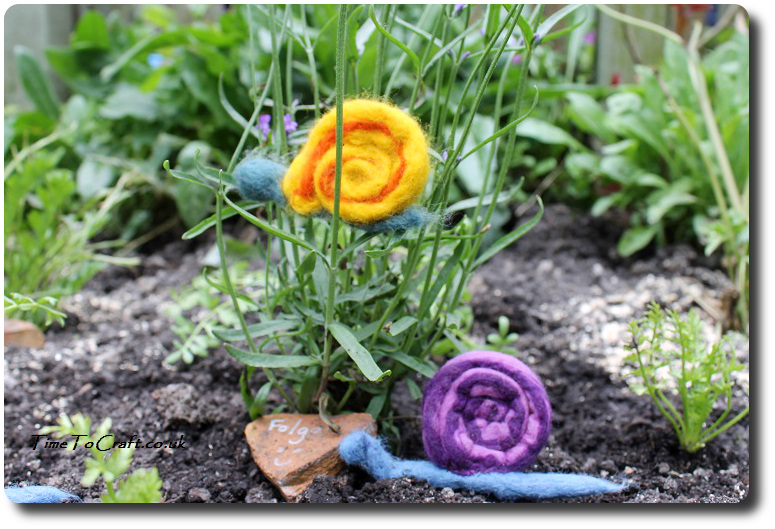 Among the plants are a pair of delphiniums that the slugs and snails had munched through while they waited in their pots to be planted. I brought them inside and they have recovered. Bunches of new leaves, although I'm not sure they will produce flowers.
(poached egg plant)
Poor plants. They are going to need extra defences in their new location. I've liberally sprinkled egg shells around, to deter the slugs and snails. Without wishing to tempt fate, this method usually works well in our garden.
So far, so good. I've not spotted any snails or the tell-tale signs of their sneaky visits. Admittedly, I did relocate a fair few snails to one of our wild areas in the garden, as I cleared the area of weeds.
Fortunately these particular snails are 100% harmless. The children recently made them by wet felting and needle-felting merino fleece. They used the technique of making long thin rods of felt (details here) and also had a go at needle-felting. They decided wet felting has the best technique when it comes to snail making.
The felted snails are back up above our inglenook, among the felted leaves and crocheted daisies. While I'm left to keep a beady eye on my delphiniums. I have a plan B, a plan C and a plan D. I hope I'm not pushed into resorting to Plan D.
Fingers crossed.
Photos
There have been cases when people lifted my photos and words, and used them without credit to me or asking permission first. Using them for their own commercial gain. I have now added a level of security to deter people from doing this. Apologies to people who do play nicely. If you would like to use any of my photos, please contact me.
Copyright notice:
All my words and photos are copyrighted to me. They cannot be used for commercial benefit by anyone else. If you would like to use any of them, then please ask me first and don't just take. Written permission only. Don't pass my words, photos or ideas off as your own. It's not nice.
Cookie Policy
Our web pages do not use cookies however this website uses Google Analytics, a web analytics service provided by Google, Inc. Google Analytics uses cookies to help us analyse how people use our site. The use of cookies by Google Analytics is subject to change.