Down to the woods with the Stick Man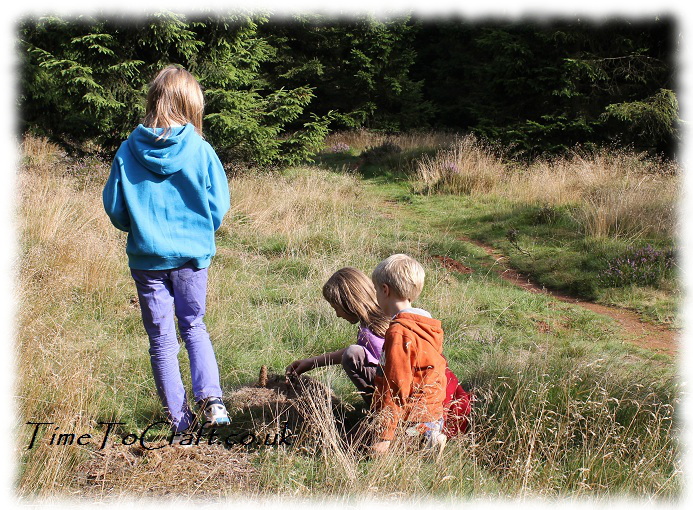 Yesterday, we needed a change of scene. Time to head to the woods for some fun. Not for a walk that would cover miles and miles. We've done so many of those recently. No, this time it was all about play. Creative play. Inspired by the Stick Man books and Somerset Outdoor Play. With a little orienteering thrown in for good measure.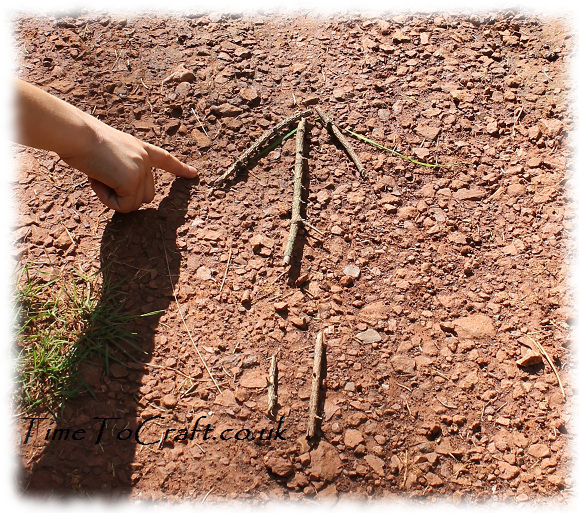 Creative play
First up was to make a hunter's trail, using arrows on the floor to give directions. Once explained to the children, they soon disappeared through the trees. Telling me that they'd call me when it was done. (Good job I had my camera and could fill the time stalking insects.) The children set up the route, which wound up and down, and round and round, until it reached ………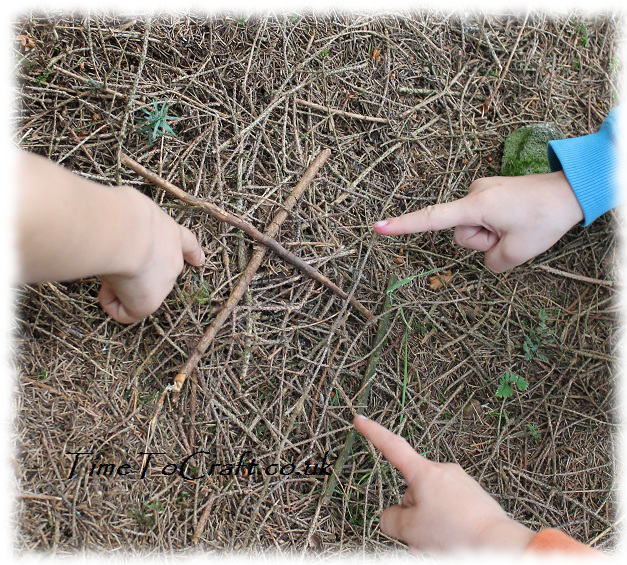 A shaded grove, where an X marked the spot.  As a surprise, they'd buried a pair of pine cones. Good treasure and leading quite nicely on to the next activity!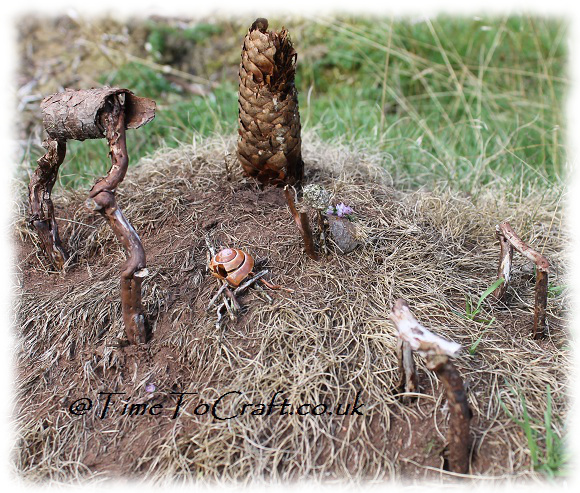 Next came some natural art. Given a choice of anything on the woodland floor – nothing to be snapped off or with the ability to crawl away – what could they make. Plenty of cones as we were surrounded by pine trees. At first the children seemed to flounder. What to make and what to use.  Then I could almost hear a creative click, as they began to rush round finding suitable material.
First up was Stonehenge made from sticks, with a little person in the middle.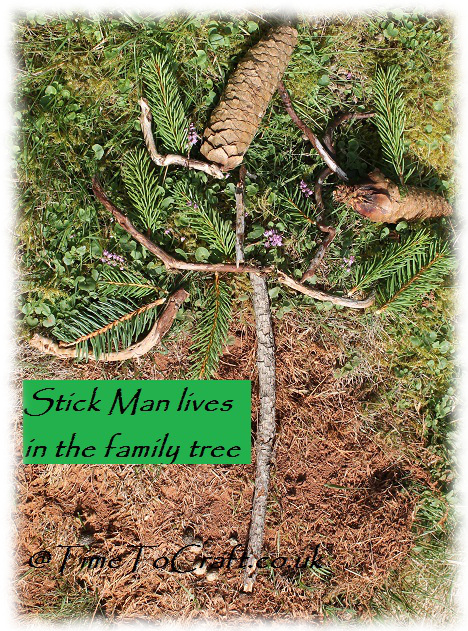 Stick Man
The next was a tree, which inspired even more art to be created. This time made by all three children.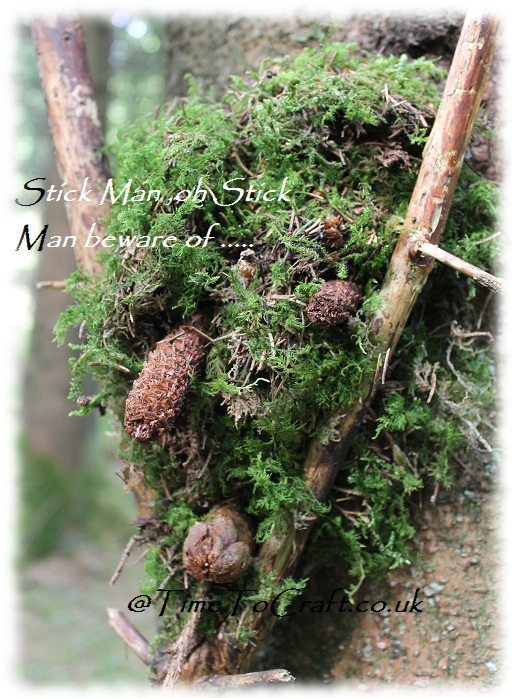 We love the Stick Man story. Although much debate about whether it should be classed as a Christmas book or not. I see it more as showing all the seasons and the passing of the year.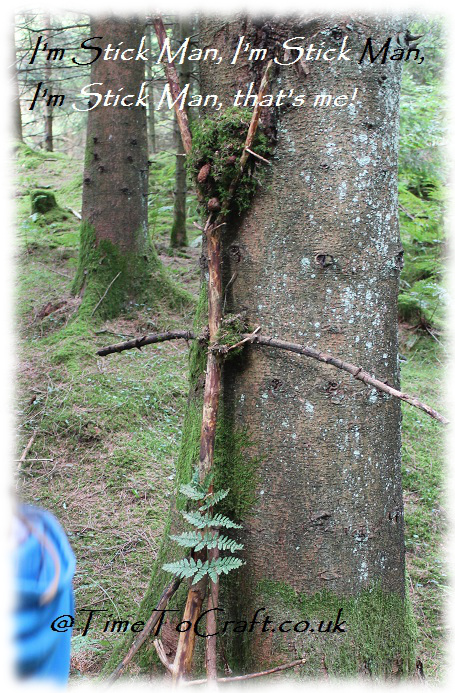 When all said and done, it's still a good story and written in a lyrical way, which I love. We realised, as we tried to quote bits from it today, that it had been a while since we had read it.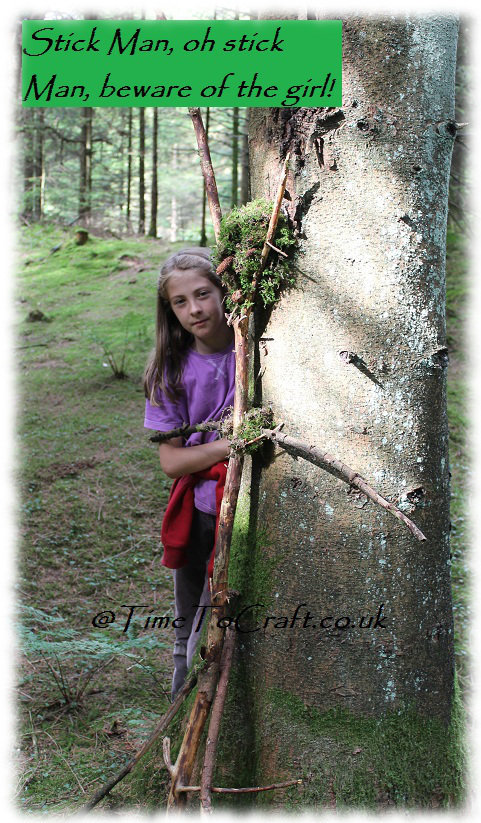 I love their stick man. I like to think that maybe someone will happen upon him over the weekend.
Spotting nature
There were lots more pictures and sculptures. Once started, the children really got the hang of it. I love that all these activities were completed with very few nudges from me.
In between all the art, we enjoyed our surroundings. We all agreed that we had found a spot that felt quite magical. Walking through the trees, we came out into an opening, carpeted with heather.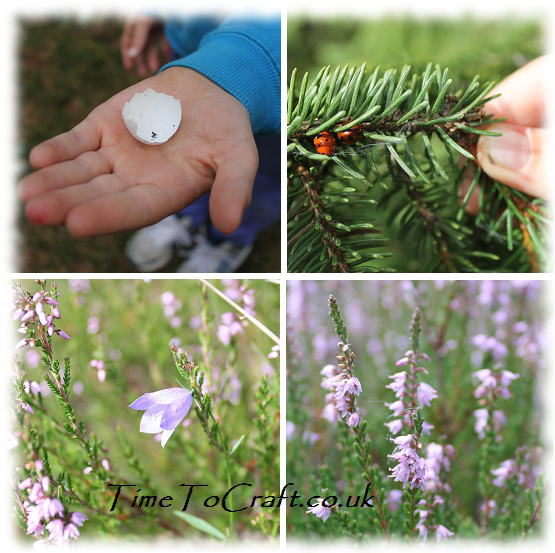 I lost count of the dragonflies that flew around our heads. Some hung, warming themselves in the sun on the surrounding pine trees like intricate Christmas tree decorations, just out of my camera lens reach. Hmm! We did find lots of ladybirds and beetles. Not forgetting the grasshoppers and one lone toad.
Our trip to the woods worked. There were giggles and cooperation that had been missing. Everyone returned home enjoying each others company again. For a while at least. The last days of holidays can be tough. For all of us.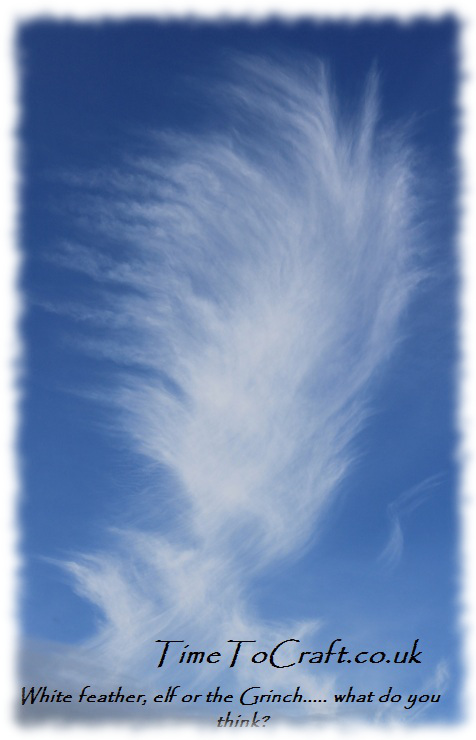 As we left the woods and returned to the car, we met people starting their walks. One gentleman remarked that the children didn't seem tired out. Looking round at them, I fully appreciated that there is more to time in the woods than just trying to tire the children out. They still slept well.
This is Stockhill Woods on the Mendips.
(And, yes, we did go home and re-read Stick Man.)
 Joining in with the Country Kids. Lots of inspiration for playing outside.