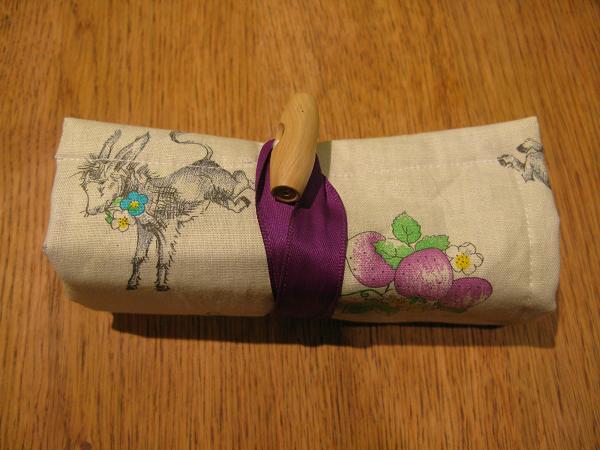 BL has a few parties to go to in the next two weeks, so I'm busy making pencil rolls for her to take. These are exactly the same as the crayon rolls (tutorial here) except they have pencils and a different loop.
Yesterday, I asked TF why he wasn't colouring in his book. He said, "Too hard." One of the girls piped up that his crayons were not very good for colouring, as you have to press really hard. I tried and they are right. When we got home, I tried the crayons in several colouring books and the results were mixed but disappointing.  Grrr! Time to think again.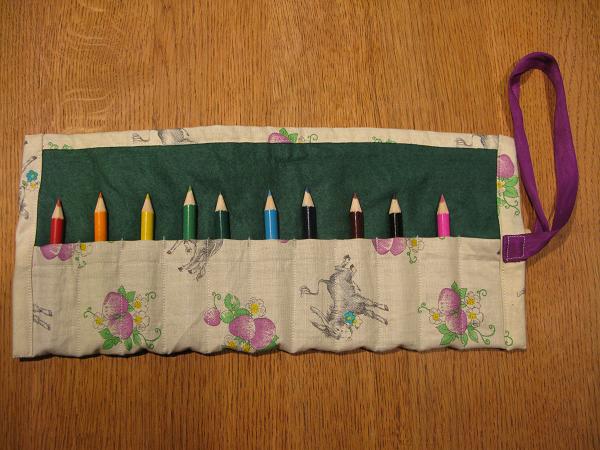 So I am using pencils from now on. Yes, I have tested them this time. I've changed the crayons in TF's roll for pencils of the same size.
I don't think two of  my crayon/pencil rolls have the same style of fastening. I've gone for a toggle again, but this time I've doubled the ribbon up to make one big loop. I prefer the finish of this one, so maybe I've found my way of doing it.
I've used this fabric before. It originally came from my Mother's stash. I remember it being around for years, probably from the seventies or eighties. I love the way the donkey is drawn. Strawberries are my favourite fruit, but I've not eaten purple ones. I wonder if there was a red version of this print, maybe even green, blue, yellow….. Whatever colour the strawberries are, I love this vintage fabric and it always brings back memories of my childhood.