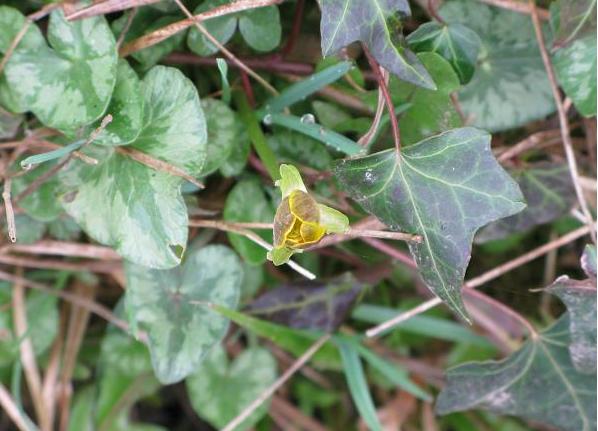 I love our walks along the lane to the village. Its about half a mile, but it is forever changing in tiny ways. When I walk the children down to school in the morning, we may notice a footprint from an animal that passed that way in the night. When we come back, the footprint has been erased by car tyres, but a flower in the hedge may gain our interest.
There is no footpath and the lane is narrow at times. As the road curves and rises, we have learnt to listen for oncoming cars, all the time. We know the safe spots to stop and investigate the hedges in more detail.
From our house, the lane is bordered by tall hedges, with fields on either side. We pass one small row of houses, before the village and then hedges turn into well kept front gardens. I love the contrast of the hedges, cut once a year, and the smart gardens.
The hedges are a hotch-potch of plants straight out of a nature book – hazel, oak, beech, hops, brambles, etc. Smaller plants at the base shelter, such as snow drops, wild parsley, dandelions. The village gardens have neat lawns, with crocuses and daffodils pushing through, at the moment. Forever changing.
At the moment, the snowdrops are dying back, but the lesser celandines are making an appearance, like little suns. I have to admit that until I was an adult, I overlooked celandines, mistaking  them for buttercups. I never stop learning.
Today is a dull, rainy day. The lesser celandines are hiding, just like the real sun. They have closed their petals over their faces and want nothing to do with the day until the sun comes out again. We miss them, so……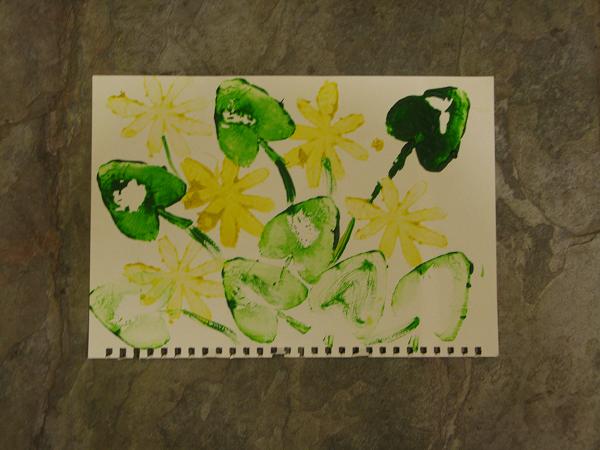 ….out comes the paper and yellow paint. We'll make our own sunshine.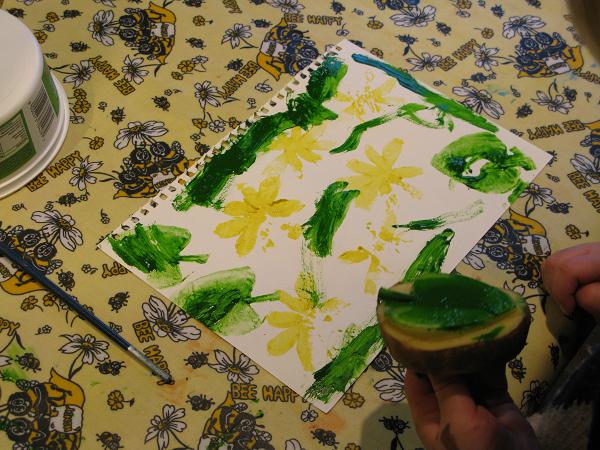 I cut out a potato in the shape of the celandine flower and its heart shape leaves. AJ and TF used these with watercolour paint to print on paper.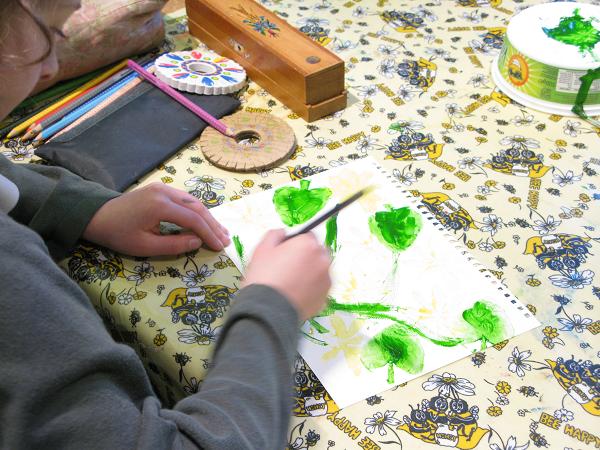 They used paintbrushes to add the stems. We chatted about the shape of the flowers and leaves and how the stems and the leaves all grew from the base of the plant.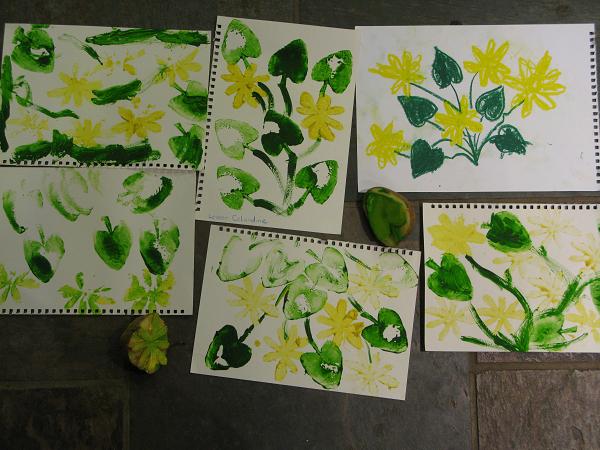 Afterwards they had me in stitches, acting out the sun and a lesser celandine hiding at the same time. As the sun (TF) turned his back, the lesser celandine (AJ) closed up her arms over her face. I loved watching AJ directing. BL joined in later and I helped her to draw celandines with my pastels.
Tomorrow, hopefully, we will walk to school again. I bet they will be spotting the celandines and hopefully they will never mistake them for buttercups. You miss so much in the car.
(edited: Friday – Tried to take a photo of an open celandine today, but the sun is still hiding. If you would like to see an open flower, here's one on the Woodland Trust site. We did spot lots of closed and half open celandines on our walk this morning.)