Crafting over the generations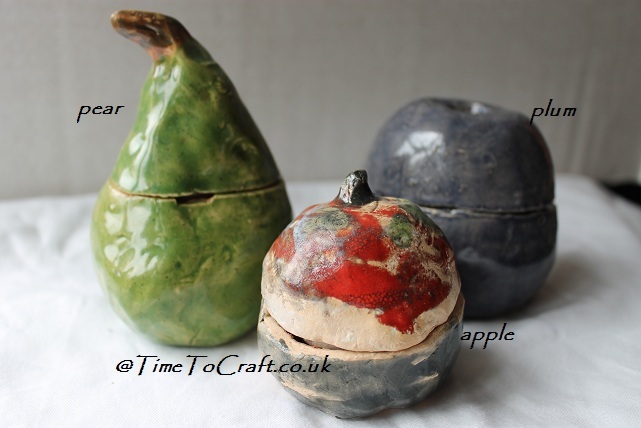 I don't usually include art that the children do at school, but as this is from an after-school club, I'm going to break my own rule. I love that talented people give up their time to teach the next generation something special. Using proper grown-up materials and methods.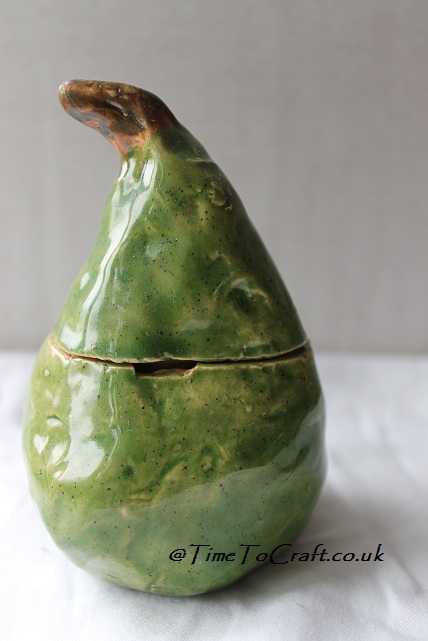 Their very talented teacher has really brought the best out in them, judging by all the creations they have brought back this term. This is just a small part of the collection that now lives on one of our windowsills. (I'm terrified of dusting them, in case I break something. Must think of a better home for them.)
BL was particularly pleased with her pear. She had inadvertedly splashed tiny brown spots while applying the glaze (got that wrong – the brown spots are already in the glaze), but was thrilled to see the results. Can you see it? Just right for a pear.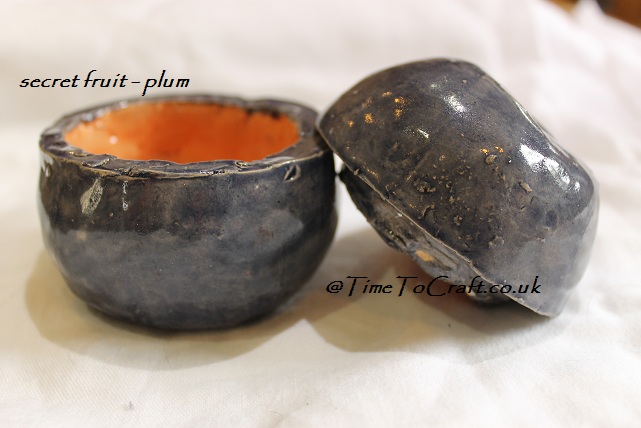 Each fruit opens up. I love the colour inside AJ's plum. I hadn't realised that the glaze changes colour when it's fired in the kiln. She had to specially mix the plum skin colour and hope. TF's apple was even more surprising, but that will have to wait for another day.
They all came back full of the details about making these fruits. Interrupting each other, if they felt something crucial had been left out. I found it fascinating as my clay modelling at school went no further than painting clay pots. Not a kiln in sight. In fact, the most exciting art method I did at school was batik. My teachers were more into painting, I guess. So I am lapping up everything my little ones tell me.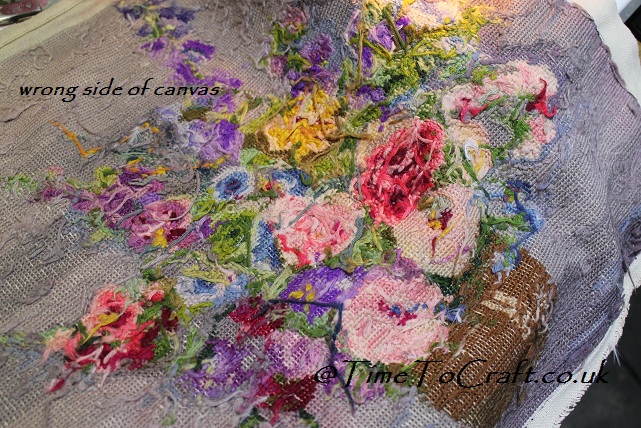 Now to the other end of the generations. I have finally put a new back on my Great Grandmother's cushion cover. When my Grandmother died, along with some other bits and pieces, the cushion cover joined my collection. The back of the cover was worn and I don't think was ever fixed properly. Eventually it tore and the fragile fabric was too worn to fix.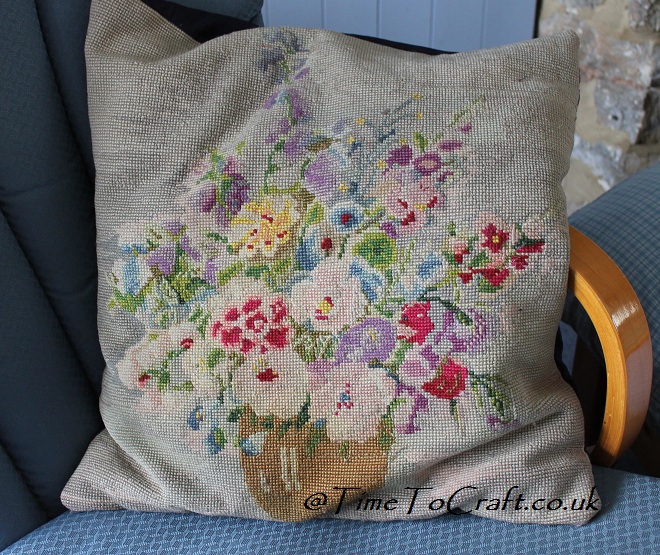 I've rebacked it with a piece of stronger blue fabric and it is back in use. I was born after my Great Grandma died. She was a head teacher and ran several schools. She also loved geraniums, which has always endeared her to me. (That and the story about her mixing up the sugar and the salt in a cake recipe once!)
This cover must be at least 60- 80 years old, if not older. I hadn't realised how much it had faded. Much brighter threads to be seen once I took the backing off. I love having this cushion around. It reminds me of all the crafts women that have gone before me in my family. They made beautiful things for their homes and were inspired by nature too.
The urge to create continues through the generations. It appears that my children have caught the creative bug too.
Joining in with the Magic Onions today and Craft Schooling Sunday
Aside: sorted out my blog list problem. I've moved my list to Bloglovin, so I can still keep up with everyone. I was using Google Reader, but as that will be disappearing, it seemed as good a time to make the move. I've also added a few more buttons to my sidebar, so that any readers can be kept up to date about my new posts, including through Bloglovin. I'm going to miss Google Reader, but it is good to know that there are other ways to keep up with my favourite blogs.