Sometimes handmade socks are like buses….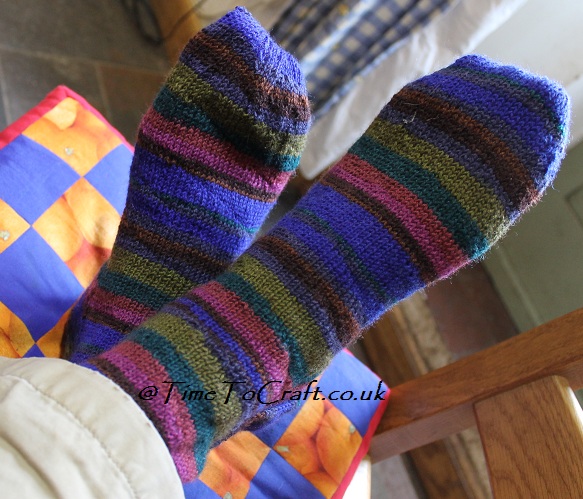 ….because you wait two years and then two pairs turn up! I finished off two pairs of socks within 12 hours, this week. Both pairs for my very patient husband. Very patient. The striped pair was started almost two years ago.
Variegated yarn is fun to knit with, but the 4 ply just made it far too easy to put down and pick up another project. It became my in-between project. When one knit was finished, I'd do a bit more of the socks, before another must-do knit came along. I'm not the only one, am I?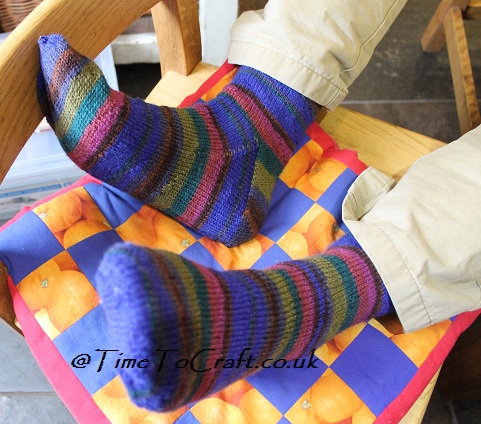 Now they are completed. Even before they were finished, my husband had decided that these are his favourite socks,  (Oh, guilt. I took so long.)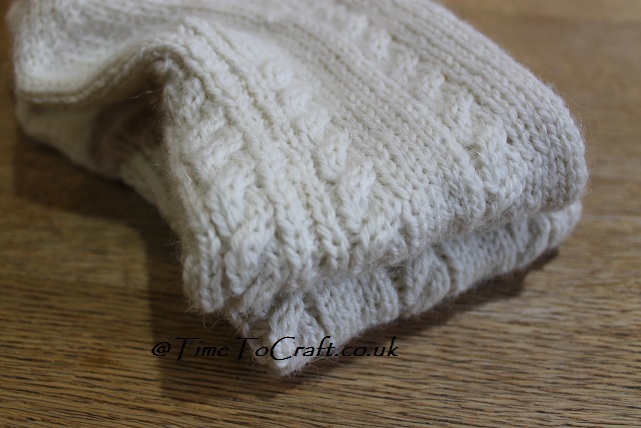 The second pair took a lot less time. I started these socks just after Christmas, as part of my husband's present, and finished both socks within a week. The yarn (Ethical Twist) is a joy to knit with.(Ravelry notes here)
These are boot socks and almost reach his knees. My husband is no shorty, so it's a good job I love knitting cable, as that is a lot of sock! TF fell in love with this pair. They are 30% alpaca and 70% wool. Beautifully soft. Fortunately they are far too long for his five-year old legs.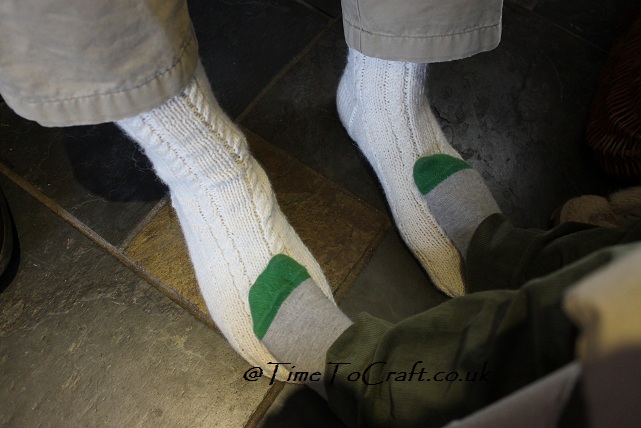 Maybe I should knit some for him next. Just a lot shorter.
That left one knitting project on the needles. A body warmer for me. I'll get to it eventually. In the meantime, I cast on my birthday present.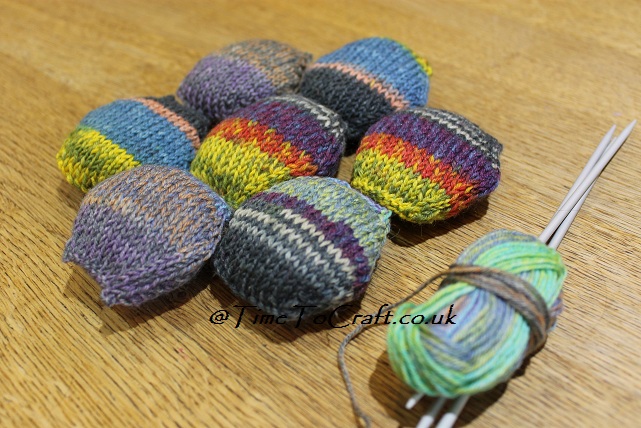 I have wanted to knit a beekeeper's quilt ever since I first saw one. I love hexagons. My hexagon patchwork quilt still takes pride of place on our bed. These little knitted hexi puffs capture my imagination in the same way as the patchwork project. For the uninitiated, the hexagons are knitted on double-pointed needles and need no sewing as they are knitted in one round piece. They are stuffed and knitted closed. Mission accomplished. Except I'm aiming to knit close to ….take deep breath.….. 400 of these little hexi puffs.
AJ, at 10 years old, asked if I would be finished before she leaves home. Sometimes she sounds scarely like her father. Of course, it will and that is without assuming that she'll still be living with us at the age of 40. (She also knows that I have cast on a different project. What can I say, It's a quick knit!)
Not much time to knit this evening as the Christmas decorations are coming down. I'll miss them.