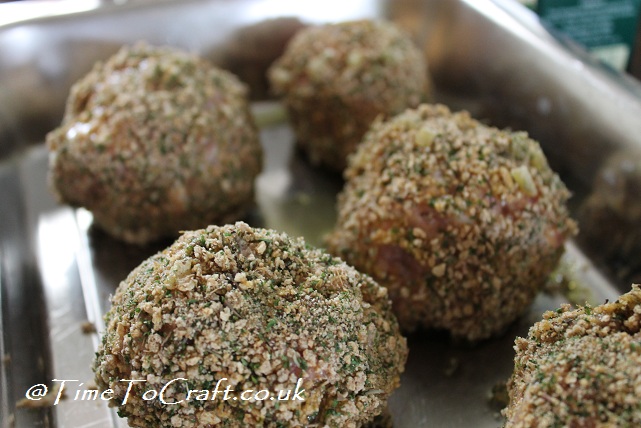 My husband claims that he married me on the strength of two dishes* that I cooked. Other of his favourites I never cook, either because I didn't like them or they involved serious frying. Scotch eggs have always fallen into both these groups. I've never liked the bright orange offerings from the shops and I do not deep fat fry. Ever! To me frying and scotch eggs went hand in hand, so I left this particular favourite well alone.
That was until a visiting friend mentioned her recipe. Just as she was going, I handing her a box of eggs. Scotch eggs were on her menu. As my friend is a keen cook, I'm always interested in her recipes, but hesitated with this one, until she explained it didn't require deep fat frying. Hmm. I'm all ears.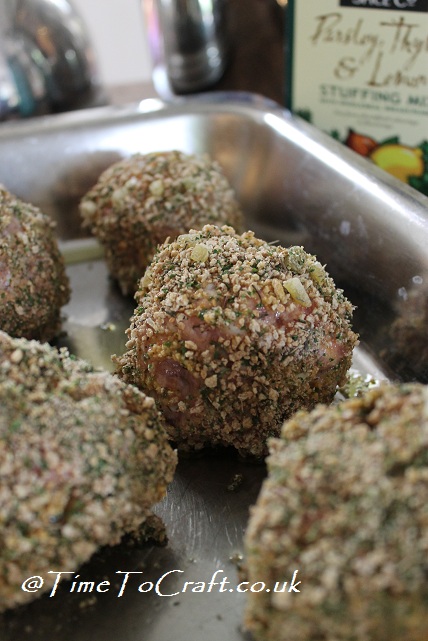 It is straightforward. Really straightforward. No formal recipe as my friend rapidly outlined it as I walked her down our drive. I'll share my interpretation of her recipe. There was cling film involved but I'm not sure at which point and I've not needed it!
Rough guide to non-fry homemade Scotch eggs
Hard boil eggs as normal and shell**.
Flatten a ball of sausage meat thinly in your hand, so that it is big enough to wrap around the whole egg.
Wrap the sausage meat completely around the egg firmly. (Probably where the cling film came into it!)
Roll the egg in beaten egg and then coat the whole egg in breadcrumbs or a dry stuffing mix. I use a lemon, parsley, thyme stuffing mix.
Bake in the oven, at about 200 c/ 400 f  for about 25 – 30 mins until the stuffing is golden brown and the sausage meat is looking cooked. Cook longer if needed.
Eat warm, or cool and keep in the fridge ready for that day's picnic lunch.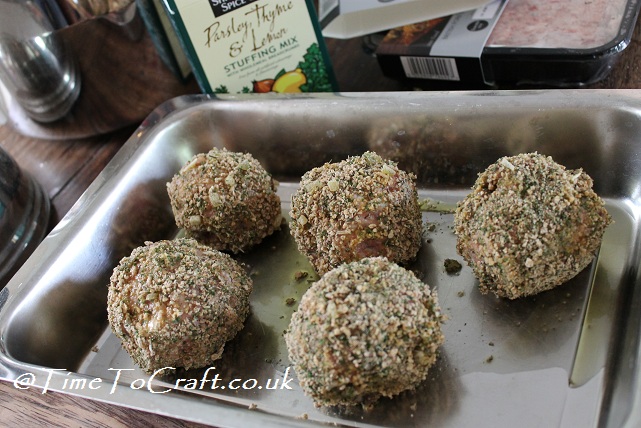 I love the use of the stuffing mix. I'm keen to try it instead of bread crumbs next time I make chicken nuggets. These Scotch eggs are a million miles away from the scotch eggs commonly found in shops. Not just the look, but the taste too. I actually like them. Most importantly, they have passed the husband and children test. Time to put scotch eggs on to our menu too!
* Incidently the two recipes that my husband liked were my Indonesian chicken and sponge pudding. Occasionally made to this day!
**Easy way to shell a hard-boiled egg, regardless of how fresh it is – Once boiled, stop the cooking by changing the hot water in the pan for cold water. After a few minutes, carefully empty all the water out except for about an inch of water, leaving the eggs still in the pan. (Assuming that a normal size hen's egg is being used. Less water for smaller eggs.) Put the saucepan lid on the pan and shake the pan rapidly backwards and forwards about ten – twenty times. The egg inside should not be smashed to smithereens and the shell should peel easily. This even works perfectly with eggs laid that day. Give it a go!
This post is an entry for the #ShortcutEggsperts Linky Challenge sponsored by British Lion Eggs. Learn more and find recipes at www.eggrecipes.co.uk