Nature trail and seed necklaces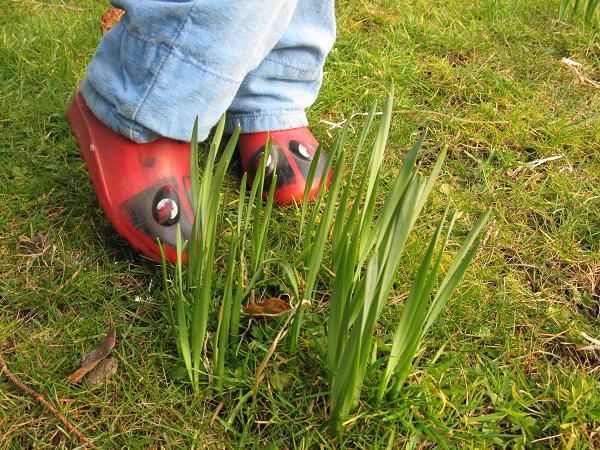 On our walks home from school, we are enjoying the changes in the hedgerows along our lane. There are clumps of snowdrops, which are fun to spot.
The locations of these clumps, are mystifying. Did a bird or small animal carry them there? When the hedge was planted, were they transplanted accidentally with the new saplings? Or is there a noble hearted pixie traipsing around, with a sack of bulbs, who is determined to bring delight to us all? Whichever it is, even TF can now recognize and say "Nodrops".
Today we stopped and talked about how the catkins are pollinated, as they swing in the breeze. We watched the farmer on his tractor in the field. The children love it when he waves to them.
When we got home, we decided to see the changes in our garden. We selected a small basket and set off on our adventure. By the end we had gathered a branch of catkins, a snowdrop, a primrose, some ivy, two pine cones and a skeleton leaf. We also found the dead head of a hydrangea.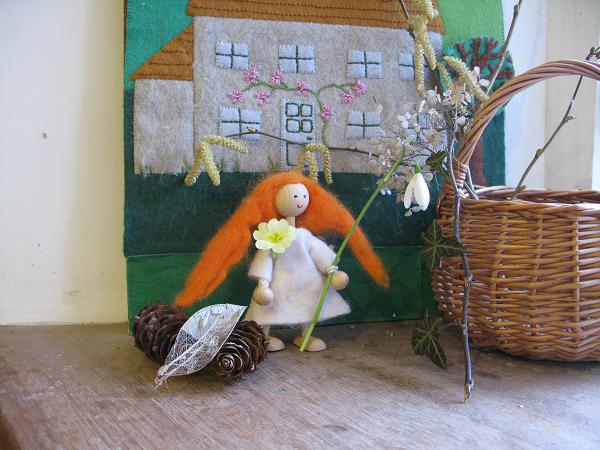 To finish off, we stopped off in the greenhouse and planted broad beans in pots. I always think that as grown ups, we look at the pots and know that given the right conditions, the seeds we sow will grow, because we have seen it so many times before. A child may not have seen this happen many times, so lacks the history to see the pots in the same way. They may just appear as hidden seeds in a pot of mud. Fun to do, but no expectations. These pots soon get muddled up with all the other pots of mud.
This gives me the excuse to do one of my favourite activities. Seed necklaces. Today, each of the children took a small, self sealing bag and filled it with damp earth. Next they added a broad bean seed and covered it up. They were careful not to pack the bag too full. They sealed the bag, I threaded elastic cord through a hole at the top and then they hung it round their necks as a necklace.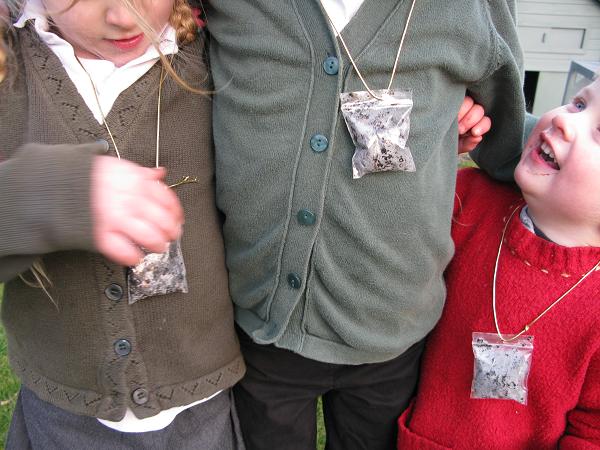 We discussed how the warmth of their bodies will help the bean germinate. We do this activity every midsummer party, usually with runner beans. Parents have told me that some of the children wear their bags for days, only hanging them up at night. I love hearing how the children enjoy eating the beans that grew on the resulting plant. How good those beans must taste when you have taken such good care of the plant.
I've not used broad beans before in this activity, so I hope these beans work. In the summer, we end up hanging them by the window and letting the sun warm them.  I will find another place to hang them until they sprout. Whatever the result, we will learn something new.
6 Responses to Nature trail and seed necklaces
There have been cases when people lifted my photos and words, and used them without credit to me or asking permission first. Using them for their own commercial gain. I have now added a level of security to deter people from doing this. Apologies to people who do play nicely. If you would like to use any of my photos, please contact me.
All my words and photos are copyrighted to me. They cannot be used for commercial benefit by anyone else. If you would like to use any of them, then please ask me first and don't just take. Written permission only. Don't pass my words, photos or ideas off as your own. It's not nice.
Cookie Policy
Our web pages do not use cookies however this website uses Google Analytics, a web analytics service provided by Google, Inc. Google Analytics uses cookies to help us analyse how people use our site. The use of cookies by Google Analytics is subject to change.