Ta da! Toot Toot. One dress to suit.
"Ta Da!"
It's finished. BL's summer school dress is finally ready for wear. It was started last summer. I lost misplaced the pattern, in the intervening months, so the lining was cobbled. Not perfect, but it just about works.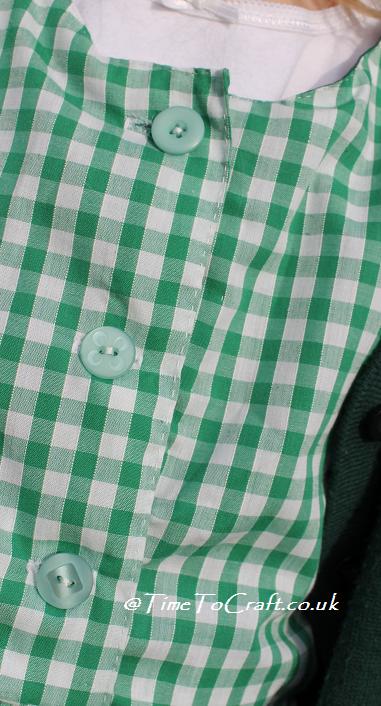 I like the buttons. Everyone should like the buttons that they sew on, but I really like these ones together. These are from BL's collection and they…. are…. perfect.  We had so much fun, sitting around the table, selecting the right three buttons. On their own, these buttons are run of the mill, but together they make a statement.
You see, from a distance they look the same. Get close up and they are all different. A tiny refusal to toe the line and match. Together, they add a touch of rebellion to the school uniform. Not that BL is in the least rebellious. Its me! It makes the teenager, that I used to be, smile. Just a little.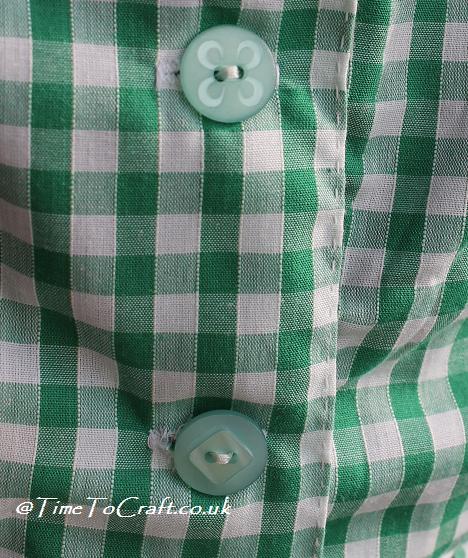 I love the buttons, but not the button holes. For the first time, I used the one-step button hole function on my sewing machine. Usually I either hand sew or manually machine them. I like simple gadgets and the buttonhole machine foot, holds the button, so the button hole is the perfect size for the button. Very neat. The sort of engineering that intrigues me. All I had to do was put my foot down on the machine's pedal.
It appears that although the gadget is ingenious, I need to practise. My side of the process is lacking. It didn't leave a big enough gap between the stitches to snip without cutting some of my stitches. I was probably too busy watching how it worked, to think about the resulting buttonhole. Oops!
I would have re stitched them, but for a little girl's palatable excitement at the prospect of a new dress. Darn. I got carried away by her excitement. Never mind. I'll re-do them by hand tonight. Then I'm going to practise with the button hole setting again!
Oh. Almost forgot to show you the dress…..
Photo grabbed before school this morning. No sun and everyone else wanted to be in the photos, including the dog. The dress needs a final iron, but time did not allow it. It seemed too cruel to stand in the way of her wearing her dress today, so the final creasing will just have to wait. There is a back story about why I don't spend £6 on a summer school dress from the supermarket, but insist on making their dresses. Not much of a rebel really. Oh darn those principles!
(Incidently, I checked. She can sit on the floor, cross-legged, and not reveal all. Even in the absence of pregnancy hormones, I still think buying 2 dresses for £7 seems on the wrong side of right.)