Yarn Along – the answer is 16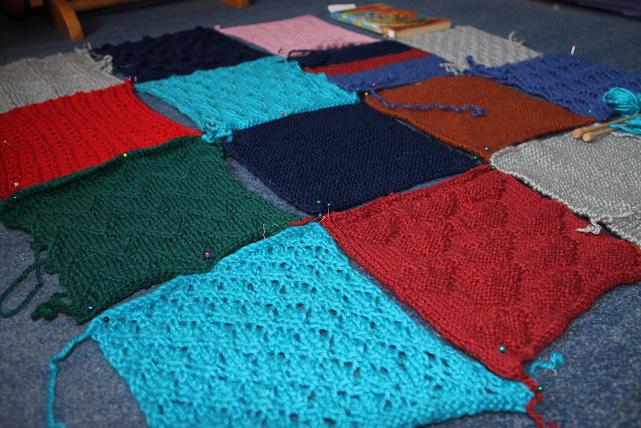 Last week's yarn along post, I mentioned that I was debating about how many squares I wanted to make for my knitted patchwork blanket. As I started this blanket to discover new knitting stitches, I had no particular size for the finished blanket in mind. I just wasn't sure how many stitches would catch my eye.
Roll on one year. I have squares. Just how many, at this size, do I need for the blanket? Only way to tell was to lay them out. I don't want it too big. The bigger the blanket the more awkward it is to wash and the more likely it is to be trailed along the floor when wrapped around a child, because that will happen! At the same time, I want it to be a useful blanket.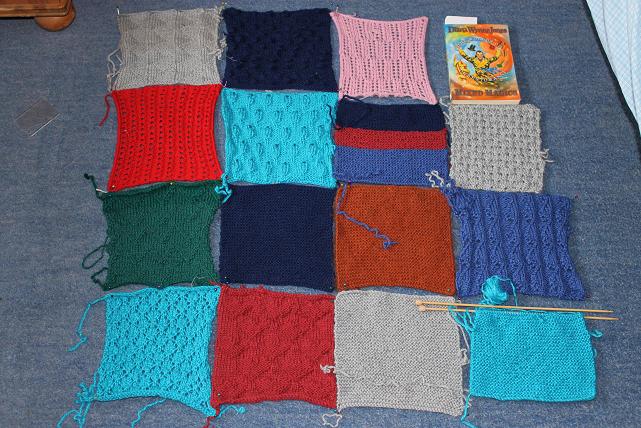 I roughly laid out the squares, using pins to anchor the ones that wanted to roll up and hide. (They all need blocking!) 16 squares looks good. About the right size. Especially as it will grow when blocked and joined together. I have a great idea about how I'm going to join it. It should look less like a donkey blanket, I hope.
The beauty of this blanket is that I can always add another line of squares if I change my mind. I shall have to spend time deciding on the order. I'm tempted to knit a border. Maybe next winter. Maybe smaller squares around the edge. What do you think?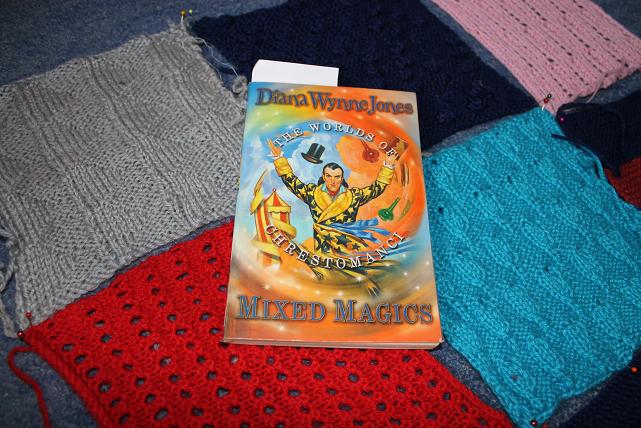 I'm doing so much knitting and sewing this week that I have only time for a light read. Squeezed in while waiting in the car for music lessons to finish and just before bedtime. Last week's Diana Wynne Jones is finished and I've started the next one.
So much inspiration at the Yarn-Along that I think I'll have no trouble choosing my next knitting project. I need a change. I'm seeing squares!