Finished Patchwork Hexagon Quilt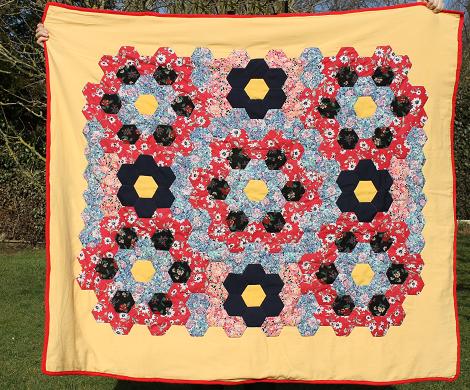 I've finished. I've finally finished my hexagon patchwork quilt. It has been a long project. I started cutting out and forming these hexagons 17 years ago. Soon after, a house move meant that all the pieces were hidden in a bag and joined my other work-in-progress projects.
Then last year, I finally dug them out again and the sewing began. I wanted to make the quilt totally by hand. It made the perfect project for picking up at odd moments or evenings in front of the fire. Plus it kept my lap warm, which is an advantage in an old house like ours.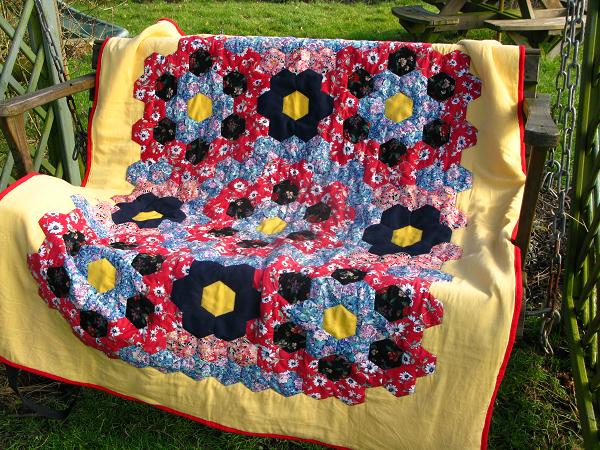 The sun shone today. Thank you! This quilt has been my winter project and now it is finished, it feels like I'm ready to let go of Winter and move on to Spring. Plus AJ found a sleepy ladybird woken by the warmer day. What more can I say.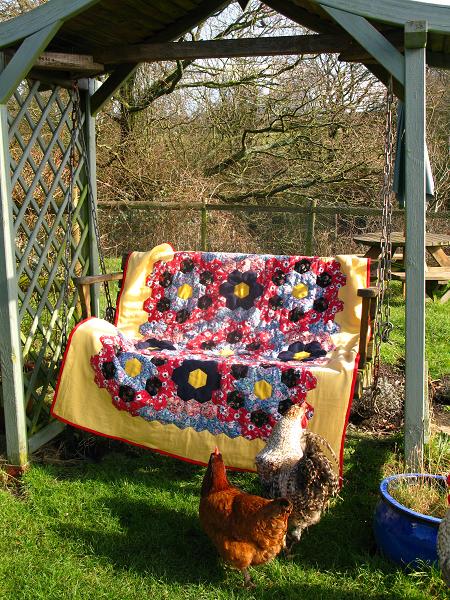 Yes, I think I'm ready to dig out the pots and seeds and get started with my planting. Spring and my kitchen garden are calling. The children spent all day outside and there was even the first bike ride of the year.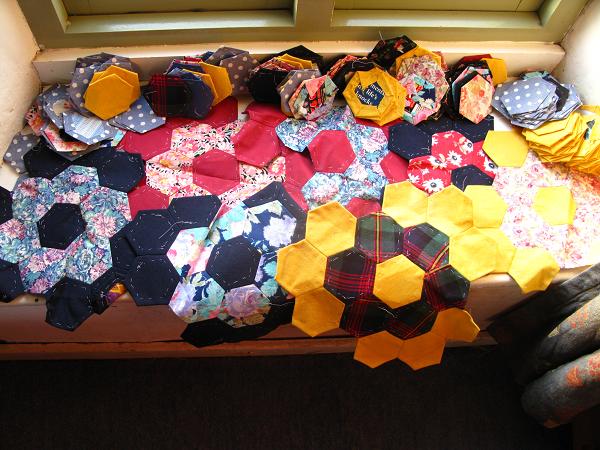 Not that it is the end of my patchworking. I'm really happy with the quilt. It is my first ever quilt and I have definitely caught the bug, which is lucky as I still have several hundreds of hexagons waiting to be sewn into something else. I hope it doesn't take me another 17 years. Hmm. Maybe next winter's project.
Joining in with Silverpebble and Thrifty Household's Making Winter Blog Hop and Natural Suburbia

30 Responses to Finished Patchwork Hexagon Quilt
There have been cases when people lifted my photos and words, and used them without credit to me or asking permission first. Using them for their own commercial gain. I have now added a level of security to deter people from doing this. Apologies to people who do play nicely. If you would like to use any of my photos, please contact me.
All my words and photos are copyrighted to me. They cannot be used for commercial benefit by anyone else. If you would like to use any of them, then please ask me first and don't just take. Written permission only. Don't pass my words, photos or ideas off as your own. It's not nice.
Cookie Policy
Our web pages do not use cookies however this website uses Google Analytics, a web analytics service provided by Google, Inc. Google Analytics uses cookies to help us analyse how people use our site. The use of cookies by Google Analytics is subject to change.