Yarn Along- Stripey mittens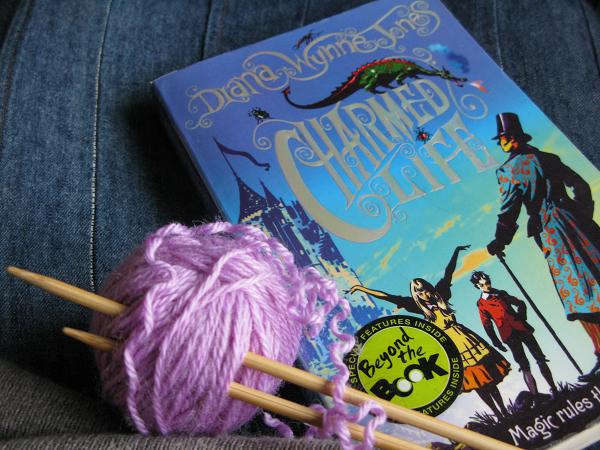 Joining in Ginny's Yarn Along. A book and what's on my needles.
Book wise, I'm still in the children's section. I've finished Moominland Midwinter. I can thoroughly recommend it. AJ and I have chatted about it so much that even my husband is tempted to read it. I found another one in the series and am waiting for AJ to finish it. In the mean time, I'm reading another Diana Wynne Jones. I loved Howl's Moving Castle and was curious about her other books. I found Charmed Life in the library.
Knitting. All three pairs of flip top mittens are finished. Just in time for the cold snap we're due this week. The children skipped happily to school wearing them today. Not before I made sure that each mitten had a nametape sewn securely in. I love the pattern and want to knit a few more pairs. Maybe some presents to put aside. I'd like to knit some without the flap. Stripey fingerless gloves would be useful too. Very satisfying making them from my odds-and-ends wool stash. Practical, thrifty and fun.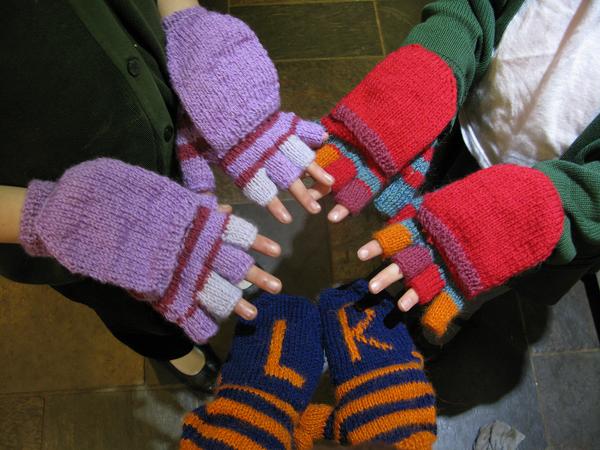 I decided to knit a R and L on each of the flaps for TF. Maybe it will help him to learn his left and right. We'll see.
More knitting and books to be found at Ginny's.