We three hats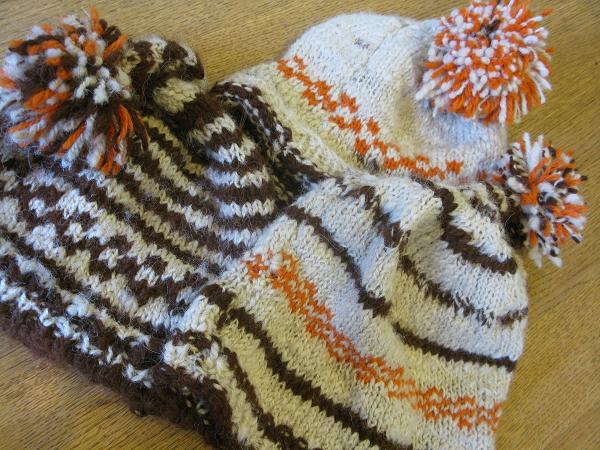 TF loves the handspun hat that I knitted him. He wears it everywhere. The weather has improved, so he doesn't need it as much as he did. Still, he's happy to wear, it whatever the weather. He makes hat wearing look so cool.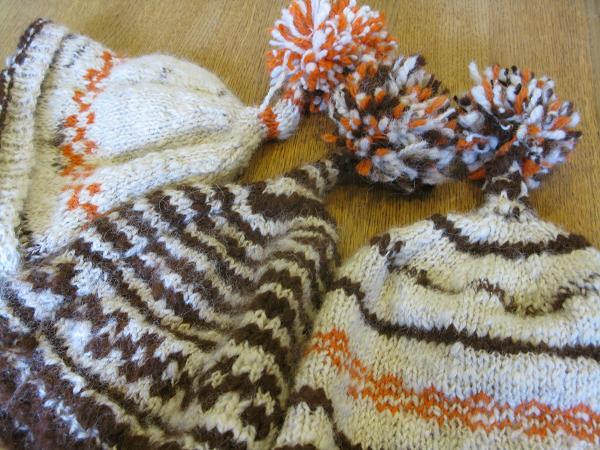 Of course, once his sisters saw his hat, they started dropping hints. Heavy hints. I knew they would want hats too. Made from the fleece, that they had helped to wash during the summer.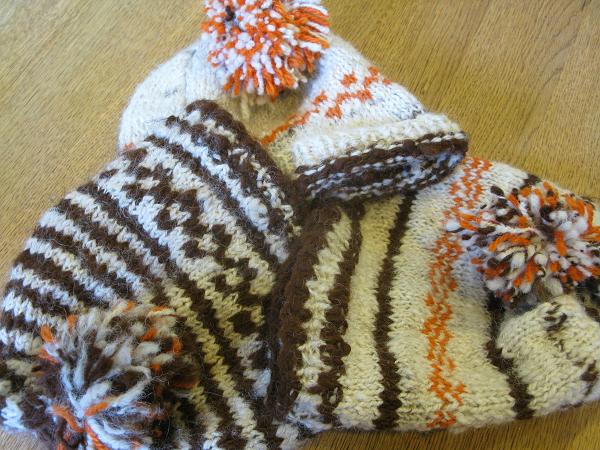 They needed pom-poms too. I rationed out the little of the brown wool I had left, between the two new hats and used more of the orange wool. TF is trying to persuade me to add some more orange to his hat. Hmm. Maybe a bit of swiss darning is called for.
They love their hats.
On the Christmas crafting front, I've relented and started crafting in earnest. This evening, I watched Kirstie and slip stitched around the armholes of a waistcoat. I'm loving it. My children have turned into a team of Christmas elves, wearing their new hats. The kitchen floor is constantly covered in glitter, sodium bicarb, flour, bits of thread  and tiny, tiny pieces of snipped paper. A few more painted finger marks on the walls, but I don't mind.  The vacuum is living in the kitchen at the moment and everyone is having crafting fun and wearing hats!
5 Responses to We three hats
There have been cases when people lifted my photos and words, and used them without credit to me or asking permission first. Using them for their own commercial gain. I have now added a level of security to deter people from doing this. Apologies to people who do play nicely. If you would like to use any of my photos, please contact me.
All my words and photos are copyrighted to me. They cannot be used for commercial benefit by anyone else. If you would like to use any of them, then please ask me first and don't just take. Written permission only. Don't pass my words, photos or ideas off as your own. It's not nice.
Cookie Policy
Our web pages do not use cookies however this website uses Google Analytics, a web analytics service provided by Google, Inc. Google Analytics uses cookies to help us analyse how people use our site. The use of cookies by Google Analytics is subject to change.