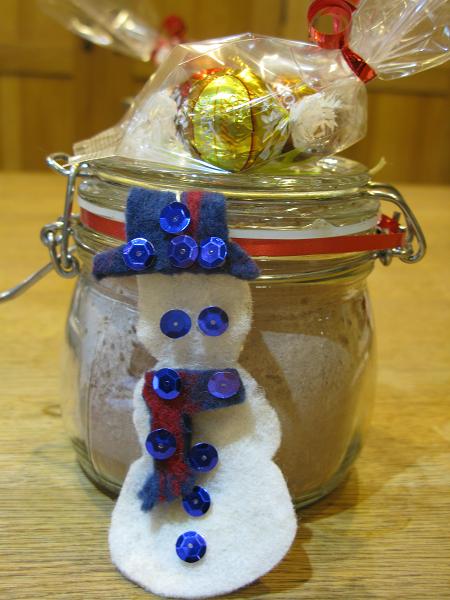 After school yesterday, the children finished their teacher's present, in time to take into school today. Felted snowman tree decoration and snowman soup. All homemade by them.
As I was helping them, and left to wrap the gifts up (Hmm! and photo late at night!), I couldn't help wondering if their teachers would like a gift made by them or something I'd bought from the shops. It's a repeating thought for me around this time. To such an extent that I find it difficult to make anything for anyone who lives beyond the walls of our home. I do, but I'm not confident. I receive very few handmade gifts, which makes me wonder if I'm dancing to a different beat. Would family and friends all prefer shop bought?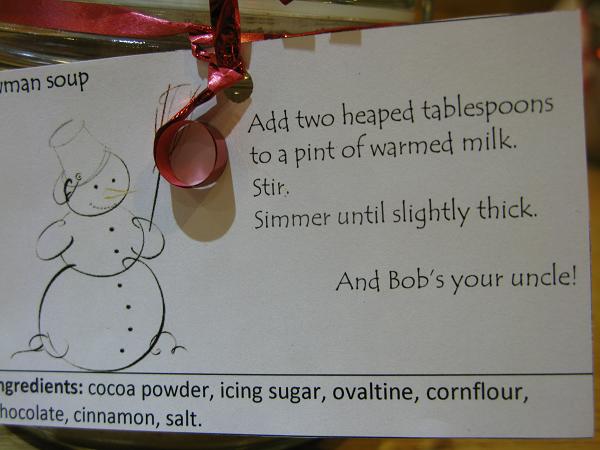 Then two things happened this morning. Walking to school, I met a friend who said that she had something for me. She handed me a jar of her homemade brandy mincemeat, made from the apples that I had given her. This is a friend who handmakes. She understands homemade and knows how much I would appreciate such a lovely gift. And I do.
This brings up the extra question about whether I should limit my handmade gifts to those who hand make.
I continued on to school and was greeted by my son's teacher. She had a photo that she wanted to show me. Did I have time? I followed her into class. On her mobile phone she had a photo of two of the apple sauce cinnamon tree decorations that I had made with her class. She had decorated these herself and the photo showed them on her tree at home, twinkling in the fairy lights. They looked so pretty and she looked so happy. This is a new craft project for her. She waxed lyrically about the fragrance. It struck me that this was another case where handmade had been enjoyed. I feel more confident that she will like my son's handmade gift.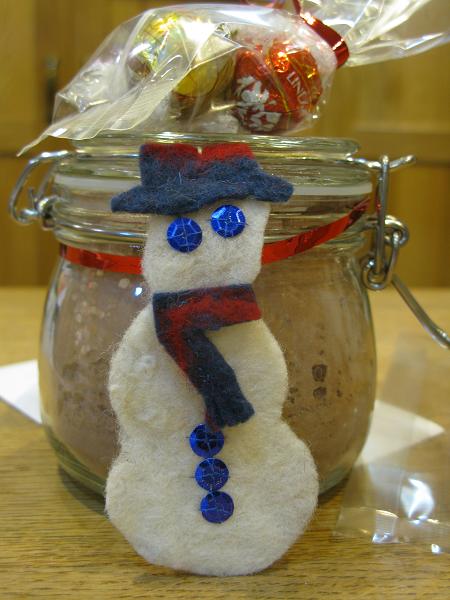 I love to make gifts. I do it for many reasons. Probably the most important is that as I craft, I have time to think kind thoughts about the person it is intended for. Out shopping I'm rushed and liable to impulse purchases. This year, I am probably doing less hand making, which I am relaxed about. I'm sure that there must be a name for this hand making anxiety running up to Christmas. Maybe I've needed to do less making because I've really enjoyed going into school and helping them with their craft activities this term. I've helped two classes to make bath bombs as gifts for their families and one class with the apple sauce cinnamon tree decorations.
So what do you do? Do you hand make for all? Is there a category of people who you would never, ever dream of doing anything but shopping for?