Making and baking for a birthday party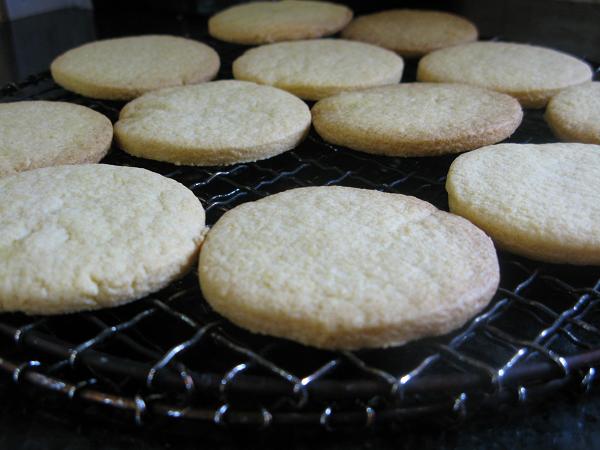 BL's birthday party and celebrations are over. It was great fun and she loved it. I baked mountains of biscuits and two birthday cakes. Sewed yards of bunting and a party bag for everyone. In my excitement, I took only a few photos. Ah well. Living in the moment is good!
To start, I made biscuits for her to take in to school, to share with her class. Cunningly sidestepping the conundrum of whether to follow the pack and send sweets into school, or not. In the process, I have now refined a new favourite biscuit recipe. I added a thin layer of regal icing and painted the number 7 on to each biscuit. The minimal amount of decoration, for maximum effect. Similar concept to our cookie castles.
She disappeared into her classroom, hugging her tin of biscuits, with a huge smile on her face. Oh to be seven!
For her actual birthday, I baked a chocolate cake and iced it with regal icing. For fun, I gave the children coloured icing tubes and let them decorate the cake. They needed very little encouragement. I am reliably informed that the message at the bottom of the cake says "Thank you". I think the excitement of a blank canvas and icing tube must have hampered spelling, but this activity went down very well.
Next day, she invited eight of her friends over for a bath bomb party. They made layered bath salts, lavender shower scrubs and body glitter, as well as bath bombs. Lots of measuring and mixing. The girls dreamt up good names for each of their potions and labelled their pots.Last time I did this party, we discussed the science, but this party, the girls were more focused on the crafting. They had fun.
In between each activity, they decorated the fabric party bags, that I had made. They used felt tips, glue spots and gems. Each of the girls went home with their party bag full of goodies that they made. I sat down with a glass of wine and a fresh appreciation of all teachers!
The second birthday cake, was for the party. Orange cake, with a woodland theme. Squirrels and toadstools were non-edible, but the rest disappeared in a flash.
BL enjoyed her party. She enjoyed her birthday. She couldn't stop smiling and bouncing. Seeing her so happy meant all the lists and baking faded into a distant memory. So perfect. I loved seeing her crafting with her friends. Would I do it again? Oh, yes. I had fun too. Although next time, I will be adding ear plugs to my list. For me, not the children.
(Edited: for the sake of balance, I should add that there was a lot of heathly party food as well. Not just icing covered offerings!)