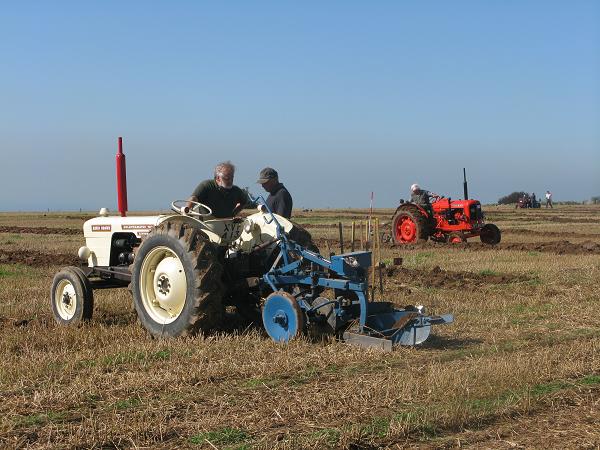 I'm back. I've been ploughing through (sorry!) almost 100 photos, to show just a few. As tractors and farming are not my usual topic, I'll forgive any of my regular readers for clicking away, but before you go,  I promise a lovely yarning crafty post next time.
Yesterday, I went to a ploughing match up on the Mendips. As it was work related and a school day, it was only an outing for dh, the Gwinny dog and me. Weather wise, it could not have been better. The event was right on the edge of the Mendips, giving fantastic panoramic views over the Somerset Levels. There was a haze covering the whole of the Levels, so Glastonbury Tor was only just visible.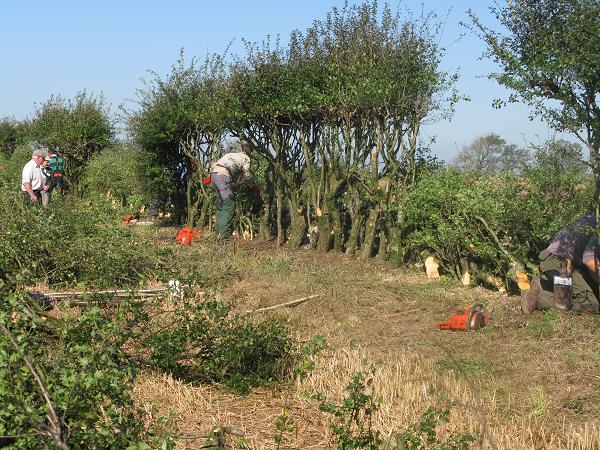 This is my kind of agricultural show. Only refreshment tents without the rows of trade stalls. No fun fairs or information displays. The people who attended, were there because they were really interested in these rural crafts and, more than likely, made their living in the countryside.
Apart from the ploughing competitions, there were a good number of people competing in the hedge laying competition. We are increasingly seeing more hedge laying in this area. Stock fencing and barbed wire are quicker to throw up, but I know which I prefer. I always love seeing stretches of hedges, like this, when we are out walking.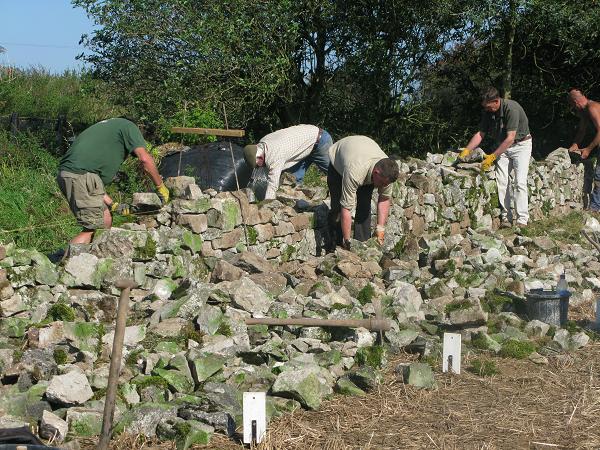 There was also a dry stone wall competition. Keeping alive another country skill.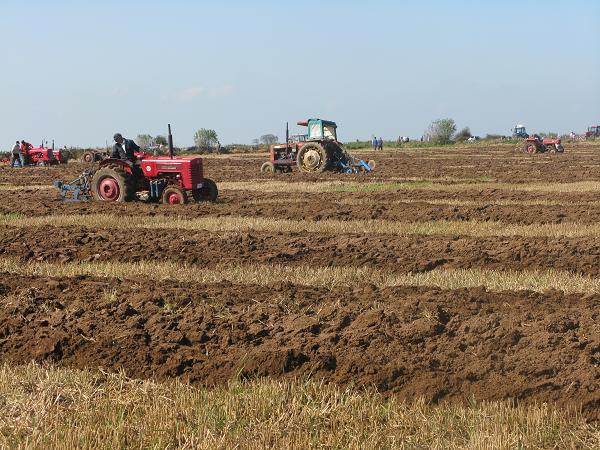 By far the biggest part of the event was, of course, the ploughing. They had about 80 ploughmen, competing in different classes. There were horses, vintage tractors and modern tractors ploughing. Each had their strip to plough in 3.5 or 5 hours, depending on the class. We ran into a farmer friend, who explained that the furrows not only had to be straight but no stubble visible. They had to plough an exact area and we saw several plough men off their tractors with tape measures, ensuring they had the correct measurements.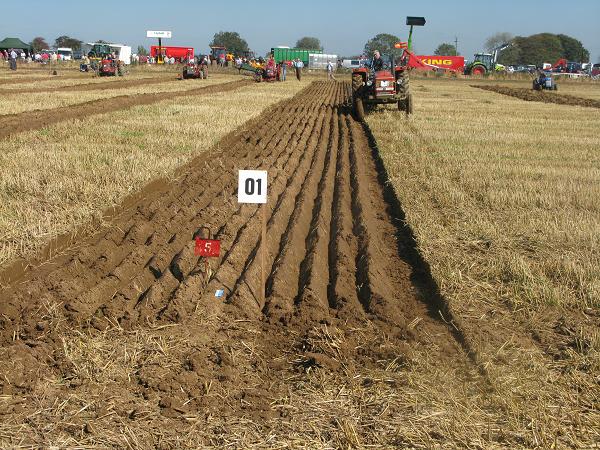 A new phrase for me was a "ben of land". The best ben of land ploughed, won the first prize. I'm no expert , of course, but I reckon this one must have been a good contender.
I've read that the furrows should be perfectly straight. You should be able to see a mouse running down a furrow and not lose sight of it. No mice, but we did see a Jack Russel dog run down one.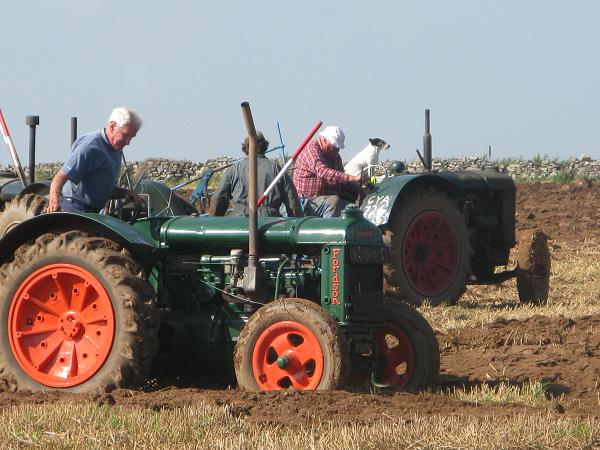 No farming event would be complete without the characters that make the countryside so rich. The dog was perched on the front of the tractor as the plough man ploughed his furrows.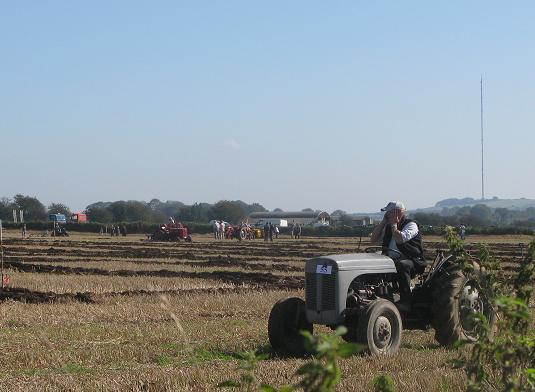 I had to risk being stung by nettles for this shot. A chap on his vintage tractor, talking on his mobile with the Mendip transmitter in the background.
We have a toy metal tractor, which I suspect is older than me, just like this one. TF was thrilled to see the photo.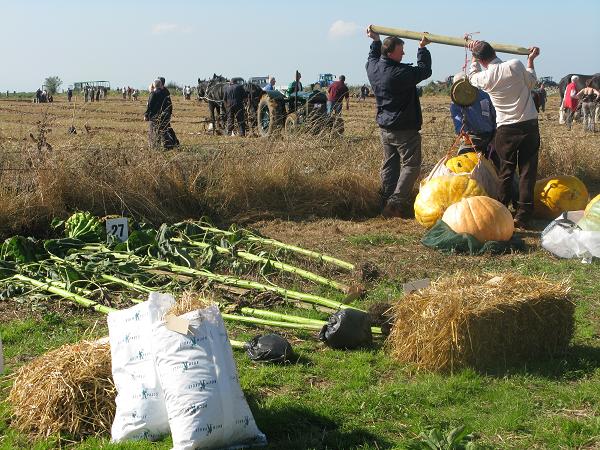 Nor would a country event be complete without a crop competition of some kind. Some classes would be readily seen at most village shows. The largest pumpkins, the tallest sunflower and the best sweetcorn. The difference may be that farmers bring the whole plant in, so there were rows of sunflowers and sweetcorn plants laid out. The bales of straw and hay are also there to be judged. I do have a wonderful shot of the judge's face after he was heckled to lift the pumpkin again, as the bystanders hadn't seen it leave the ground.
There were also root crop classes including potato,swede and mangelwurzels. I've read about mangelwurzel before, but hadn't realised that they grew so big.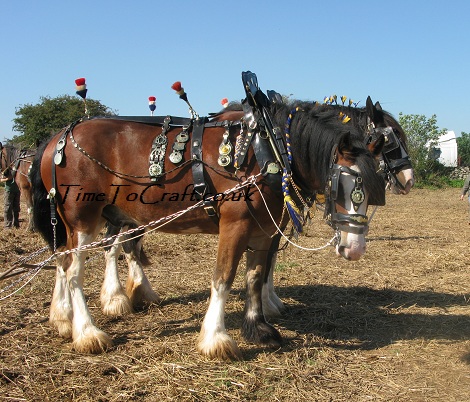 I've left the horses to last. I think there were seven pairs ploughing.
So often these heavy horses are on display at country shows. Seldom have I seen them working as they have been bred to do. It was fabulous to see man and horses showing that the skills are not lost.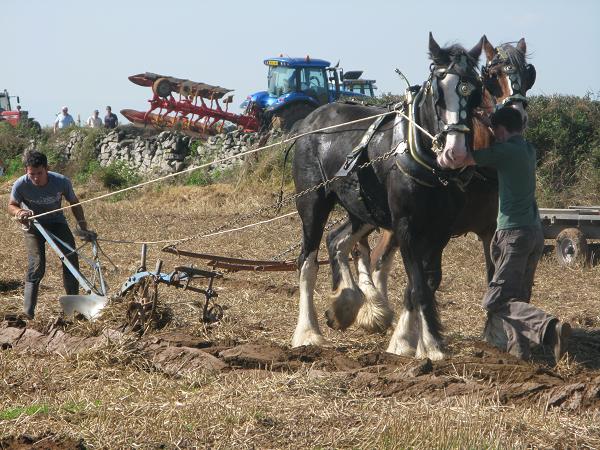 After managing to wrap Gwinny's lead around one bystander, as I went one way and she took a different route, I got the distinct feeling that I would not be invited, any time soon, to try my hand at ploughing with horses. The chap at the front had to really put the brakes on to stop the two horse power of this pair.
Great day out. We ran into so many people that we knew. All country folk, who live and work in the countryside, and are so much more knowledgeable about farming than me.
Gwinny the dog had a great day. She eventually got used to the idea that, although we were in big open fields, she could not run free. Difficult for a long dog to comprehend.  "But its a field!" She didn't mind the chainsaws or great big tractors turning close to us. The man serving bacon rolls, left his long queue of customers to bring her a huge rasher of bacon, as he said that it was nice to see a real dog. Not sure what the handful of Jack Russells would make of this comment.
I feel very privileged to be able to attend events like this and call it work. I may dream of one day having more land and doing more than a kitchen garden and our little orchard. We can't justify acquiring even the smallest vintage tractor, but maybe a rotavator. Not quite the same, but its on my Christmas list! A girl can dream, right?