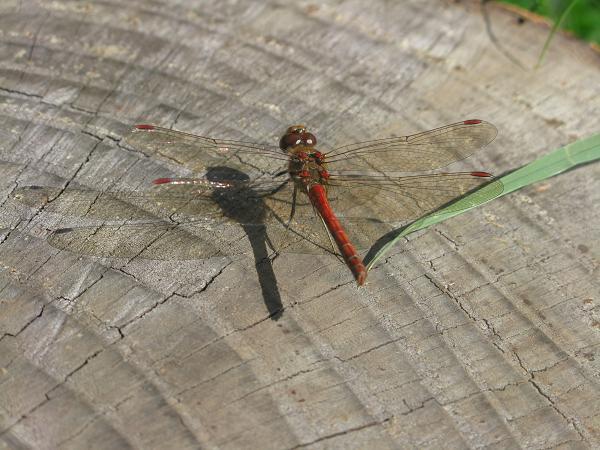 This week sees the beginning of a new routine for our household. For the first time in over nine years, I have none of the children at home. No pre-schoolers. TF started school on Monday. He's only had three half days so far, but I think he is enjoying it. Although this morning, he did have a quick sob about having to wear uniform again and school not letting him play outside as much as he wanted to. Part of me sees his point and I will be putting my thinking cap on.
Part of my solution has to be more outside time, when he is at home. The dragonfly visited the children this week. It seemed to enjoy their company. Maybe it was as curious about them as they were of it. I loved watching it fly. When it flew, it moved as if it was peddling a bike. Fascinating to watch. The caterpillars are Elephant Hawk moths that are busy munching through our evening primroses, which have self seeded just outside our back door. Every morning, we count them. So far we have counted 6 at one time. There are about as big as a grown up's finger.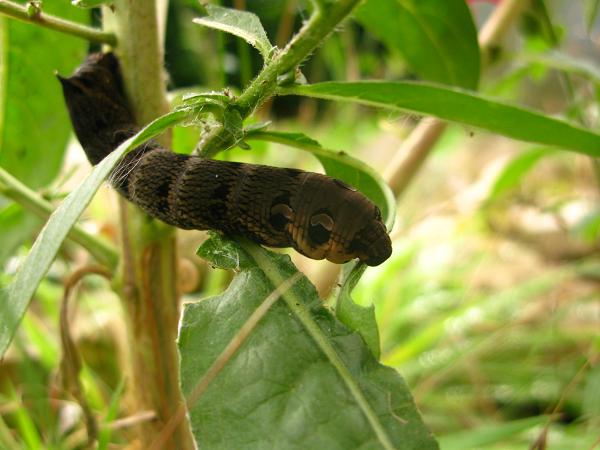 In the meantime, the change in our routine does mean I can spend more time doing paid work during daylight hours, which is bliss. Regular hours! Less late nights, as I try to meet deadlines.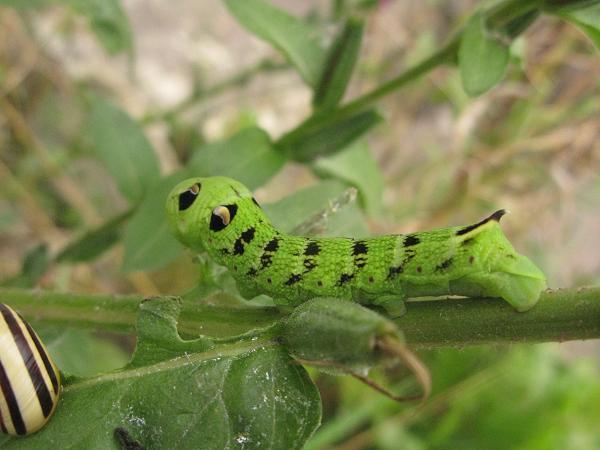 I want to make the most of this time, so that I can make the most of my time, with the children, once school is out. I'm going to start meal planning again. I've already reinstated a couple other baby steps, inspired by the Fly Lady. The final area that needs taming is my crafting projects.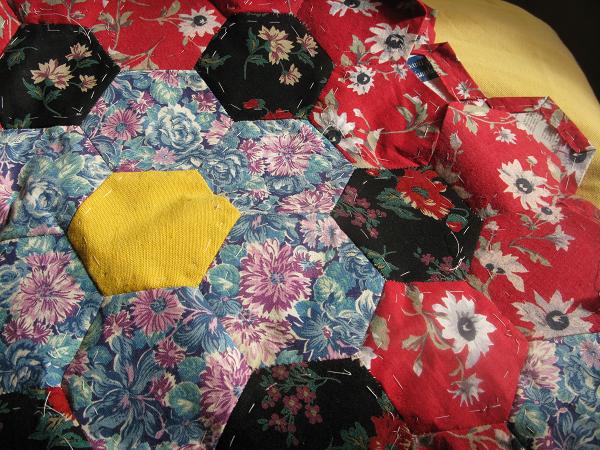 I'm going to limit myself to one sewing project and one knitting project on the go at a time. Spinning seems to be a non-stop project as I process fleece to yarn, so I'm not counting it. I'm not counting my mending pile either. I'm also not counting the crafts that I do with the children. Its my own projects that sap my time and don't always yield results. Easy to start projects. Harder to finish. If I limit my projects by type, I think that this will be enough to satisfy my creative hunger, without overwhelming me. Other work in progresses will be put out of sight and wait their turn.
I'm kicking off my sewing project by picking up a work in progress. Many moons ago, some of you may remember my hexagon patchwork. Also up there in my banner. It has been sitting on the side in my bedroom, as I searched charity shops for a suitable backing. Nothing seemed to fit the bill. So there it sat. That was until I reorganised a couple of shelves in my airing cupboard and rediscovered a duvet cover I made AJ when she was a toddler. It is made from beautiful sunny yellow organic cotton. I appliqued the three bears and Goldilocks on to it, which she loved at the time. It is too small to fit on any duvet now, but is the perfect size for my patchwork quilt. Why didn't I think of it before? It's so good to reorganize.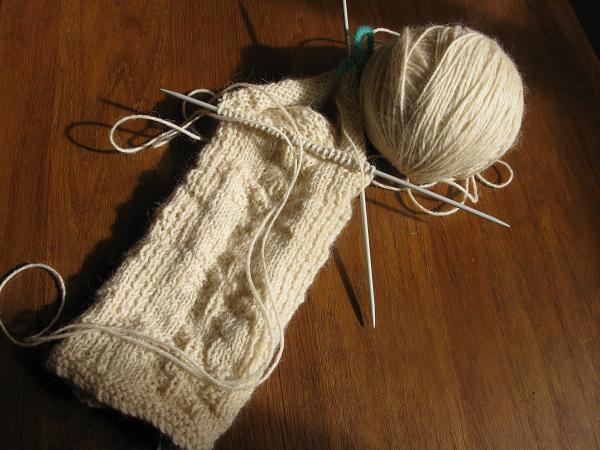 Knitting project is a pair of socks, using dpns. More on this project once I have finished them. As for the avalanche of new ideas that beckon to be done, I'm documenting them in a notebook. For later.
So, a transition time of organizing and making the most of what I have. Not sure I like the word routine. Reminds me of school timetables and having no control over my time. Instead, I'm taking a deep breath and organizing my time to make the most of it.