Hamish, I shrunk ya trews
Before bedtime, AJ presented me with the list of things she needed to take on her next day school trip. In all fairness to her, I had seen the list the week before, but after major excitement at the weekend….it went straight out of my head.
Among the list was the request for old trousers to be worn, but not jeans, as they take too long to dry. The school trip required a bit of river wading. Hmm. She had nothing that would fit the bill. I suggested her sports trousers and she went to bed less than convinced.
Then inspiration hit. My dh had put some trousers out for recycling. I had been hanging on to them, thinking I'd cut them down for TF, who in typical boy style, goes through the knees of trousers far too quickly. OK, why not for AJ instead. They would be old and not jeans. How could she object.
I borrowed her school trousers, which fit her, and I used them as a pattern. The trusty sewing machine was hauled out.  Two hours later, the trousers were not only ready, but had been through the washing machine and were hanging on the Aga to dry over night.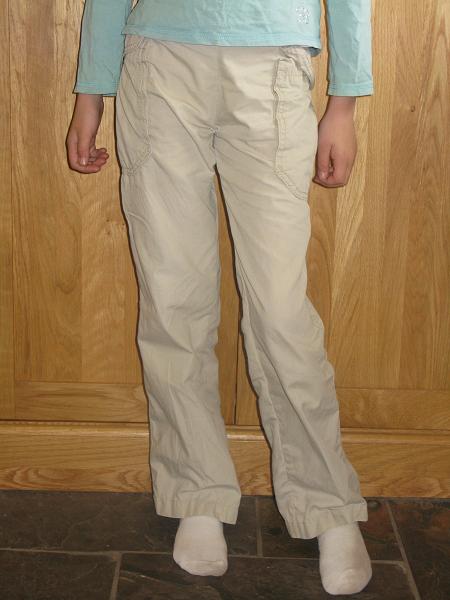 In the morning, I woke AJ and just happened to mention that I had made her some trousers. Love the double take of someone who wakes up to surprising news. They fitted. Phew. She liked them. Double phew. She wore them on her trip. Triple phew.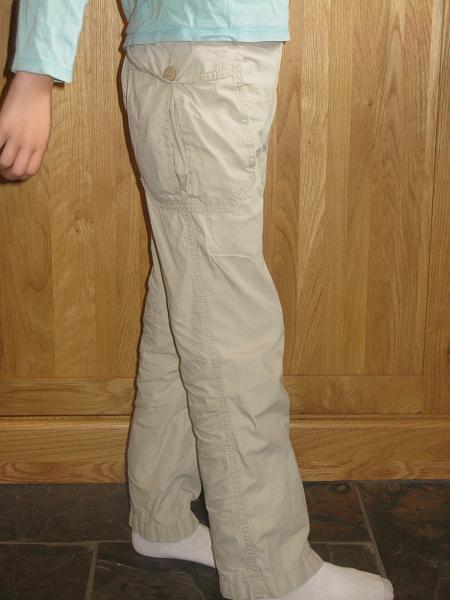 I cut the trousers so that I could reuse the original hem and the side seam. It meant that the cargo pant style pockets sit on her hips, but she is so slim that this looks quite good. (No way would this work on me!!!)
Last night when I showed my husband, I told him that I had shrunk his trousers. For a moment, he looked taken back. I guess when you live with someone, who shrinks old jumpers and wet felts wool rovings, then the idea of that person boil washing your trousers until they shrink… well it all becomes more probable! Incidently, this is where the title comes into it. Although my husband is not called Hamish and they weren't tight-fitting tartan trousers, but apart from that…..
Now AJ thinks that I can do anything. She has gone through the rest of the trousers, put out for recycling, and requested two more pairs of trousers. Why not.