Somebody else's work in progress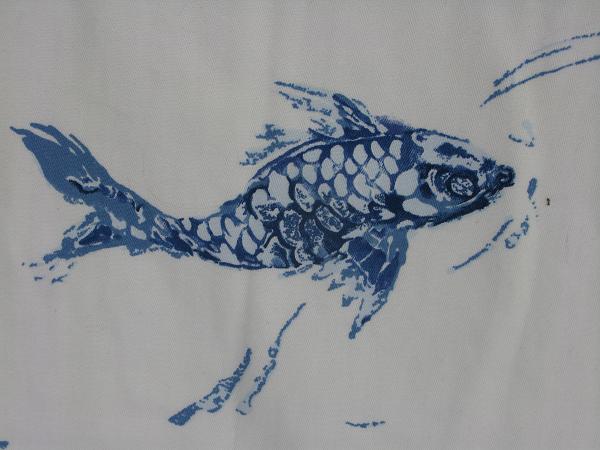 Yesterday, I popped into a charity (thrift/op) shop to pick up fabric to back my hexagon quilt.  Probably an area of most charity shops that I don't rummage in, in the normal way. I'm now wondering why. Do I need to say that I came away with more than quilt backing fabric? Does anyone ever go into a charity shop and leave with just what is on their shopping list? Sometimes nothing. Sometimes more, but seldom the one item on their list.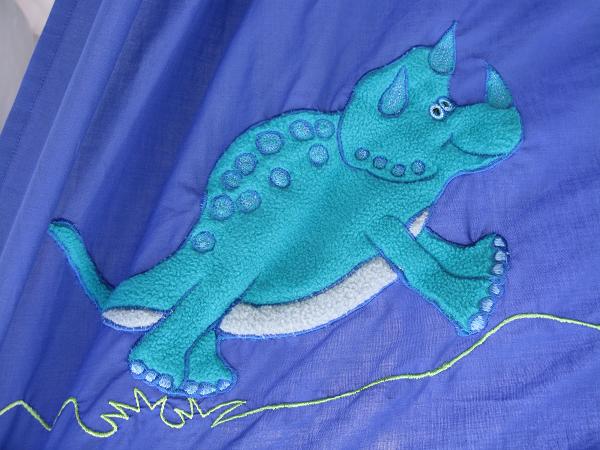 I found dinosaur curtains for my dinosaur mad son. Up to yesterday, he had pink curtains with cats and birds on them. Left over from when his big sister had the room. He didn't complain, but deep down, I knew that the tractors and diggers and homemade space ships lined up in front of his window were telling me something. Maybe time was right to change away from pink! Not on my shopping list, but at £4 I bought two curtains, which fit his window exactly. It's not my favourite, but how my three year old loves them!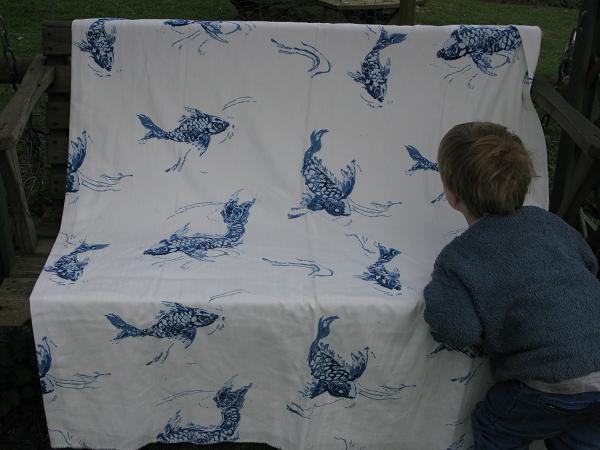 Then my eyes fell on one single, lined, unfinished curtain, which I knew would suit my bathroom window perfectly. Blue fish are difficult to resist. It only had the hem to finish, but everything else had been lovingly handstitched. The fabric felt lovely. Even the curtain rings were in place. We needed curtains. I knew it was longer than our window, so the hemming was going to need doing anyway, once I had chopped it to size. This was someone else's work in progress.
It wasn't until I got home that I found the Ralph Lauren brand name printed on the selvedge. I buy because I like something, not because of the brand, so it would not have influenced my purchase.  It did make me wonder why someone had stopped so near to the finish. I'm guessing that this is not a bargain fabric to buy in the shops. It probably wasn't a frivolous purchase as time had been taken to make the curtains. I'm also guessing it is not a recent print. If the maker was a follower of fashion, maybe it became dated before she finished. Could it be a commissioned piece where the customer changed their mind. Not that I mind. Its mine now. Not on my shopping list, but so perfect for my bathroom.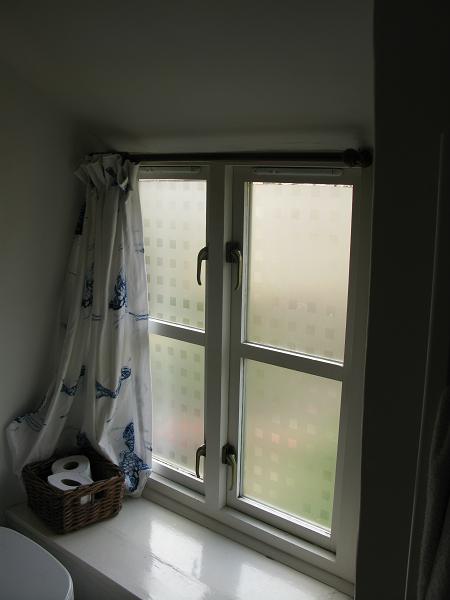 Oh, and the price. Well it was steep. The curtain, with all the trimmings and the other edges stitched, was 66″ down by 48″ wide. The price tag was £2 (a bit over $3) . After cutting it down to size, I have 18″ left, which I plan to make cushions with. Can you hear that noise? Yep. That's me doing a dance of joy!
Almost forgot I did get some fabric for the hexagon quilt (which was on my list). It's a white duvet cover. I'm still "umming" and "ahhing" over whether I'll use it. Otherwise it might just end up on our bed. As a duvet cover.
Will I be going back? Oh yes!
I'm not sure, I will be buying new linen and curtains ever again.
I'm linking this up to The Shabby Nest's Frugal Friday.