Felted beads and little hats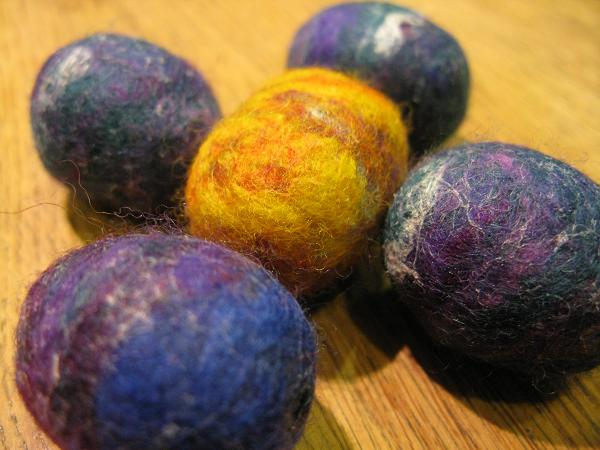 I love wet felting. I also love that all three children can join in. They all tackle it in different ways. The girls are focused on the end product, while TF enjoys the process and has very little interest in the finished object. This project worked really well for them. It is easy for each of them to create something that they are proud of making.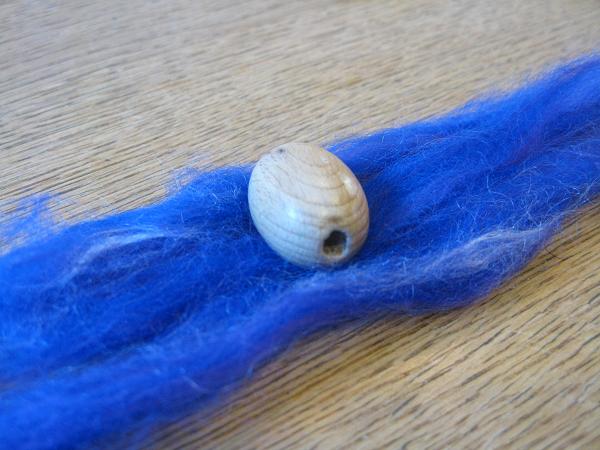 We started off with a length of wool roving. About 25cm (10″) in length. Also a wooden bead. We laid the roving out so that the width was slightly wider than the wooden bead.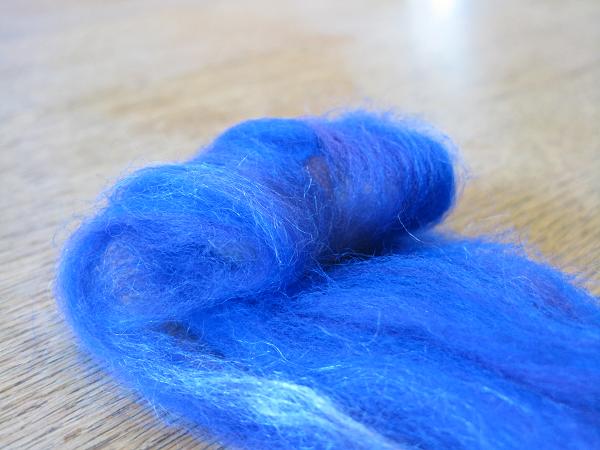 Putting the bead at one end of the strip of wool, we rolled the bead up carefully, so that there was as little slack in the wool as possible.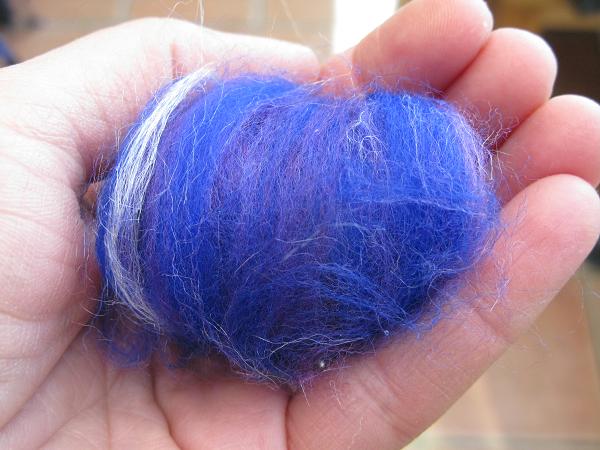 Until the bead was a snug as a bug in a rug.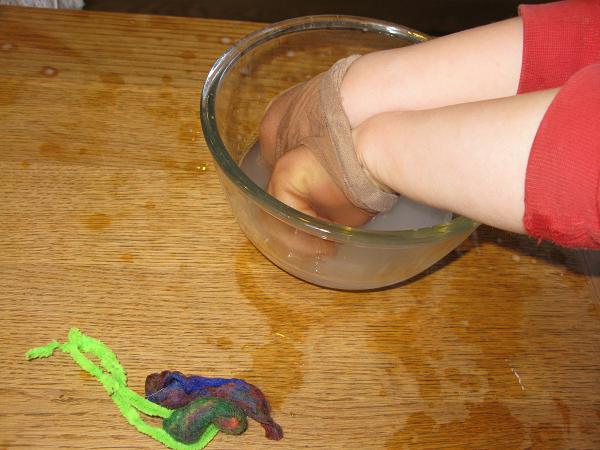 Next stage is to dip it briefly into warm soapy water. (No need to use old stockings on your hands. Just TF's inventive nature!).
We gently walked the medium-soggy bead between our finger tips, as if it would break if held any more firmly. At first the wool appears to stick together. As it began to felt, we could feel the wool becoming tight and firmer around the bead. As the wool got tighter, we rolled it between our palms, gradually pushing harder and harder.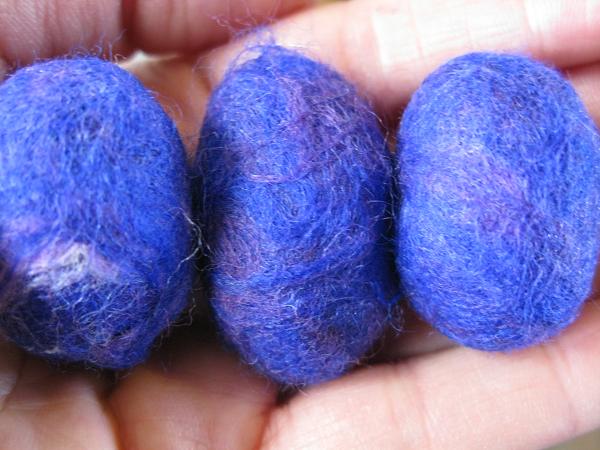 Until they looked like blue owl pellets. This took about 10 minutes.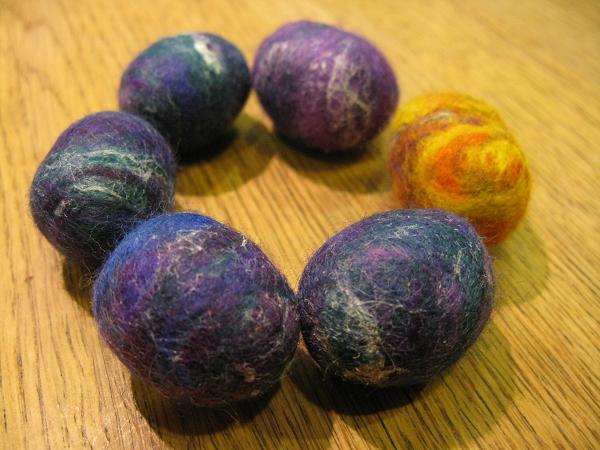 At this stage, we could have threaded elastic through the holes of the bead and created a wonderful bracelet. Wool and wood. Maybe a few strategic short scissor cuts in the wool to expose the wood. Small cuts so that the bead is still captured in the wool and cannot slip out.
I love the effect of mixing the colours to make swirling interest. A set of beads that would not look out of place as part of a solar system display. Slightly elongated planets, I grant you.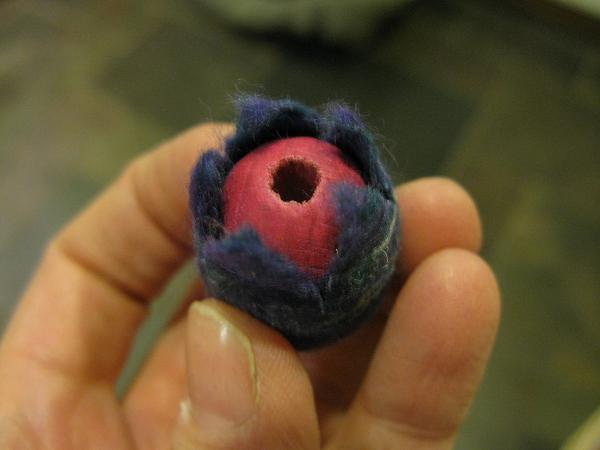 The bracelet and solar system will have to be put on hold for now. Instead we waited until they were dry and used a sharp pair of scissors to make five short cuts to one end of the felted wool bead. Using the hole of the wooden bead as a guide. So that the bead peeps out. Carefully squeezing the bead out. Carefully turning the soon-not-to-be-felt-bead, inside out. * Turn the pointy tips upwards.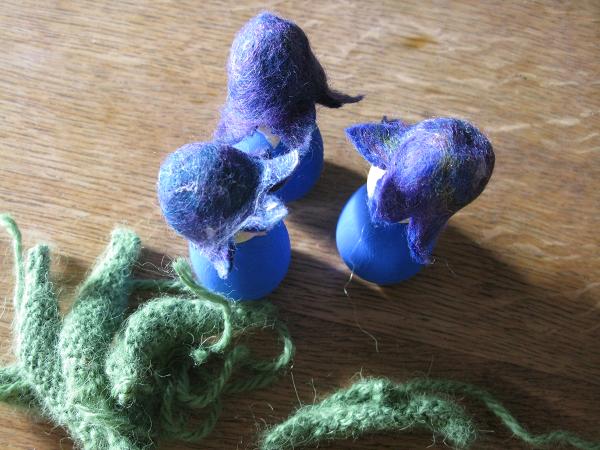 Fortunately, there was a gaggle of willing little wooden people ready to try out the resulting flower hats. This is a sneak preview of the wooden dolls that I have made as part of the Wee wooden folk exchange. These are now finished and just gone in the post today. More photos to follow soon.
I enjoyed mixing the wool colours in a way that I haven't done in wet felting before. Usually, I am after a specific design.  A penguin or an owl. This is more like painting with felt. I like the end product and can see some interesting possibilities with this method.
This was an easy project for the children. They love the little hats they made. No photos as they seem to have been whizzed away. Such is life! They would also work well as eggs containing miniature chicks. Maybe our next felting project.
* I read somewhere recently about a superstition that if you could turn a bluebell inside out then your love would stay true to you. These felt ones are far more robust, so each time one is turned inside out, no marital rife should occur. No guarantee supplied.