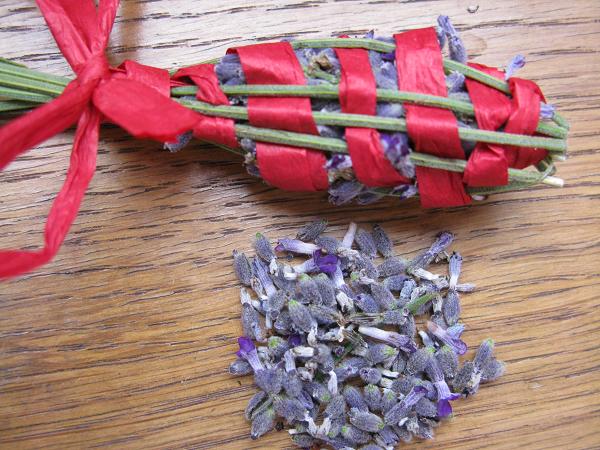 Each year I make lavender wands to scent our clothes in their drawers. They hold their fragrance so well, that they really do last for a few years. The idea is that the stems form a frame around the lavender heads and a thin ribbon weaves in and out of the stems to stop the lavender flowers falling out when it dries. This year AJ asked me to show her how to do it. I love passing on skills to my children, just as my mother and grandmas have passed on skills to me. This was one of those moments when AJ really wanted to learn, no better time for me to lead.
We have lavender growing in the garden. For lavender wands it is best to make them as soon as the lavender is picked. The stems are green and supple, so they are less likely to crack and split.
We cut the lavender with the longest stems, as possible. For the weaving to make a basket effect, we needed an odd number of lavender. We cut seven.  Sometimes I use thin ribbon, but I like to use raffia as an alternative. When the fragrance is spent, the whole wand will rot down in the compost bin. Alternatively, it would make a good addition to the yule log.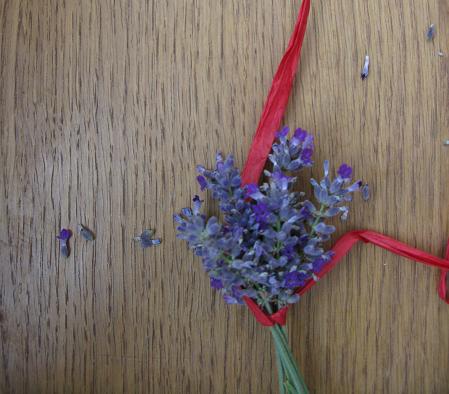 To start, we made the lavender into a bunch and tied it together at the base of the flowers, using a long piece of raffia. A length of about 2 foot or 60cm should be ample. We tied the raffia so that one end is about 15cm (6″) long. This piece was then pulled up along the flowers.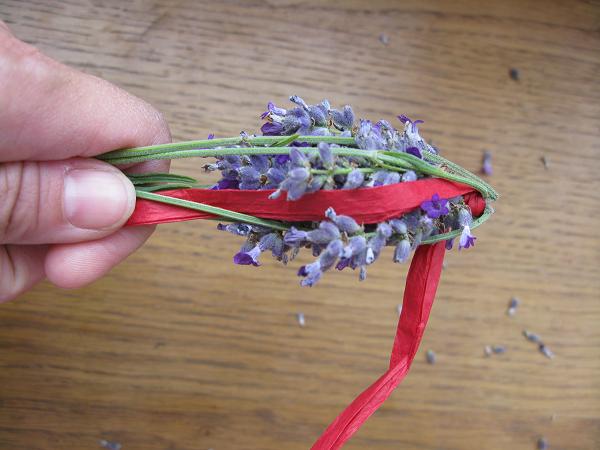 Carefully, we bent the stems over the flower heads. Spacing them out around the flowers so that they form a cage surrounding the flowers.
Using the longer piece of raffia, we started to weave it in and out of the lavender stems. Trying not to twist the raffia. Keeping the raffia flat as we went round, so that when the lavender heads dry they will be held in place.  The raffia spiralled down around the heads. AJ made sure she went under when the previous round went over.
I love to see her weaving fingers. They moved with such quiet purpose.
Once she had woven the raffia to the end of the flower heads, we tied it around all the stalks. Using the shorter length of raffia, that was running along side the flowers, we tied a bow.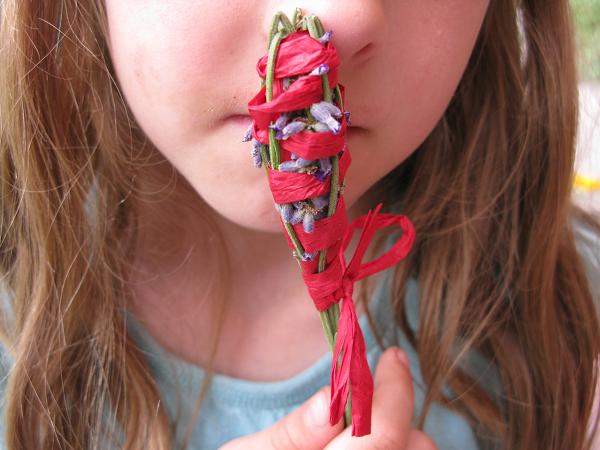 Final check to see if it smelt good enough for her clothes and away she whizzed. Its now in her drawer. I'm sure she will make more. So simple, but so pleasing.
I'm linking this up to The Magic Onion's Friday Nature Table. It really is worth taking a look at the other offerings.