Making mistletoe and deer gift tags
I made gift tags this weekend. I wish I could say it was part of a well thought out master plan. One where everything neatly dove tails into a jolly, festive theme. Worthy of a magazine spread, but it isn't.
It's purely down to the mistletoe fabric crying out to be put together with my embroidered deer patches. Honestly, some fabric doesn't half go on. Every time I picked up the fabric, I could hear it. I knew the answer was to make a gift tag. Unfortunate, as I bought this fabric for a totally different purpose.
I cross stitched the deer a few years ago. A simple and satisfying pattern.
Next up the names. I mean, they wouldn't be much good as a gift tag if they didn't give a clue who the parcel was for. Using a pencil, I wrote everyone's name on a parcel label shaped piece of aida, then I embroidered it.
Now to bring it all together. I cut another parcel label shape, but this time out of the mistletoe fabric. I added a centimetre and a half all round the shape. The cross stitch deer was sewn on to the right side of the shape, using an ordinary running stitch. I then pulled the outside threads of the deer fabric to give it a fringe.
Putting wrong sides together, I double folded over the excess fabric of the mistletoe fabric to bind the edges of the two pieces together. Last, but not least, the finishing touch is to add the ribbon to tie the gift tag to the parcel.
I've finished three tags so far. Two more to go. I'm so pleased with them.
I'm in two minds whether to use these on gifts or add these to my homemade crackers for our Christmas meal. Maybe I'll reuse them on the day and do both.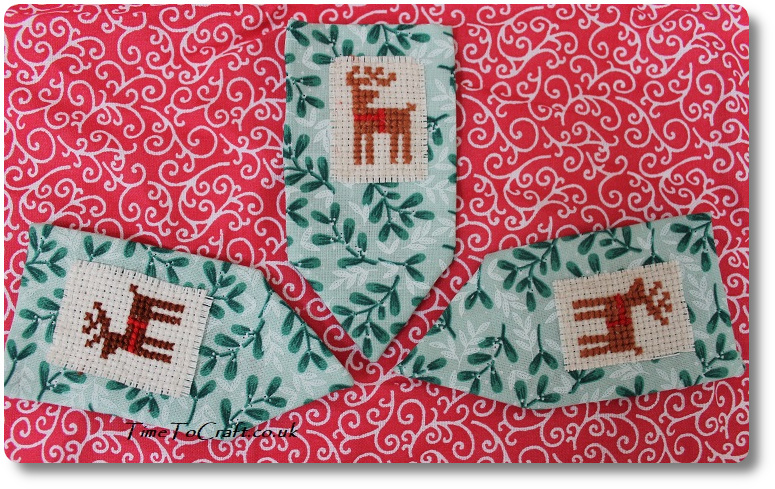 I love that I can reuse these tags year after year. So long as I remember where I stored them, of course. Tags are usually an after thought for me. A coloured piece of paper or last year's cards, with a hole hastily punched through for the ribbon. Grabbed at the last moment, as I wrap the present.
They do the job and are recycled afterwards. We wrap our presents in pretty fabric and ribbons, so tags are the only part we throw away. It would be good to up my game where tags are concerned.
Maybe just five this year, though. Forcing myself to make one for every parcel, before the big day, would sap the joy out of it. These are definitely fun to make and that is the way I like it.