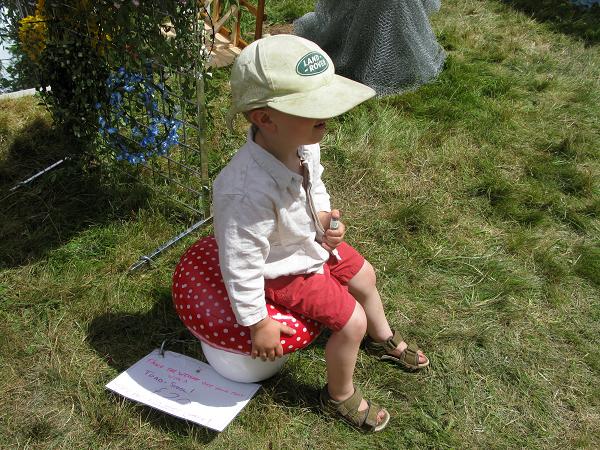 We went to a local folk music festival today. We go each year and it is fun. The music was good and the children's entertainment enthralled our three. There is also an area where they have stalls. Lots of free flowing festival clothes, incense sticks and musical instruments. The girls love looking in at each stall.
We don't go out and shop as a family much. Today, I suggested to the girls that they each take £10 of their pocket money in case they found something. They did and I'm probably most proud that neither of them came back with empty purses. One found a sweet little rabbit with a crochet dress and bag. The other bought a string of feather and glitter butterflies for her room.
TF cottoned on to the idea, but as the phrase "pocket money" has no meaning to him, being only three, I funded his one purchase. No it was not the toadstool at the top, although that was cute. You should be able to see him clutching his purchase in his hand. He opted for green fairy dust.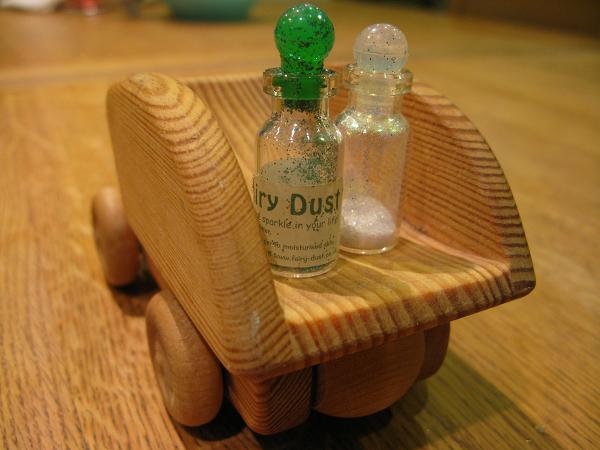 Apparently he has hankered after his sister's fairy dust for awhile and seized the opportunity to have his very own. If you haven't come across fairy dust it is facial glitter. You apply it with a wet finger on preferably damp skin and it will stick. It is good fun. You can use a template to create a piece of art on cheeks or just add areas of glitter to the face. Simple and the children love it. Facial glitter has smaller particles than crafting glitter and when spilt can spread and cover a huge area. Almost like twenty bottles of the stuff have been emptied.
At this point it would be lovely to show you the wonderful effects of facial glitter on one of the children's cheeks, but I cannot. Putting it simply, my house has now taken on a glittery appearance. Once spilt, it has travelled. DH even found a toadlet in the kitchen with green glitter on him. I hosed the children down, but they will still be going to school tomorrow with a green sparkly look. I've vacuumed and I will mop later, but I think it is going to be a talking point for a while.
Can you make out what it says on the bottle. "Put some sparkle in your life". The label is spot on there. Oh well, who's to say that a little bit of fairy dust isn't exactly what I need right now.