Popcorn – My Sunday Photo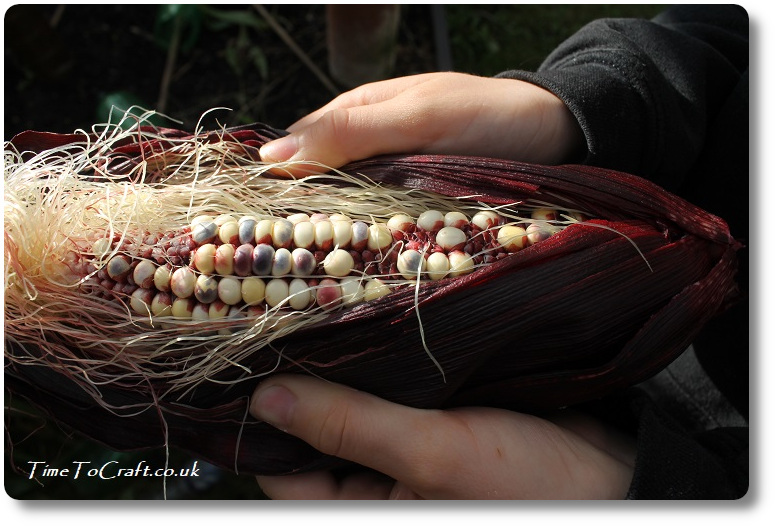 I'm sure in five years time, I'll be a dab hand at this growing popcorn malarky. I'll be able to tell you the ins and outs of growing it. One things for sure, it's not the same as sweetcorn, despite appearances. This year is our first year, with popcorn. I'm still learning the best way to grow and, most relevant now, when to harvest them.
The plants have been quite a sight. Taller than my sweetcorn. Every time I pass them, I feel like I'm on the edge of a great field full of popcorn. Stretching as far as the eye can see. I'm not, but my 16 plants are still impressive.
The strong winds last night, toppled a few, as it rudely pushed its determined way through my popcorn plants. They look like giants that have toppled. As part of my learning curve, I chose one medium cob to see how it was doing.
It needs to dry more. I'd like to leave the plants in the ground, just a little while longer. Pollination has been a little bit hit and miss, by the looks of it. Still not bad for a first try. If nothing else, I can use these as autumn decorations.
4 Responses to Popcorn – My Sunday Photo
There have been cases when people lifted my photos and words, and used them without credit to me or asking permission first. Using them for their own commercial gain. I have now added a level of security to deter people from doing this. Apologies to people who do play nicely. If you would like to use any of my photos, please contact me.
All my words and photos are copyrighted to me. They cannot be used for commercial benefit by anyone else. If you would like to use any of them, then please ask me first and don't just take. Written permission only. Don't pass my words, photos or ideas off as your own. It's not nice.
Cookie Policy
Our web pages do not use cookies however this website uses Google Analytics, a web analytics service provided by Google, Inc. Google Analytics uses cookies to help us analyse how people use our site. The use of cookies by Google Analytics is subject to change.