Dragonfly – My Sunday Photo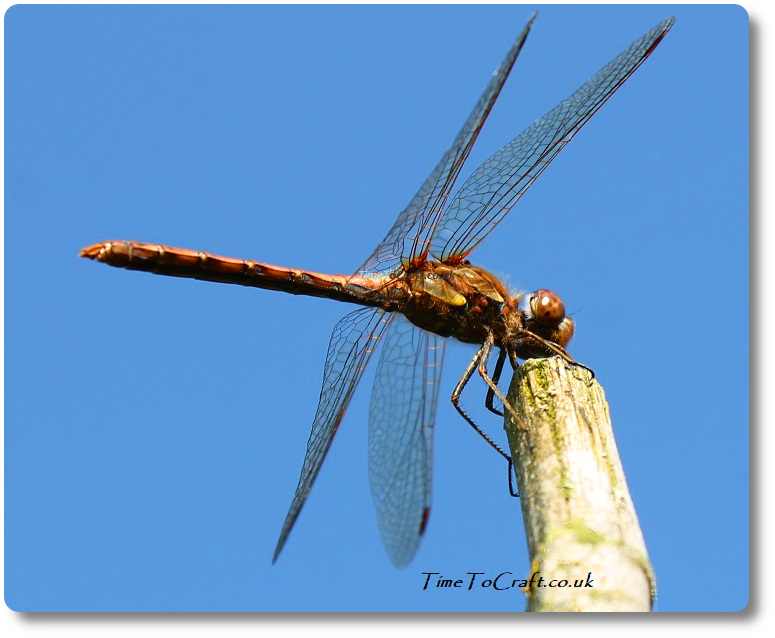 Picked a big basketful of runner beans and French beans yesterday, ready to process on our forecasted wet Sunday. Plan to make runner bean relish today. Also brought in the outdoor cherry tomatoes. Some need a bit more time to ripen, then a copious amounts of pasta sauce, seems to be on the cards, for the winter.
While I wove through the bean plants yesterday, lifting leaves to find clusters of pods, four dragonflies played musical chairs on the surrounding bean poles. Ignoring me, unless I stepped too close. They'd lean their heads and rotate their eyes to fix me in a glare. I was being summed up. I must have been picking beans for a good hour. The four dragonflies continued their game. Occasionally quartering the grass area in search of a tasty bite, but always returning. To the bean poles, to carry on the game.
12 Responses to Dragonfly – My Sunday Photo
There have been cases when people lifted my photos and words, and used them without credit to me or asking permission first. Using them for their own commercial gain. I have now added a level of security to deter people from doing this. Apologies to people who do play nicely. If you would like to use any of my photos, please contact me.
All my words and photos are copyrighted to me. They cannot be used for commercial benefit by anyone else. If you would like to use any of them, then please ask me first and don't just take. Written permission only. Don't pass my words, photos or ideas off as your own. It's not nice.
Cookie Policy
Our web pages do not use cookies however this website uses Google Analytics, a web analytics service provided by Google, Inc. Google Analytics uses cookies to help us analyse how people use our site. The use of cookies by Google Analytics is subject to change.