Hops – My Sunday Photo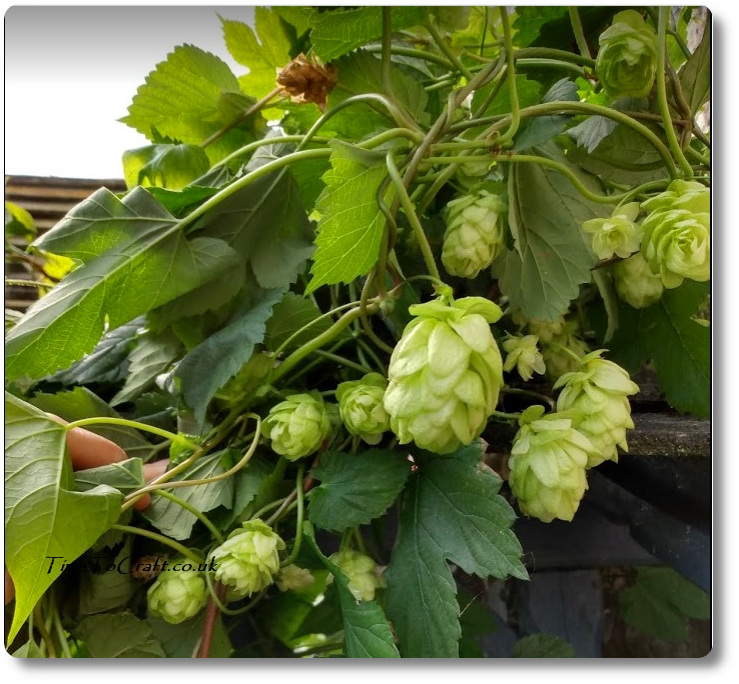 At this time of year, I used to collect a handful of hops from the hedgerows, on my homeward journey from the school run. Inevitably crushing them in my hand as I crammed as many as I could into my grasp. The fragrance is gorgeous, although not one I connect with first thing in the morning. Passing cars might have thought I was picking blackberries. The hops, in the hedgerow, usually went unnoticed. No-one else ever seemed to collect them.
I took a cutting or two and they rooted. I planted them by my covered bench, protected from the strimmer by an old pottery drainage pipe. They grew. Covering half the bench roof. I thought I had no hops this year, until I checked under the leaves today. Was I wrong. They are bigger than the ones I found in the hedgerow.
I'm growing them to fill sleep pillows, rather than for beer. Just need to find out when best to harvest. Anyone know?
15 Responses to Hops – My Sunday Photo
There have been cases when people lifted my photos and words, and used them without credit to me or asking permission first. Using them for their own commercial gain. I have now added a level of security to deter people from doing this. Apologies to people who do play nicely. If you would like to use any of my photos, please contact me.
All my words and photos are copyrighted to me. They cannot be used for commercial benefit by anyone else. If you would like to use any of them, then please ask me first and don't just take. Written permission only. Don't pass my words, photos or ideas off as your own. It's not nice.
Cookie Policy
Our web pages do not use cookies however this website uses Google Analytics, a web analytics service provided by Google, Inc. Google Analytics uses cookies to help us analyse how people use our site. The use of cookies by Google Analytics is subject to change.