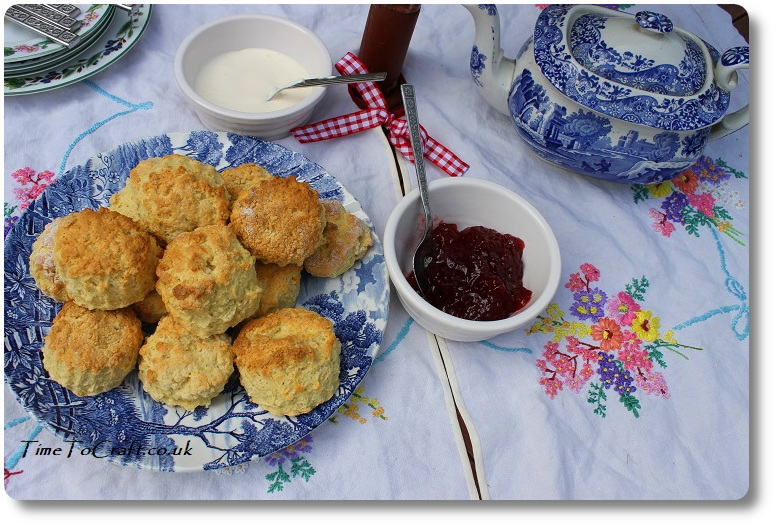 Almost to the day, two years ago, I found a hand embroidered tablecloth in a local charity shop. The stitches were beautiful. Clusters of flowers, joined by ribbons and bows. I cannot imagine how long it took the stitcher to stitch the whole cloth. It looks like love has been poured into the piece. All those little, precise stitches sewn in colourful threads. It hadn't faded either.
I could be over romanticizing it, of course. It has been known. The embroiderer might have hated it. Completing it under duress. Stabbing the linen with each stitch, but I don't think so. Something made them finish it. The stitches are too good. I can't believe they didn't feel some joy while making it. That's good enough for me. I'm going with the love.  Just look at those flowers. I'd be proud to make it.
Needless to say, I wasn't going to allow it to languish on the charity shop shelf any longer. It needed to be used and admired.
So I brought it home. Washed it. Used it once. Then put it away in the cupboard and there it stayed.
Sigh.
Part of the problem was that I wanted to use it outside. Now we tend to use a parasol for the tables outside, to provide extra shade. Any cloth we use would need a hole slap bang in the middle, which my rescued table cloth did not have.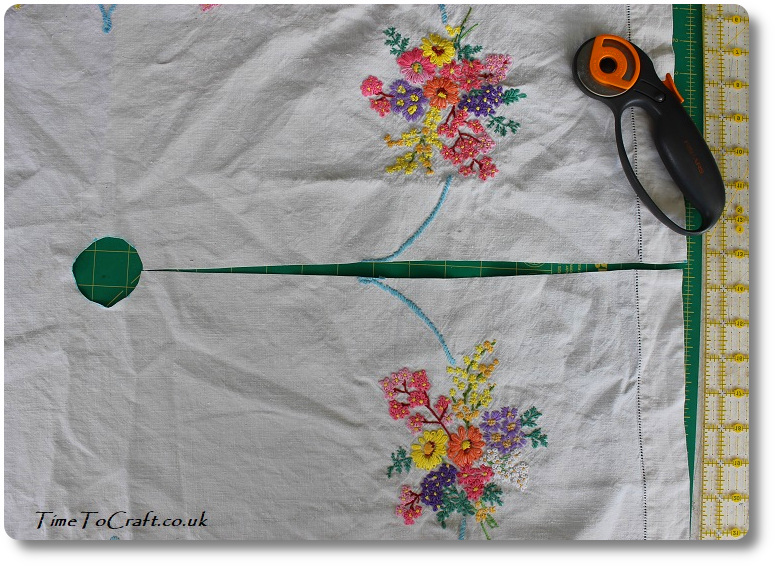 A couple of days ago, inspiration struck. I'd make a hole. Not a big light bulb moment, admittedly, but maybe I needed the two years to realise I wasn't going to use the table cloth for anything else, and it wasn't going to be used unless a hole was cut.
Deep breath. Scissors out. Snip.
To tidy the cut edges and stop it fraying, I encased them in bias binding. I had just enough off-white coloured binding for the straight edges. I used a dark red to go round the hole. I hand stitched most of it, as I wanted to keep it true to its original making style.
Diving into my ribbon drawer, I found two pieces of red gingham ribbon. Different widths, but I decided the smaller one would look good at the table cloth edge without overpowering the surrounding flowers and the wider one would work in the centre.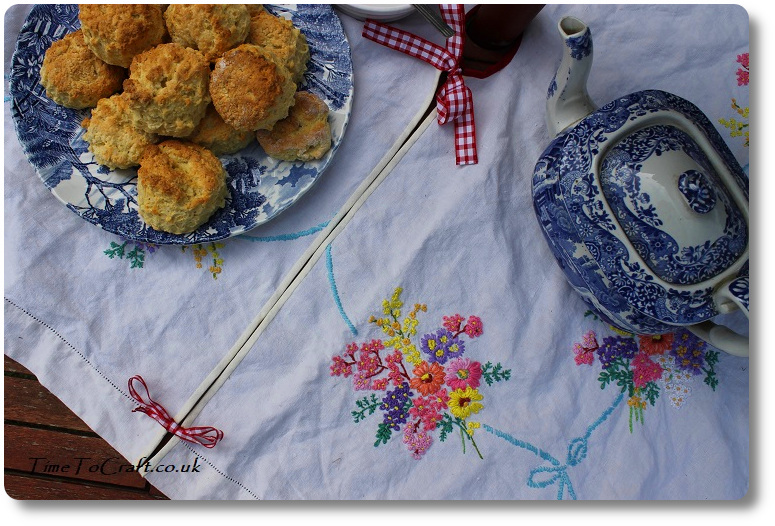 They don't distract from the embroidered flowers.
Final touch was to make a cream tea and serve it outside today. (Scones, with jam and cream, and tea.) I think it was a bit of a surprise for the children when they got in from school. Fine china and cream teas is not an every day occurrence.  Never to miss out on a good thing, the children seemed to take the change of routine in their stride. Scones soon disappeared. Let's hope they don't expect this every day from now on.
I'm so glad I gave the table cloth a new lease of life. It should stay on more times out of ten, against the wind too. I don't know the story behind the cloth and how it ended up in a charity shop, but I hope the person who made it would appreciate the care I've taken and the use it will now get.