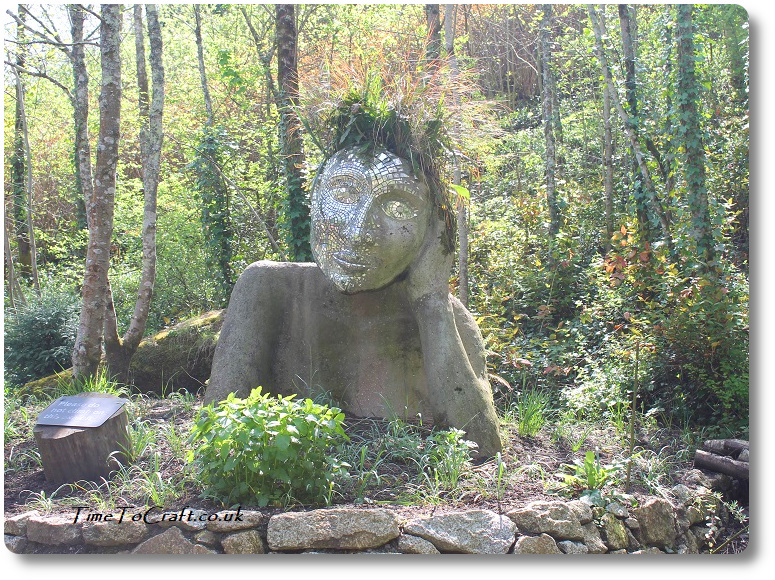 I'm always impressed by the sheer concept of the Eden Project, down in Cornwall. To stand and look at an empty quarry and envisage turning it into such a project, is amazing. They shifted a mountain of earth, engineered two enormous domes and planted plants. Lots of them. All to give visitors an experience of walking through a rainforest and visiting the Mediterranean. Of course, it is more than that.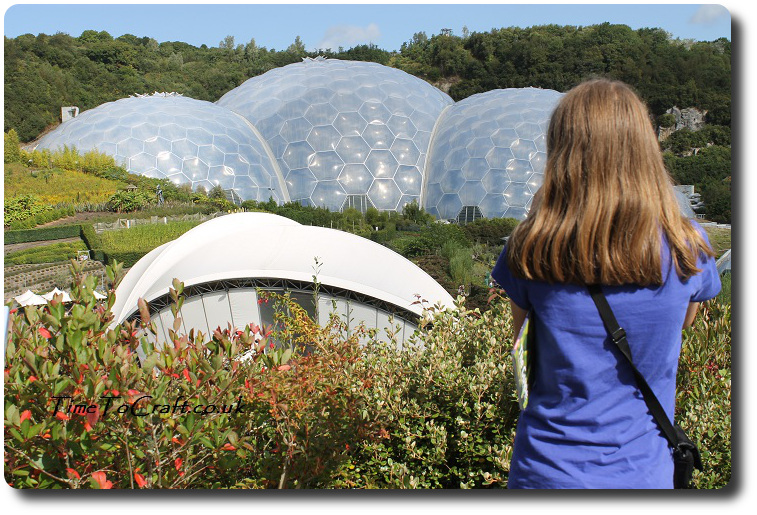 (eldest five years ago in front of the Rainforest biome)
We visited the Eden Project five years ago. This is a photo of the rainforest biome from last time as I didn't seem to take so many this visit. Not of the biomes, at least. It was good to go again. Apart from being a different season to last time, I think it was long enough for the children to see it with fresh eyes again.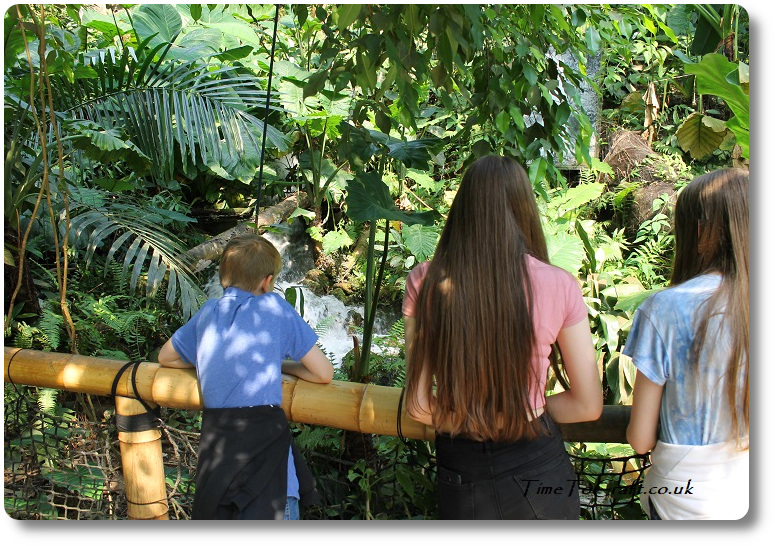 (Eldest in the middle. She has had her hair cut in the meantime, I promise.)
One of the biomes contains a rainforest, which is probably the nearest I'll ever get to one. I find the plants in there fascinating. The scale is impressive. As is the heat! I don't remember walking through the mist makers, giving the impression of clouds.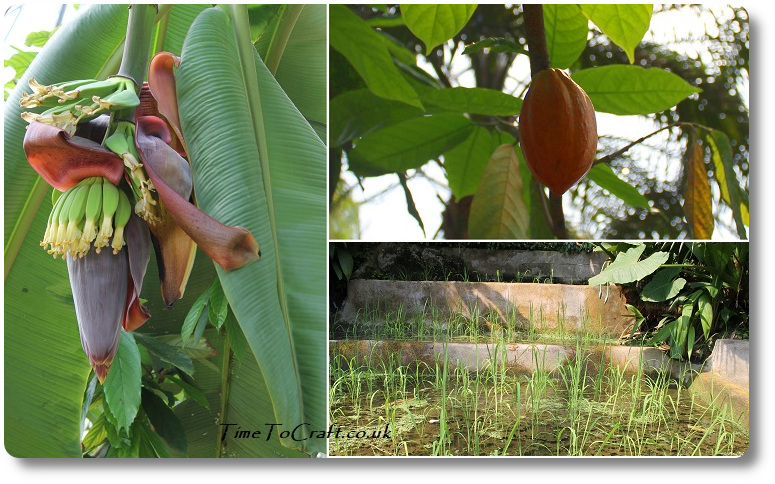 (bananas, cacao and rice growing in the rainforest biome)
The Mediterranean biome was great to walk through. It feels more spacious and you get a better impression of how big the biomes have been built. It is also familiar. Walking through an olive grove. Bougainvillea growing over walls. Lemon blossom smelling sweet. All memories from my childhood.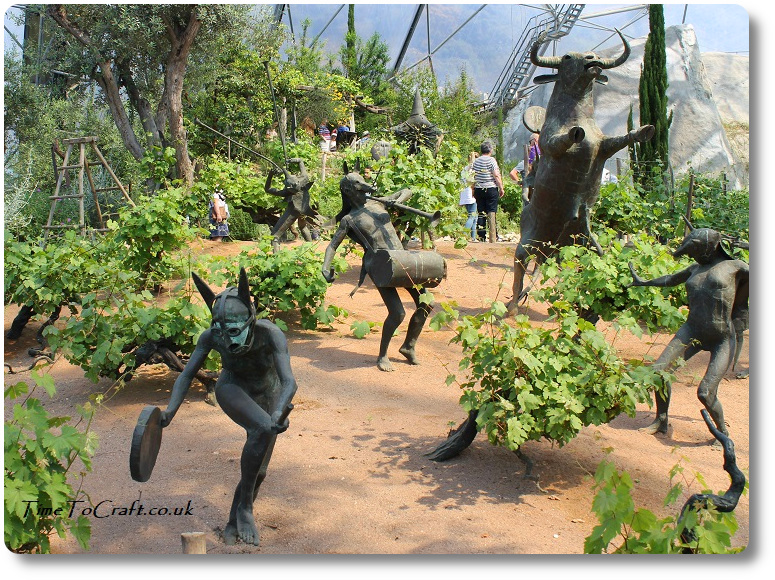 Being spring, there were different plants taking centre stage. I think our summer visit was more colourful and floral. This time, there were areas outside the domes that had obviously been readied for planting. Tantalising information boards, but no plants to match. I'm sure by the summer it will make an interesting display.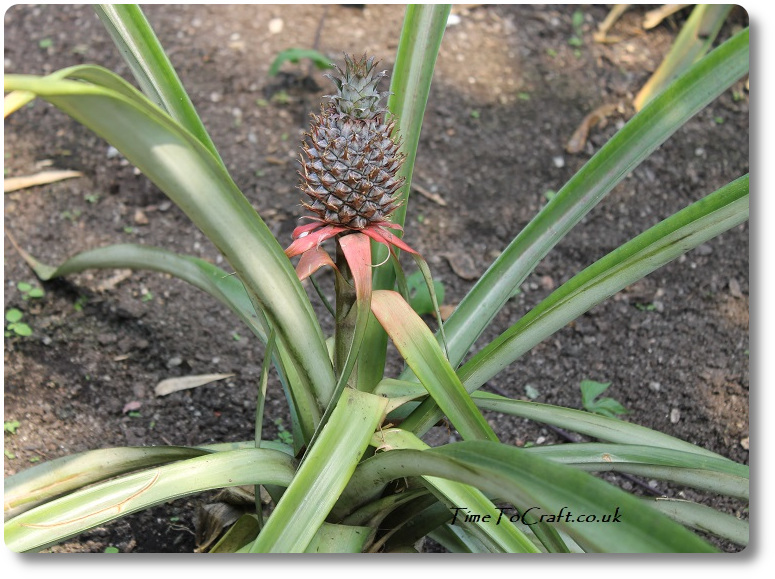 In all honesty, it's the biomes I like to see and they are probably good at every time of the year. Not many places in the UK where you can see pineapples growing. I'm sure we'll be back again.
Was it worth taking the children again? Yes. I know they enjoyed it. They've all reached the stage where they will read an information board if it interests them. I think there was something there for all of them. The Eden Project has a farm theme exhibition, this year, which is targeted at the younger children. As for teens, they loved exploring again. We walked miles. Saw lots. They'll be back one day too.
{edited: I do have a yearning to add statues to the garden now. Imagine the mirrored one in the top photo, and how about a few dancing people?}